Also deemed contemporary, 30 payline slot games boost the hit frequency by playing with the highest number of lines that a slot game has to offer.
Keep on reading to learn more about 30 payline slots.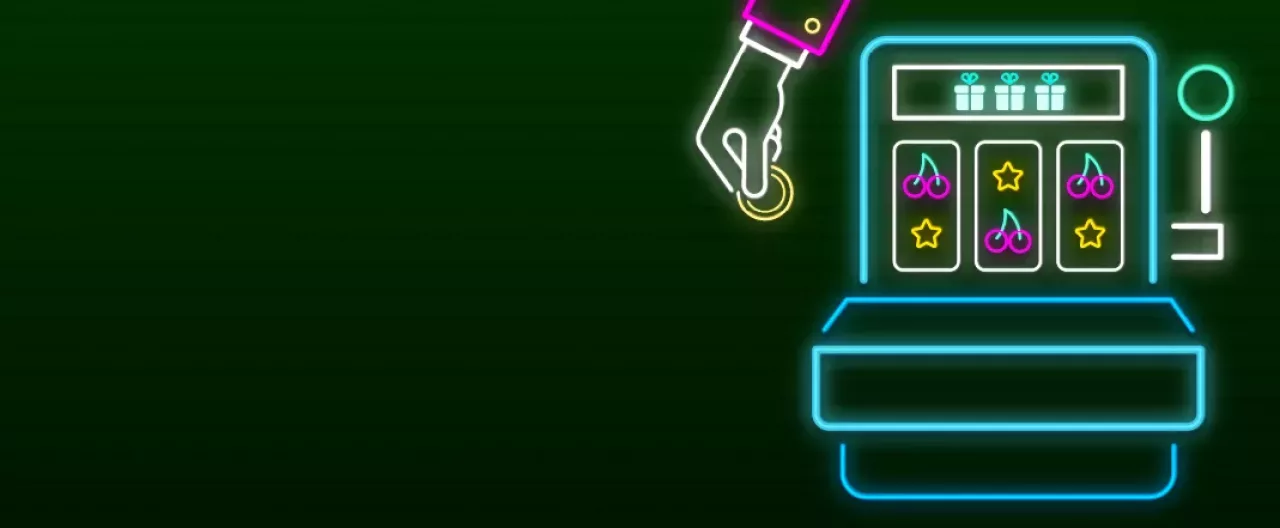 What Are Slot Paylines?
To win any cash in a slot machine, you must land a number of similar symbols on successive reels. They must also fall in line with a specific pattern that is available in this game. The pattern is known as a payline. These can be available in horizontal, diagonal, zigzag or any pattern the game developer deemed fit.
Depending on the game you are playing, the payline pattern can also vary in direction. While many games pay left to right, others also pay right to left.
How 30 Slot Machine Paylines Work
30 payline slot games come in two different variations. The first allows players to change the number of lines that are active. In this case, players can choose the size of the bet per line. This also risks hitting a combination on an inactive payline and thus not generating any wins.
The other option comes with fixed paylines. In this case, players are unable to fix the number of paylines and are essentially betting on all available paylines. This can often prove the most low-cost option.
The lower the number of active paylines, the lower the hit frequency will be. Multi-line slots are widely available at online casinos and bring with them a plethora of features not available in the classic one or three-payline games.
How Many Slot Paylines Can You Have?
The number of paylines available on a slot game will depend on the game itself. As a player, it is important that you have a quick glance at the info sheet that is available with each game. Here, you will be able to see the number of paylines and learn about the winning combinations and features.
Some games come with a handful of active paylines, while others can go up to 243 paylines. The Megaways mechanic which was launched by Big Time Gaming offers players thousands of chances to win.
If you want to play 30-payline games, you should also note the direction of these paylines. Games that pay both ways provide a higher hit frequency than ones that only pay from left to right. Knowing the payout percentage and the volatility levels can also help you anticipate your winning chances.
How to Play 30 Line Slots?
Playing any 30-line slot game is generally straightforward. You only need to choose a game from a leading game developer. We highly recommend that you do your research first.
Looking into the volatility levels, payout percentages and game sheets of the game is important. Most casinos also allow you to play the game in demo mode first so you get a general idea of how the game is played.
You should also decide if you are decreasing or increasing the number of paylines if the game does not come with fixed paylines.
As soon as you are happy to get started, you only need to check the bet size and hit the 'Spin' button. If the symbols line up, you will win the bet.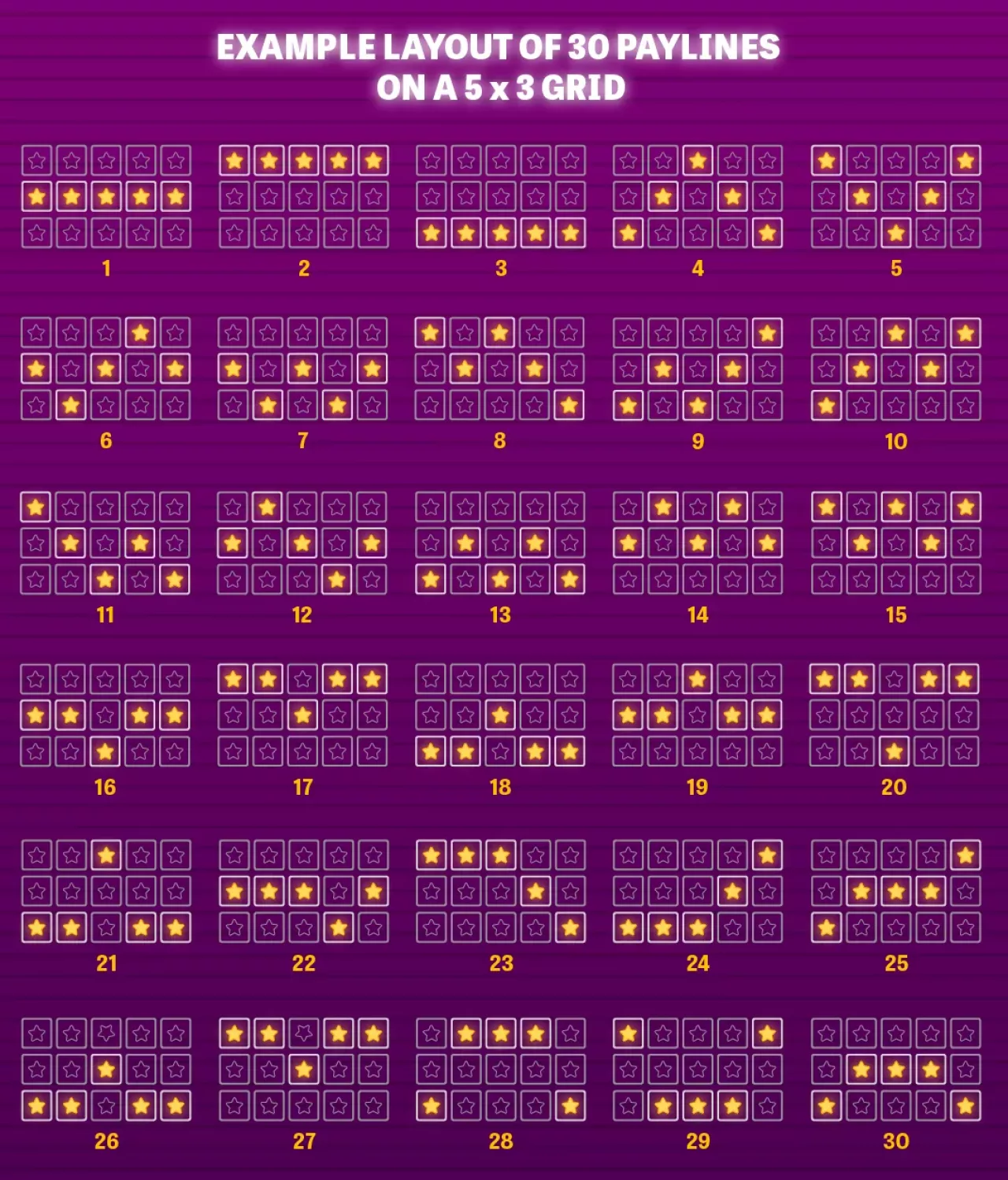 What Are the Benefits of 30 Line Slots?
Very popular: 30-line slot games are a step up from lower-denominated slot games. They are widely available at online casinos.
Iconic games: Newer game releases such as Sticky Bandits, Warlords: Crystals of Power and Hotline all come with 30 paylines.
Bet Size: You may be playing with a bigger number of paylines, but that does not mean that the price per bet has to be steep. Usually, fixed 30-line slot games cost between €0.20 and €0.30 per spin
In-game features: Most 30-payline slot games benefit from multipliers, Pick and Choose, free spins bonus rounds, wilds and scatters to boost your wins.
What Are the 30 Payline Slots Features?
Over the years, game developers have continued to come up with novel ways to make their games more appealing, by introducing features, special bonus rounds and 3D visuals. Below are some of the most commonly found features in 30-line slot games.
Free spins: This feature gives players a number of free spins. To trigger this round, you would need to land a number of scatters on the reels.
Wilds: A Wild replaces other symbols except for scatters to help create winning combinations.
Bonus Rounds: Bonus rounds come in various shapes, and can include Pick Me rounds, where you must pick an option to reveal the prize.
Win Both Ways: Wins can be generated from left to right and right to left.
Mystery Symbols: These symbols don't come with any value. Once they land, they will reveal the symbol behind it.
Scatters: A Scatter is your entry ticket to the free spins round. You would need to collect a number of them on a single spin to win.
Progressive jackpots: Jackpots can either be randomly triggered or by landing a number of jackpot symbols on a single spin.
The Most Popular 30 Payline Slots Games
Land of Zenith: Push Gaming's Land of Zenith is built across 6 reels and comes with 30 paylines. This game has the potential to award players 21,000x their bet. With a steampunk theme, this game comes with a myriad of bonuses and features, including Hypermode and Bouncing Mystery.
Hotline: Hotline comes with a Miami Vice theme. This game by NetEnt comes with a payout percentage of 96.13%. It also has 30 fixed paylines, free spins, re-spins, wilds and scatters. If you're looking for a slot game with an 80s vibe, this is it.
Rocket Fellas Inc: Brought to you by Thunderkick, Rocket Fellas Inc comes with sticky wilds up to 20 free spins and the chance to win up to 900x your bet. The game is ideal for players who are looking food stunning visuals and all the works.
The Best 30 Payline Slots Software Developers
Microgaming: Without a doubt, Microgaming is one of the oldest software game developers around. It has explored every theme and reel structure. If you are looking for an old-school 30-line slot game, Cosmic Invaders is highly recommended.
NetEnt: NetEnt is known for pushing the boundaries and coming up with innovative slot games. Top 30-line slot games include Warlords: Crystals of Power and Hotline.
Thunderkick: Thunderkick is one of the least predictable game developers on this list. It does not release many games annually but when it does, they are usually unique. Recommended 30-line slots include Spectra, NRVNA and Rocket Fellas Inc.
FAQ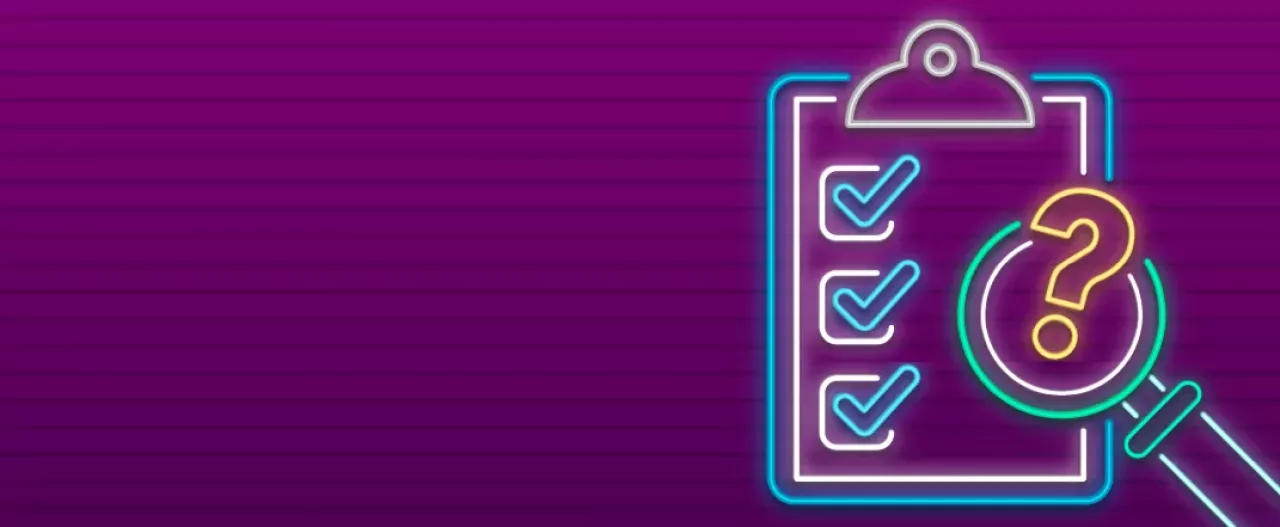 What are the differences Between Payline Slots and Reel Slots?
Reel slots are the wheel of a slot machine, while payline are the patterns identical symbols must fall on to generate a win.
Are More Paylines Better in Slots?
It is but you also have to factor in how many of these paylines are active. If you deduct the number of active paylines when playing, you have a lower hit frequency. With fixed paylines, the bet size is usually more cost-effective.
Real Wins vs. False Wins at Slot Machines?
False wins are when you win a spin but it is lower than your bet size. The game gives the impression that you have won more than your stake. Real wins are genuine wins that are bigger than your bet size.
How Does a Slot Machine Payout?
All symbols in a slot game have a different value. Once these symbols fall in line on a pattern, they will pay out. They will need to be identical and fall on an active payline to win.
+10 Years of Experience

Online Slot Expert
Leanna Madden
Leanna Madden is an expert in online slots, specializing in analyzing game providers and evaluating the quality and variety of slot games. With her extensive knowledge, she guides players to the best slot options, including high RTP slots and those with exciting bonus features. Leanna's insights help players make informed decisions and enjoy rewarding slot experiences at online casinos.
More info on Leanna Madden