When it comes to talking about slots and choosing the best slot for you, there's a lot of jargon used to explain those features and inexperienced players might be scratching their heads at some of those terms. We have put together a glossary of these words and phrases in an effort to take the guesswork out of it.
A-G
243 paylines: Also presented as '243 ways to win', this means that the slot in question does not have fixed paylines going across the reels but will count three or more identical symbols landing next to one another as a win. There is no predetermined pattern of symbols players must aim for.
3-reel slot: Inspired by the first slot machines, which had three reels and three rows, these online slots have a 3×3 reel set and are often intentionally made to look like vintage games.
3D slot: This kind of game uses 3D animation instead of 2D. This is a design choice and does not affect the way the game performs.
5-reel slots: These games have five reels and usually three rows, though this can differ. It is a very popular format that thousands of slots adhere to.
Active payline: Some slot games give players the chance to select which paylines they would like winning combinations to be calculated along. A payline that is active will pay out when a winning combination lands across it.
Autoplay*: Many slots include a feature that saves the player from clicking every time they wish to spin. In most cases, players can choose to autoplay 10, 20 or even 100 spins at the same bet level without having to click the button each time. *Autoplay is no longer available when you're playing slots at a licensed UK casino.
Bet: Also called a wager, this is the amount of money a player stakes on each round or spin.
Bet levels: In conjunction with coin value, the bet level determines the size of the player's wager. Bet levels are essentially a multiplier applied to the number of coins. If a player has a coin value of £5, a bet level of 2 is two coins i.e. £10
Bet per line: Some slots allow players to activate different paylines and make different bets for each. The bet per line is how much a player is staking on one specific payline.
Bonus game: This is a slot game feature that is not a free spins feature. It can be something like a pick and click, a spin of a bonus wheel or a skill-based mini game.
Bonus features: These are all the features within a slot game, excluding the basic payline mechanic. Features include things like re-spins, modified Wilds such as expanding, cascading or sticky, and free spins.
Budget: This is the amount of cash a player sets aside for their play, whether that is on one game or more. Budgets can be structured in different ways, with loss limits, win limits or time limits.
Cascading reels: Also called tumbling or falling reels, this means that once a win is landed, the symbols contributing to that win disappear from the screen and more symbols fall from the top to fill up the empty spaces. Symbols may directly replace the newly removed symbols or the symbols already on the reel may move downwards, with new symbols appearing on the top.
Coin: This is an in-game representation of the player's money. Each coin can be assigned a coin value, which can be changed in between rounds.
Coin value: Players can assign a cash value to the representation of their money in the game. One coin can be set to be worth £0.10 or £100, depending on the range offered by the game itself.
Coin win: Often part of a bonus feature, a coin win is a reward calculated in coins. A 50-coin win will be worth £50 if each coin is worth £1 or £100 if each coin is worth £2 and so on.
Cold slot: This term is an artefact from the time when slot machines could only hold so many coins before they would have to pay out. For most slots, thanks to their RNG software, this is no longer relevant but the term is used when talking about jackpots, which often present some kind of a pattern in the size and frequency of their wins.
A cold slot is one that has recently paid out or that is not close to reaching its usual payout amount, therefore it is unlikely to pay out soon.
Demo game: Also called free or demo play, this allows players to try a game without making a cash bet or, in some cases, even signing in to a casino. The player can spin the slot for free but cannot claim any wins, allowing them to learn how different features behave and give an indication of how often the slot pays out
Double or nothing / Gamble feature: After a win, some slots give players the option to wager their win. There are two possible outcomes – losing the cash won or doubling it. The Gamble feature is often a simple game of chance involving guessing the suit or colour of the next playing card from a stack, for example.
Expanding reels: This feature introduces additional reels to the game screen when a specific trigger appears. For example, a particular trio of symbols might activate an extra reel that expands the set, bringing more symbols and more chances to win into play. A game may include one or multiple expanding reels.
Expanding Wild: This is a special type of Wild that can be included in slot games. When a Wild symbol appear, it expands to occupy the entire reel instead of just one space, basically behaving as if the whole reel was covered in Wild symbols.
Fixed jackpot: Slot games can include a fixed jackpot feature, which is a set amount of cash that can be won by the player. The amount does not increase as the player continues to play.
Fixed paylines: A slot with fixed paylines does not allow players to activate or deactivate any paylines.
Free Spin: An extremely popular in-game feature, free spins are rounds that do not draw from the player's bankroll.
In most games, the free spins feature also includes some special elements like multipliers, special symbols, modified Wilds and so on. Free spins may or may not be re-triggered during the feature itself.
Fruit machine: This term can either refer to a physical fruit machine i.e. a real-life slot machine, often found in casinos, that includes fruit symbols, or it can refer to an online slot that emulates the slot machine.
Fruit symbols are usually included though they may look more modern in newer games.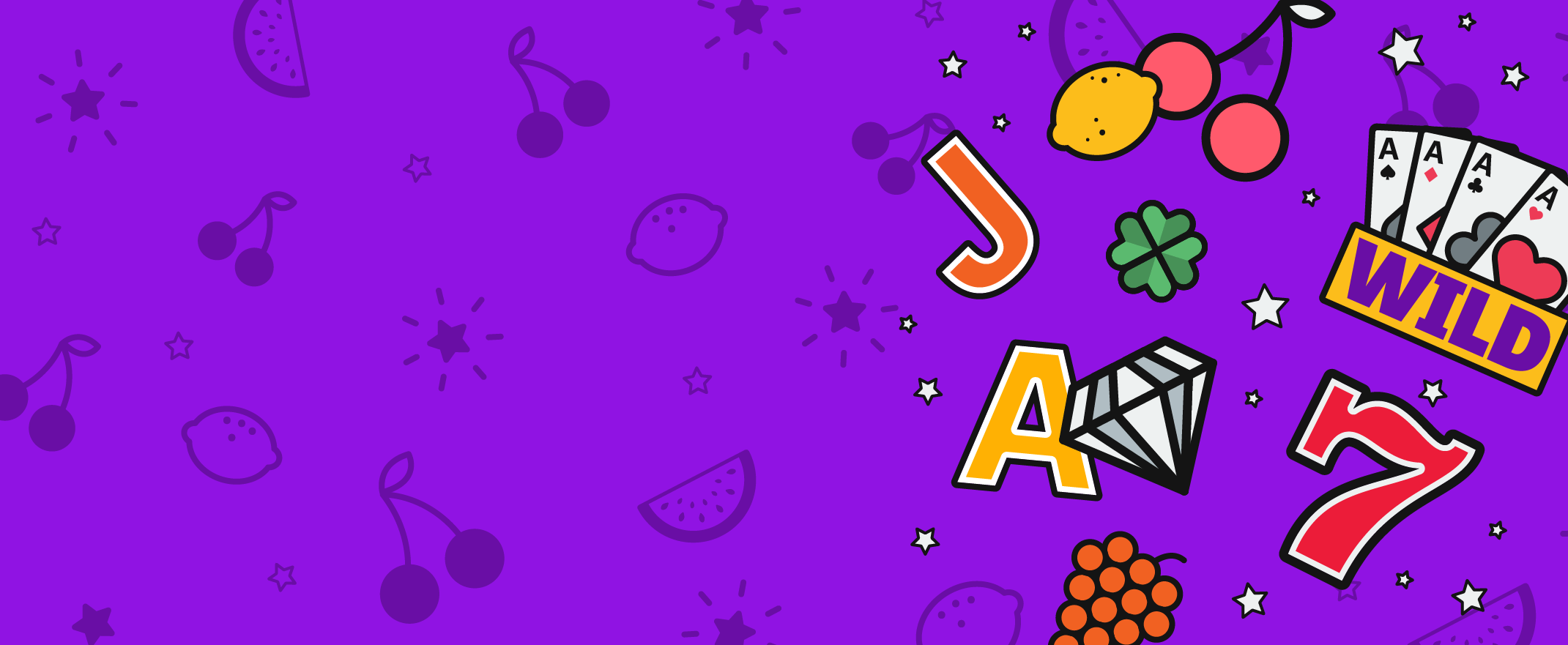 H-N
High-value symbols: Every slot assigns different values to the symbols that feature on its reels. The symbols that pay out the most when they land on paylines in winning combinations are called high value symbols. In some cases, these symbols may also trigger bonus features.
High volatility: Volatility refers to the inherent risk and reward in a game. A high volatility slot is high risk and high reward, which means players are more likely to lose while simultaneously also being more likely to win large amounts.
Hot slot: The term hot slot is used to describe a game, usually a jackpot, that is presumed to be close to paying out a large win.
Jackpot: A jackpot is a large prize pot of cash. The term can also be used to describe a slot game that offers a large win. Jackpots can be fixed, local or progressive.
Local jackpot: A local jackpot is one that grows when players of a specific casino play it. Many casinos may offer the same jackpot slot but if it is a local jackpot, the prize pot is made up of the wagers of players at one casino only.
Low-value symbols: Slots assign values to the symbols that appear on their reels. The symbols that do not pay out as much as others are classified as low value symbols. In many cases, these are the A, K, Q, J and 10 card suit symbols.
Low volatility: This term refers to slots that offer the smallest amount of risk to players. This means that players are likely to recoup their wagers through small, frequent wins frequently but are unlikely to see any big wins.
Max bet: This is the maximum a player is allowed to stake per spin of a slot game.
Medium volatility: Medium volatility slots offer players the chance to win and lose larger amounts than low volatility slots but do not have the same degree of risk as high volatility slots.
Minimum bet: This is the least amount of cash a player can wager per spin of a slot.
Mobile slot / Mobile optimized slot: In the past, online casinos and games could only be accessed via a computer but the rise of mobile gambling has meant that developers now design games that can be played on a mobile device.
These are also called mobile-friendly slots, mobile-ready slots or mobile-compatible slots.
Moving/Wandering Wild: This type of Wild lands on the reels as normal and then shifts its position, which can benefit the player by hitting different pay lines.
Multiplier: This is a factor by which a win is multiplied. A multiplier can be associated with certain symbols in a game or as a standalone feature. Multipliers can significantly boost wins.
Network jackpot / Pooled jackpot: This type of jackpot has a prize pool that grows thanks to the wagers of players across the entire network of casinos that host the game. Because so many players are 'contributing', these jackpots can become very large.
Nudge: This is a slot feature that shifts symbols by one or more spaces after a spin is completed. It can help players land further wins.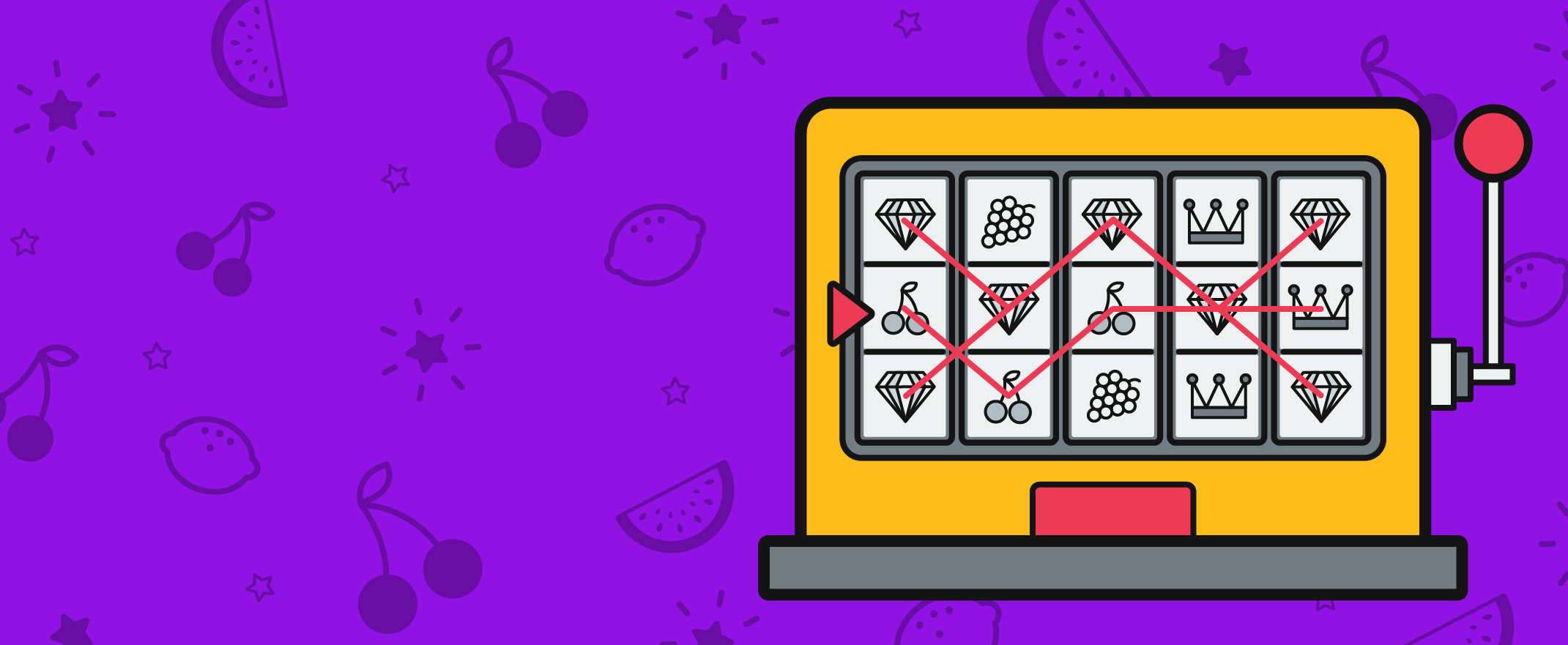 O-W
One-armed bandit: This is a nickname for the slot machine, wherein the player pulls a lever (i.e. the single 'arm') to play. As most losing players feel robbed, the 'bandit' reference comes in.
Payline: This is a pattern built into a slot game and when matching symbols land in this pattern, the player is awarded a win. Paylines usually go from left to right but some slots have paylines that go both ways across the game screen.
Paytable: This is the part of the slot game that displays all the information about symbols and in-game features. It is usually accessed via a button at the bottom of the screen.
Pooled jackpot/Network jackpot: A network jackpot's prize is made up of the wagers of players accessing the slot across all the casinos that host that particular game.
Progressive jackpot: A progressive jackpot is one that continues to grow as players continue to wager. Network and local jackpots can be progressive.
Reel: This is the vertical section of a slot that contains symbols and spins when the player clicks or taps the 'spin' button. Slots can have three or more reels.
Re-spin: This is a feature that will spin the reels again once the initial spin is complete. The feature can be activated by specific features or symbols. The bet level remains the same and in some case, certain symbols may remain fixed on the reels too.
RNG / Random number generator: Slot games are built using RNG software. This ensures that every single spin is completely random, with no discernible pattern to the outcome.
RNG technology means that games are totally fair. Game developers can only launch their products once they have passed a fairness audit that tests that the RNG software is up to standard.
Row: This is the horizontal section of a slot that comprises all the symbols that line up side by side on the reels. Slots can have three of more rows.
Scatter: The Scatter symbol on a slot game is usually the highest value and often depicts a unique element of the game such as a character or central motif. Landing multiple Scatter symbols can sometimes trigger a bonus feature.
Slot / slot machine: Slot machines allow players to place bets on the outcome of a set of spinning reels. This term usually refers to the physical machine, usually found in casinos, bars and betting shops. 'Slot' usually refers to the online, virtual equivalent.
Slot tournament: This is a kind of competition that is popular with casino players. A casino will set out a challenge, such as wagering a specified amount or striking bonus features on a particular game, and will reward those who complete that challenge the fastest.
Tournaments can include leaderboard elements that help keep track of players' progress.
Stacked Wild: In a slot with a stacked Wild feature, Wild symbols can appear on top of each other on a reel. The result is similar to Expanding Wilds i.e. more spaces are occupied by Wilds, thus improving the chances of landing a win
Sticky Wild: This type of Wild will remain locked in place for more than one spin. It is often included within other features such as re-spins or free spins.
Symbol: The icons on the game reels are called symbols. Each type has a value assigned to it and some symbols can activate features.
RTP / Return To Player: A game's RTP value gives a theoretical indication of how much of their wagered money a player is likely to win back, as a percentage of their total wagers. This is calculated over the long term, so players should not expect to recoup the value shown by the RTP on every spin.
Total bet: This is the total amount a player is staking, per spin, when taking into account the bets on each payline.
Variance: Also known as volatility, variance is the amount of risk built into a slot game. Low variance slots are low risk and high variance slots are high risk. Different levels of variance will appeal to different kinds of players.
Video slot: The term video slot is another way to refer to online slots.
Volatility: Volatility is a way to describe the level of risk in a slot game. The term variance can also be used. High volatility slots are more risky, with players likely to lose often before hitting a win, which is then likely to be quite significant.
Wandering / moving Wild: This type of Wild symbol first appears on the reels and then, once the spin is complete, will shift its position in a predetermined direction. Wandering Wilds can often be seen as part of a game's bonus feature.
Wild: The Wild symbol can substitute for any other symbol, usually with the exception of special symbols like Bonus or Scatter symbols. Some slots give the Wild a high value and in some cases, Wilds behave differently when bonus features are activated.
Win both ways: This phrase shows that a slot game will count wins across paylines in both directions across the game screen. In slots that are not win both ways, winning combinations are usually from left to right.
Winning combination: When a set of matching or compatible symbols lands on a payline, this is called a winning combination and the player will be rewarded when this happens.
+10 Years of Experience

Leanna Madden is an expert in online slots, specializing in analyzing game providers and evaluating the quality and variety of slot games. With her extensive knowledge, she guides players to the best slot options, including high RTP slots and those with exciting bonus features. Leanna's insights help players make informed decisions and enjoy rewarding slot experiences at online casinos.
More info on Leanna Madden
Facts checked by Leanna Madden , Senior author
Updated on 22 May, 2023
2 min read