Find the Best VPNs for Online Gambling in 2023
In the modern digital age, many people use Virtual Private Networks (VPNs) to mask and protect their identity when surfing the world wide web, and, nowadays, a lot of players are using VPNs to play at online casinos. It's because over-regulation is starting to impact the iGaming experience. Many users simply want to play their favourite games without hassle or restriction and these regulations are getting in the way.
That's why we've created the ultimate guide to VPN casinos. Throughout this page, we'll cover precisely what they are and how they work, the pros and cons of using VPNs to gamble online and also where and how you can use a VPN to gamble online. So, if you're keen to learn more, be sure to keep reading.
Best VPN Casinos
In theory, you can use a VPN to access nearly any site on the internet. However, when it comes to online gambling, certain sites exclude the use of a VPN due to specific regulations. Still, you'll be pleased to hear that many online casinos are VPN-friendly and, for your convenience, we've had our team of experts put together a list of the best sites below – be sure to check them out!
1
Fast payouts

24/7 Support

VIP Programme
What Are VPNs?
VPN stands for Virtual Private Network. Any time you use a computer or any other device to access a website on the internet, you'll have an IP address that's linked to your geographic location. The thing is, certain sites are blocked if you're trying to access them from a restricted location. This is where VPNs come in.
A VPN masks your real IP address, allowing you to circumvent strict geo-blocking protocols. Effectively, you could be physically sitting in your home country, but you can make websites believe that you're gaining access from elsewhere in the world. For example, you could be in the UK but adopt an IP address from Malta. Doing so would allow you to see specific content that's only available in certain jurisdictions. For example, an online casino's bonuses and promotions.
Why Use A VPN?
Using a VPN is a great way to stay anonymous while online. Your IP is masked and your data is encrypted, which makes it far more difficult for websites and potentially harmful third parties to track your browsing. It's always a convenient way to view content that's only available in certain countries. The VPN essentially bypasses geo-restrictions to allow you to visit sites that you otherwise wouldn't be able to.
So, why would this appeal to people who like to gamble online? Well, provided you play at a VPN-friendly casino, there are certain benefits.
The first relates to security. If you're playing for real money, you want assurances that your personal and financial information is safe. While a VPN cannot control your browsing habits, it does offer some protection against potential online threats as long as you don't willingly expose any sensitive details. Next, you can use a VPN to unlock specific casino bonuses. Again, though, this is only at sites that allow the use of VPNs. This gives you the chance to claim certain offers in specific currencies that may otherwise be unavailable. So, it's great for gamblers who want to make the most out of a deposit. Finally, it's also a way to access different gaming libraries. Certain casino games are restricted in some locations and if you're travelling, a VPN may allow you to access your favourite games.
Always check if the gambling websites you are playing are VPN-friendly. Take into account that some online casinos like PokerStars or Draftkings have special fraud detection tools that allow them to know if you are using a VPN. If the online casino detects VPN gambling activity, and since this might go against the gambling laws imposed by the government in your area, they might cancel your winning and block your account.
One last thing though. While VPNs are extremely useful, you'll still need to take care to ensure you're always playing at a trustworthy casino operator. If you're unsure about any site, remember that you can also rely on us here at Johnslots to point you in the right direction – we only ever recommend fully licensed online casinos.
Pros and Cons of VPN-Friendly Casinos
Like with most things, there are both advantages and disadvantages to playing at VPN-friendly casinos. At Johnslots, our goal is to give you all of the info you'll need to make an informed decision. That's why we've put equal effort into highlighting the pros and cons below – be sure to check them out.
Pros

Anonymity

Data protection

Access to a site's full range of games

Play without restrictions
Cons

Casino restrictions

Cost
Pros of VPN Casinos
Anonymity: VPN casinos allow you to keep your digital footprint secure. Using a VPN masks your IP address, which lets you maintain tight control over who or what has access to specific information.
Data protection: As VPNs utilise strong encryption features, it makes it much more difficult, nigh on impossible, for potential threats to infiltrate your system. As such, when you play at a VPN-friendly casino, you can rest assured that you're in safe hands.
Access to a site's full range of games: At many casinos, you'll only be able to play the games that are available in your region or country. That means you may be missing out on some great options. However, choosing to play at a VPN-friendly casino means you'll be able to enjoy all that the site has to offer – all of the slots, table games and live casino titles developed by all of the leading providers.
Play without restrictions: Recently, more and more regulators are starting to impose restrictions on how you're able to gamble online. In some countries, players cannot use the autoplay function on slot games, nor can they use certain bonus buy options to gain direct access to a game's top features. It's also possible that specific betting limits may be imposed, reducing how much you can wager on any spin or game round. However, at VPN-friendly casinos, that's no longer a problem. You'll be able to play all of your favourite games without restrictions.
Cons of VPN Casinos
Casino restrictions: A lot of casinos, especially those in the UK, use KYC (Know Your Customer) checks to verify the identity of their players. As such, if you're using a VPN, a site could restrict your account if your information and IP address don't match. It's not only a breach of a casino's terms and conditions, but it also skirts regulations set forth by regulatory authorities.
Cost: Although there are several free VPNs available, the best ones come at a cost. Free VPNs limit how much data you can transfer and they don't provide as many regions that you can use to adopt a masked IP. So, if you're planning to use a VPN to gamble online, you'll need to pay somewhere between €20 – €60 for a solid offering.
Best VPNs For Gambling
Now that we've outlined the pros and cons of VPNs regarding online gambling, it's time for us to highlight what we believe are your best VPN providers. Therefore, below, we've listed two top services that are both easy to use and widely available. Take a look!
NordVPN
Our top pick is NordVPN. It has excellent coverage, with more than 5,500 servers and 60+ countries available worldwide. It offers high performance and it's really easy to use, which means you'll be able to set everything up within minutes. Plus, it's available for all operating systems, including Linux, Windows, macOS, Android and iOS.
The service also provides some great features. It employs state-of-the-art encryption technologies and it comes with a monitor that scans the dark web for your data so you can take measures to protect yourself. Plus, you can use the service on your mobile devices and it always has a powerful anti-malware feature which scans your files and prevents any threats from infecting them.
Prices for NordVPN vary depending on your subscription period and which features you choose. The monthly plan costs between $11.99 and $14.99, but the annual plans are cheaper, priced between $4.99 and $7.99. If you would like to test it out before subscribing to a plan, they offer a 30-day risk-free trial.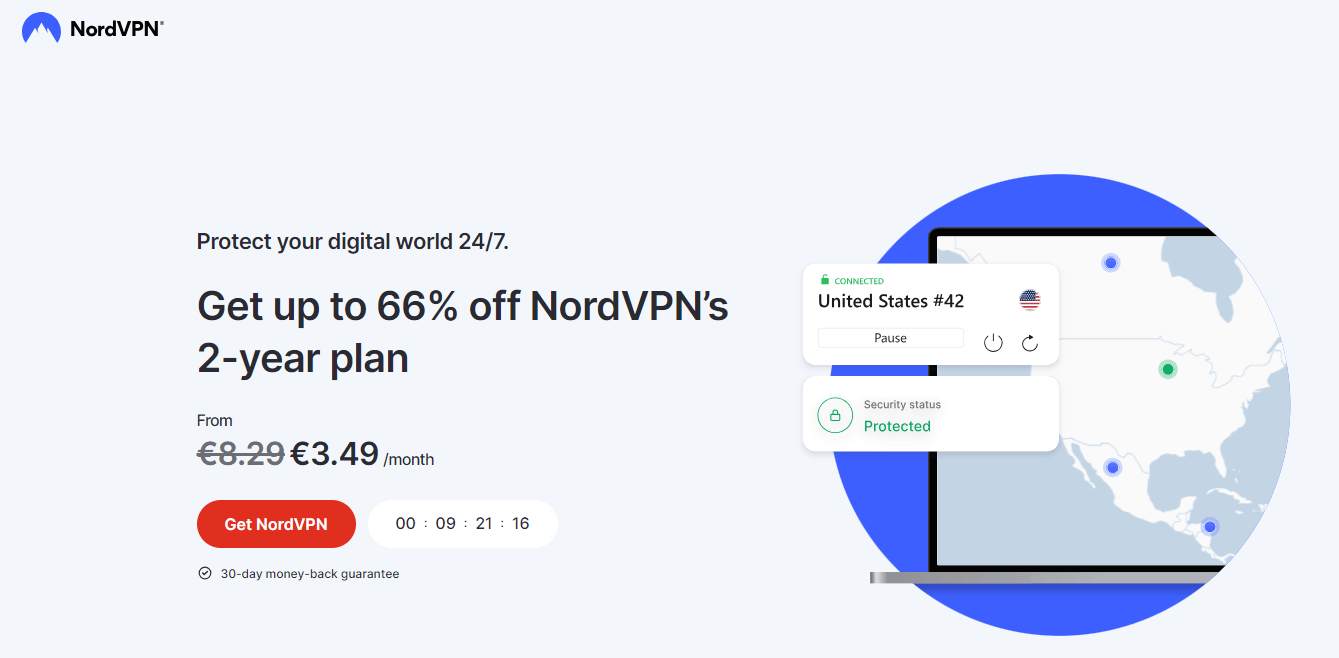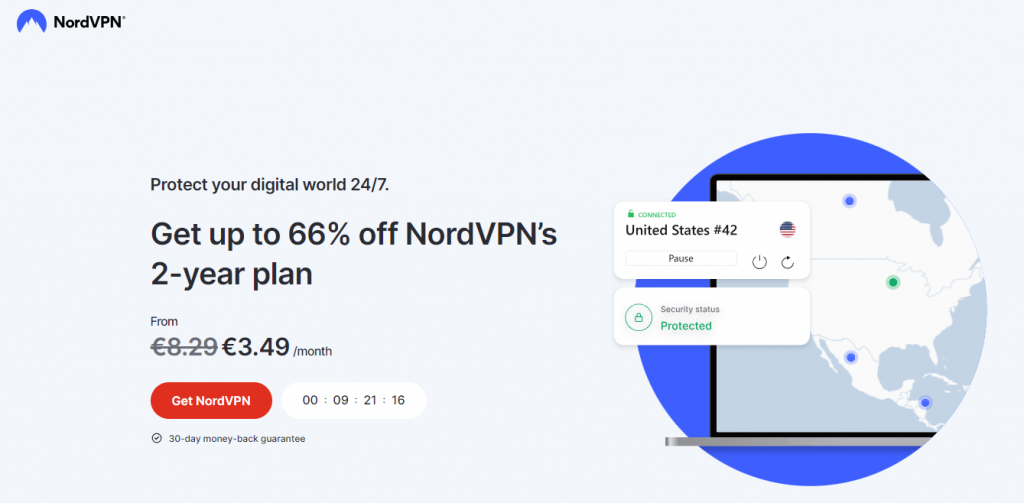 Express VPN
Our other highly-rated VPN provider is Express VPN. It's highly reliable and it uses AES-256 encryption to secure all of your browsing data, which is also bolstered by other features such as tunnelling and Kill Switch. Express VPN has over 3,000 servers, which are located in over 90 countries across all continents, so you'll have plenty of options to choose from.
It offers Split Tunnelling, which is a feature that lets you divert your traffic through an encrypted tunnel. This allows you to choose which data to route while also being able to free up the rest of your device's traffic. The Kill Switch feature keeps your data safe even when your network isn't stable. You remain secure at all times and it will disable all traffic when your VPN drops, protecting any and all sensitive data from leaking. It also has a threat manager. As you're probably aware, most websites collect and share your information with advertising companies. That's why you see targeted ads. The Express VPN Threat Manager puts a stop to this by blocking communication between your device and trackers' servers.
Again, they offer some free trial options, but the full service's costs vary depending on your subscription package. If you choose to pay annually, the average monthly fee is around $8.30. If you decide to renew semi-annually, it's $9.99. If you prefer to pay month to month, the price is $12.95.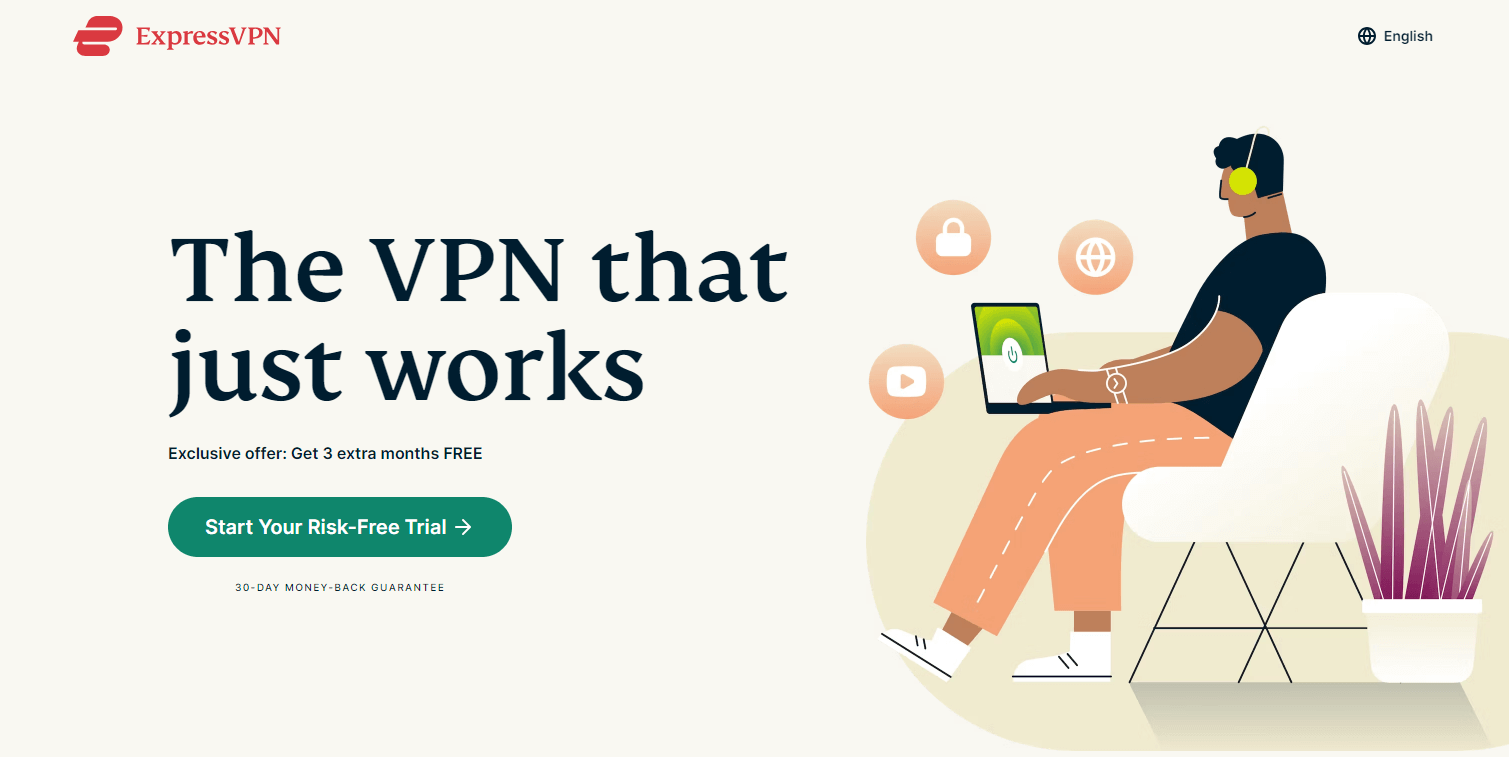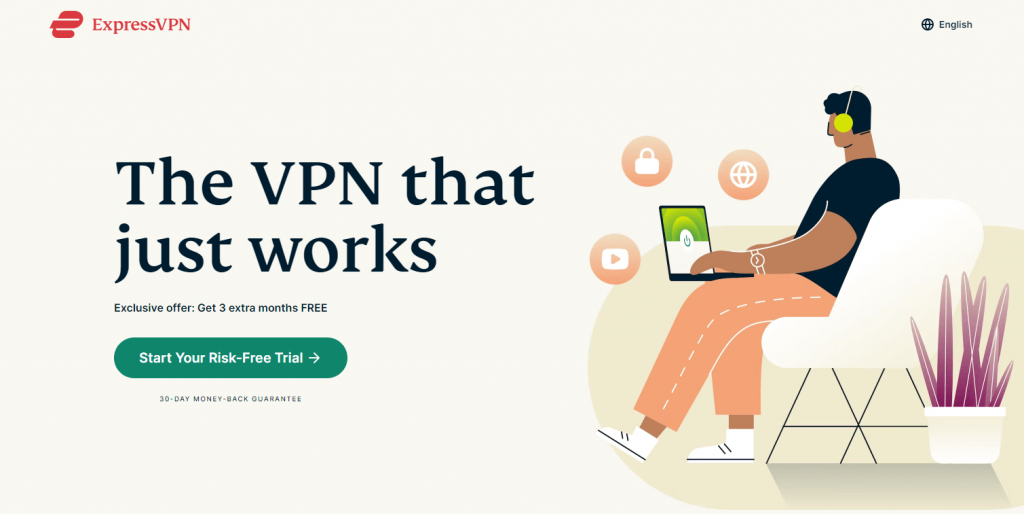 How To Play At VPN-Friendly Casinos
Below, we've created a step-by-step guide outlining how to play at online casinos using a VPN. So, if you're unsure as to how to get started, be sure to check it out.
Step 1: Yes, there are free VPN services, but we suggest you purchase a subscription. Analyse the different options and packages and decide which is best suited to your needs. After purchase, download the software and follow the installation process to get everything set up.
Step 2: Pick a VPN-friendly online casino. It's easy to do, all you have to do is select one of the sites we've highlighted on this page.
Step 3: Once you've chosen the right site, you'll need to sign up for an account. Simply follow the registration process and enter the required information.
Step 4: Activate your VPN and choose your desired location. Most top VPNs allow you to choose between IP addresses from over 60 countries. Simply select one that works for you.
Step 5: Log in to your new casino account to gain access to the site's full gaming library. Then all you have to do is load up your favourite games and enjoy yourself!
UK VPN Casinos
Unfortunately, UK casinos do not allow players to gamble who are using a VPN connection. If a site suspects VPN usage, your account will be blocked. We also strongly recommend that if you're a UK player, you do not use a VPN to access online casinos operating in other countries. These sites aren't licensed to UK standards so they're deemed unsafe by the United Kingdom Gambling Commission (UKGC).
VPN Casinos and Crypto
In the digital age, VPNs and cryptocurrencies tend to go hand in hand. They both offer complete anonymity, which is why many VPN-friendly casinos also tend to specialise in cryptocurrency payments – Bitcoin, Ethereum and so forth.
These crypto casinos most often tend to hold a Curaçao licence, not those issued by the UKGC or the MGA, which is something to bear in mind. It's not that Curacao online casinos are particularly unsafe, it's simply that the MGA and UKGC are two of the most well-respected regulatory bodies in the world. So, if you're keen to learn more about a site before signing up to play, be sure to read a full review right here at Johnslots.
Safety At VPN Casinos
Always remember to be cautious when gambling online, even when using a VPN – perhaps even especially so. Just because your location is hidden doesn't mean you shouldn't also consider good safety practices whenever you play at casino sites. Remember, the more security layers you implement, the safer you and your sensitive information will be.
First of all, we highly recommend using a reliable and trustworthy VPN service. Although there are free versions available, it's best to pay the price for one that has a wide range of security features to avoid any problems. As the saying goes: you get what you pay for.
Also, don't be lulled into a false sense of security just because you're playing at a VPN-friendly casino. Do some research and read a few reviews to make sure you know exactly what the site is all about. You should, of course, also be very careful with your personal data. If something seems out of place or a bit off, we suggest you look to play elsewhere.
Finally, utilise responsible gambling tools. Set a deposit limit or a time limit whenever you play to maintain tight control over your spending. This is something that you should bear in mind regardless of whether you're playing at VPN casinos or any other regular gaming site.
FAQs
If you have any further questions about VPN casinos, take a look at our helpful FAQ section below. There you'll find concise answers to some of the most common queries, hopefully providing the information you need.
If you're travelling abroad or you simply live in a country where certain restrictions are in place, VPN casinos can be a solid option. You can access these sites using VPN connections in order to bypass certain geo-blocking protocols and play casino games that you wouldn't otherwise be able to.
A VPN casino is an online casino that allows customers to gamble for real money while using a VPN. Essentially, they allow you to access the site's full range of games while keeping your physical location hidden.
VPN casinos are legal in countries where regulatory bodies allow the use of VPNs when gambling online. In the UK, for example, players cannot use a VPN to access UKGC-licensed online casinos. Elsewhere, however, other authorities allow the use of VPNs. You should always check beforehand though, as it will vary from one jurisdiction to the next.
At VPN friendly casinos, you can enjoy all sorts of casino games, including online slots, classic table games, poker, live casino titles and more. Some sites may restrict access to specific games depending on which country you're playing from. So using a VPN is a great way to play other games, provided the casino permits the use of a VPN.
When using a VPN, always remember to disable it before playing at a gambling website that does not accept VPN use. If it happens by mistake, you should contact customer support immediately on the casino's chat support or by email and explain the situation. Do not worry, it is a common issue that also happens to others, so most likely, your account won't be affected.
Yes, most likely the use of VPN software will slow down your connection speeds. This is something that can impact your casino experience, as some games might take longer to load if the internet speed is slower than normal. Our suggestion is to subscribe to a good-quality VIP that allows you to maintain a reliable connection.