Best Casinos to Play Blackjack At
If you are looking to win the game of Blackjack either at an online casino or on your mobile on the go, we have compiled a comprehensive list of the best casino sites to play Blackjack at. Check them out below.
Top strategies for winning at blackjack
One of the first steps to learning how to win Blackjack is to familiarise yourself with the Blackjack cheat sheet below. The Blackjack cheatsheet has been designed to help you play the best possible game based on your total hand value and the dealer's upcard. It even suggests when you should double down, split or surrender if the option is available.
By referring to the Blackjack cheat sheet, you will maximise your chances of winning, whilst minimising how much you lose. While it is true that a high degree of luck comes into play when it comes to the cards in your hand and the dealer's upcard, you have to opt for the best possible move based on these factors. This strategy is considered mathematically correct due to the fact that Blackjack is a mathematical game with a fixed set of rules.
Here's a recap of the terminology and possible moves available in Blackjack:
Hit: Request another card. You can keep on asking for additional cards until you decide to stand or else, go bust.
Stand: You are content with the cards in your hand and thus will take no extra cards. The dealer can now play their hand.
Double Down: You take an extra and final card by paying double the amount of your bet and stand.
Split: If you have two cards of the same value, you can split them into two separate hands. The bet is the same as the original bet so essentially doubling your bet.
Surrender: You give up half of your wager and resign. This generally applies if you think you are going to lose the round, so you cut your losses by surrendering.
Insurance: If the dealer's up card is an Ace, you have the option to take out Insurance. The Insurance bet costs half the value of your original bet. You are essentially betting on the dealer getting a blackjack.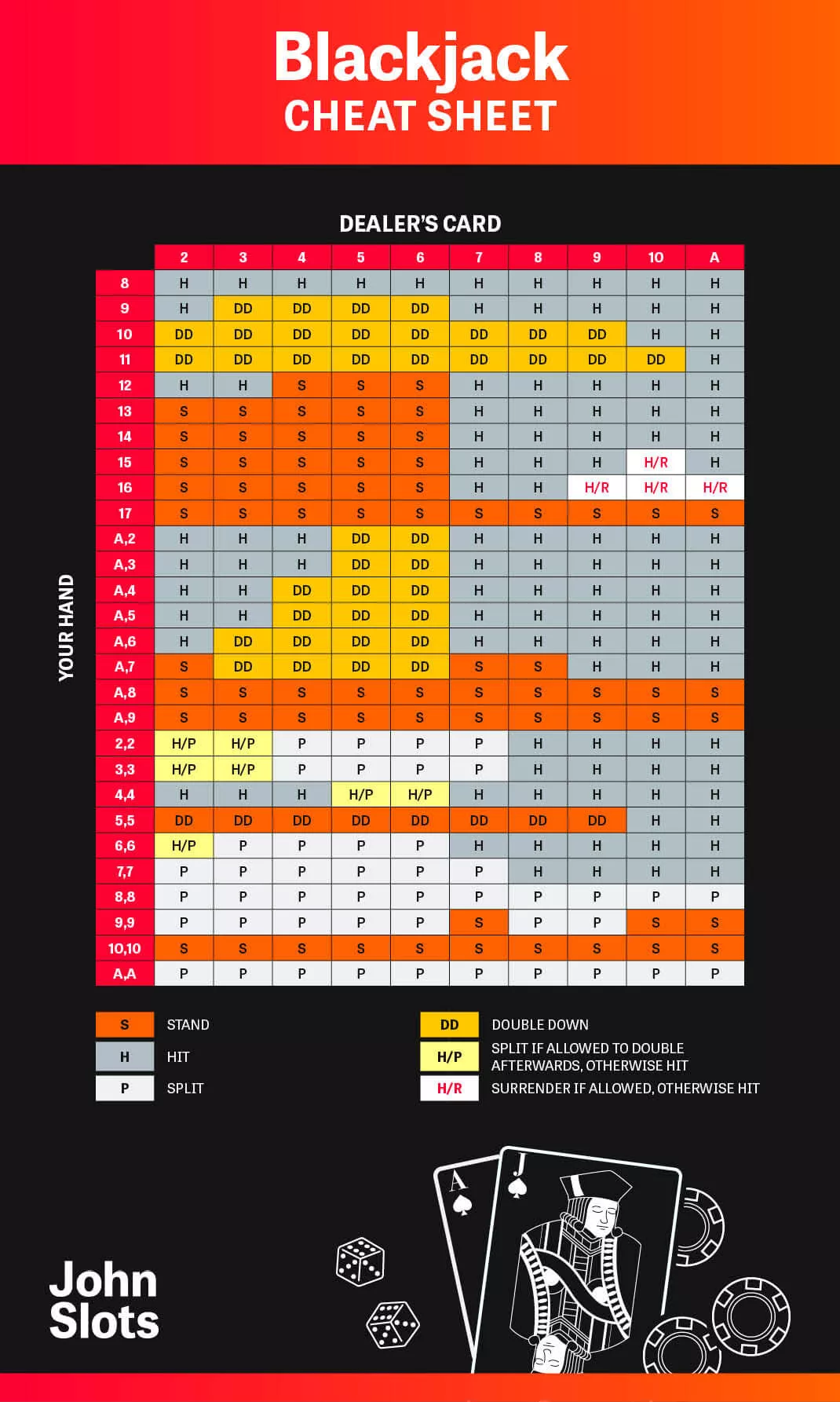 The dealer's hand
The dealer automatically wins if you bust or surrender
The dealer also wins if their total hand value comes closest to 21
If the dealer has a total of 16 or less, he must hit
If the dealer has a total of 18 or more, then he must stand
If the dealer has a hard 17, he must stand
If the dealer has a soft 17, the dealer must hit
It is important to point out that different rules apply to different online Blackjack games. In some cases, such as Free Bet Blackjack, if the dealers get a 22, then it will result in a Push. In some other Blackjack table game variations, there may be different rules. While most Blackjack games work in a similar manner, that you must have a total hand value as close as possible to 21, there may be different rules and side bets that affect the house edge considerably. It is always wise to adjust your Blackjack strategy based on the probability of certain factors when playing casino games, such as Blackjack.
Top 10 ways to win at blackjack
While it would be impossible to teach you how to always win Blackjack, we can show you how to improve your chances. After all, Blackjack is both a game of skill and it is of luck. As is the case with most online casino games, as a player, you are continually fighting the house advantage in an attempt to lower it.
The good news is that it is possible to lower the house edge with the aid of a solid Blackjack strategy. If you fail to apply a strategy, there is a high risk of losing your bankroll quickly and effectively in a short span of time. Forget about card counting. Card counting in the online gambling sphere simply does not work for a number of reasons. First off, if you are playing Blackjack online, it is impossible to count cards. After the end of each Blackjack round, the cards are automatically reshuffled with the aid of the Random Number Generator. Moreover, when playing live dealer Blackjack, you have no idea how many decks of cards are in play.
Knowing the Blackjack rules of every game variant, avoiding side bets, applying a strategy chart and making the right decisions, give you the best advantage at winning this game. Similar to the games of Baccarat and Roulette, the game of Blackjack is a game of probability, so you need to use what odds are available in your favour.
If you want to learn how to win Blackjack, you need to make the right calls. Apply the following strategy and tips and tricks to embellish your bankroll when playing Blackjack.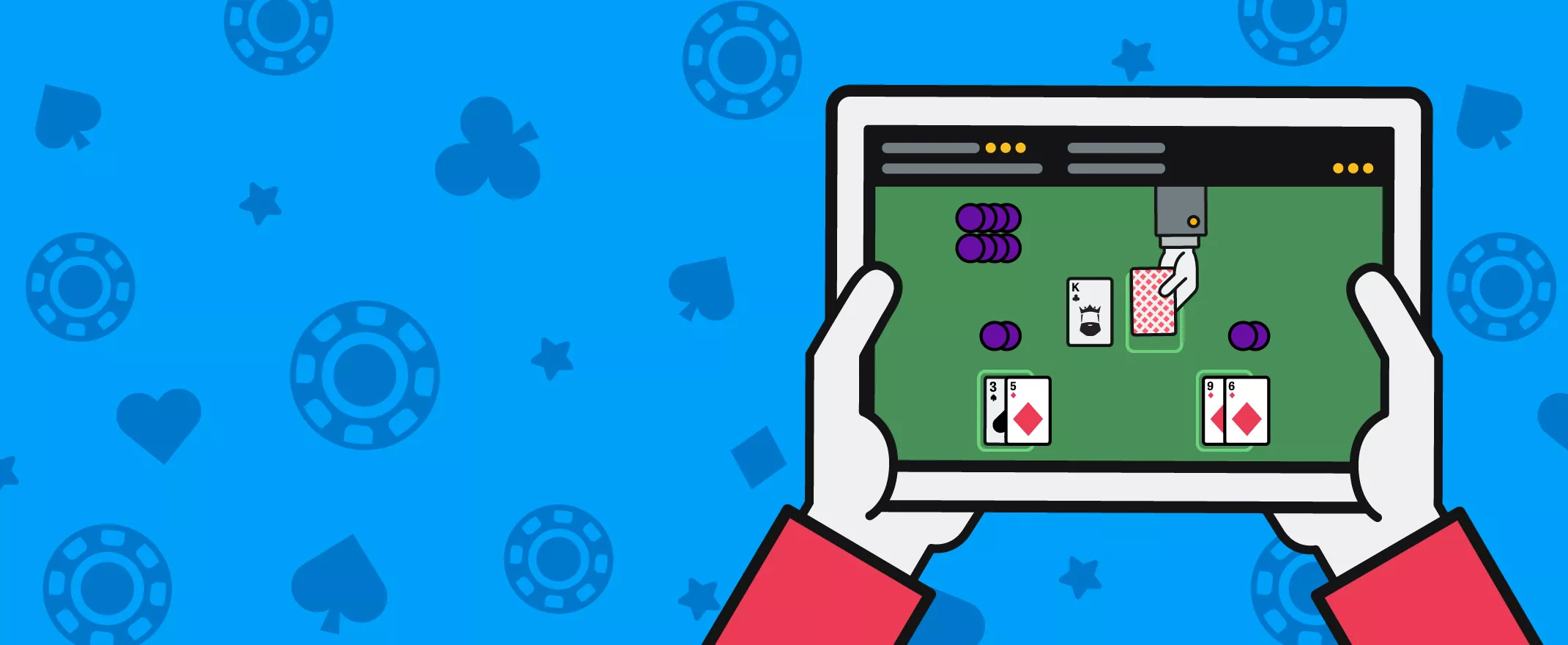 1. Learn the basic play strategies and get familiar with the terms of the game
If you are new to Blackjack, it is always best to start off with the classic standard game version. By applying a basic strategy and learning the rules of the game, you will be able to make optimal decisions based on the cards you have in your hand and the dealer's upcard.
Blackjack strategies are designed to minimise the house edge and give you a better chance of winning. For example, if the dealer's upcard is a 10 ( King, Queen or Jack) and you have an Ace and an eight (total of either 9 or 18), your best bet would be to hit again to have the best chances of getting a total hand value of 19. Of course, the more you play at different Blackjack tables and the more you make use of strategy charts, your decisions will become second nature.
2. Find tables with the most liberal playing rules
This ties into our previous point. However, when you are starting out, it is always best to look for a classic table setup, where landing a Blackjack pays 3-2 instead of 6-5. Another important rule to watch out for when shopping around for the best Blackjack tables is to opt for a game where the dealer stands on soft 17.
If, in some way or another, you can find Blackjack tables that have fewer decks of cards, then go for it as it could significantly reduce the house edge. Most Blackjack casinos do not reveal how many decks of cards are at play.
3. Pick a table that offers the double-down option
Some Blackjack players may be a little hesitant to opt for bets such as 'Double Down' and 'Split' and rightly so, as they may be used in the wrong circumstances. The Double Down option is important but only when the right situation is presented. For example, having Blackjack hands with a value of 9, 10,11, soft 13, soft 14, soft 15, soft 16, soft 17 and soft 18 is a great opportunity to Double Down but only if the dealer has an upcard of 10 or less.
By doubling your bet, you can take advantage of a somewhat risky situation and boost your winnings. If you want to learn how to win Blackjack, you need to take a few calculated risks, especially when you have a strong hand.
4. Use a Strategy Card
Beginners taking the first steps to learn how to win Blackjack should always use a strategy card, or the JohnSlots Cheat Sheet for this casino game. Not only will you be able to make the best possible decisions based on your hand and the dealer's hand, but you will also be able to enjoy significantly more payout opportunities and minimise your losses.
You can enjoy all the action and gameplay and opt for the best possible outcome. Once you have gained the necessary experience from using the strategy card, you can then proceed to adapt your bet size accordingly and make your own move. Whether you hit or stand, your step in this game will come naturally.
5. Split Aces and Eights
Splitting Aces and eights is part of the basic Blackjack strategy. In this case, it is always worth splitting Aces and eights regardless of the dealer's upcard for a number of reasons.
Let's start off with the aces. Splitting Aces is always advantageous, since it enables you to create two separate hands, with each one having an Ace. An Ace is one of the most powerful cards in Blackjack thanks to its versatility. It can be counted as either 1 or 11, depending on the situation and the other card available in your hand.
By splitting Aces, you have the chance to improve your hand by adding additional cards. In the best case scenario, you will receive a 10-value card (10, Jack, Queen, or King) on either of the split Aces, since that will give you a natural Blackjack and also bigger payouts.
Splitting eights, on the other hand, is always recommended since it helps you avoid having a weak hand. When you have a pair of eights, your hand value is 16, which is never ideal and it is considered one of the worst hands in this casino game. By splitting eights, you can improve your situation considerably by adding extra cards for each split hand. In the best-case scenario, you will receive a 10, to get a total hand value of 18.
6. Stand when you have a hand that could bust against a dealer's card
It is always wise to keep an eye on the dealer's upcard. If they have a weak upcard of between 4 and 6 and you have a hard 12 or more, it is best to stand.
This is because these upcards can result in very high bust rates for the dealer. By standing, you are avoiding the opportunity of busting yourself and hope that the dealer busts instead.
There is no guaranteed outcome since the game of Blackjack is also a game of probability. Individual outcomes may vary.
7. Pick a table that offers the stakes that best suit your bankroll
If you want to learn how to win Blackjack, you must manage your bankroll effectively to increase your gameplay for an extended period of time. One way of doing this is to pick the right Blackjack game that offers bet sizes that suit your bankroll
You should ultimately choose a table with a minimum bet that is no more than 5% of your total bankroll. By following this rule, you will minimise the risk of losing all your money too quickly and increase your chances of winning. Bear in mind that the different Blackjack tables have different minimum and maximum bets. You should also be mindful of different Blackjack variations, which may come with different rules and different house edge percentages.
8. Double down with any ace against the dealer's six
Another strategy that applies when learning how win Blackjack is to double down with any Ace against the dealer's six. This is because the dealer's upcard of six is considered a very weak card, so the player has a good chance of winning this hand by doubling down.
Even if the dealer has a 10 card facedown, the best total hand value they have is 16. In this case, they are likely to hit, which can lead to a bust.
Doubling down does mean that you must double your original bet to receive an extra card. Manage your bankroll properly to make accommodations for such bets.
9. Set your limits and stick to them
Setting your limits before sitting down to play Blackjack is important on many fronts. It allows you to manage your time and finances and allows you to gamble responsibly. It also ensures that you don't overexert yourself and have the right mindset to make the best possible decisions.
If you are on a losing streak, don't go chasing after your money. Once you have made this choice, be thankful as it will help you not fall into the trap of betting more than you can afford to.
10. Have a betting strategy in place
Some players swear by betting strategies and systems, such as the Martingale, the Fibonacci and the D'Alembert. However, I don't personally recommend them as they are highly risky and can result in huge significant losses in a short period of time.
These betting systems are based on mathematical progressions that help you recover most of your losses whilst also making sure you make a tight profit. However, if you are playing with a small bankroll, this is unlikely to be possible.
Betting patterns in blackjack
When you are starting out, placing the same bet size for each hand is a wise decision. Once you start to understand and deal with different hand values, you can up and change your betting patterns.
What you need to keep in mind when you choose a bet size in Blackjack, is the outcome of the previous hand. You may want to alter your bet size to get the best out of your winning streak and to reduce your losses when you are on a slippery slope losing streak.
It is up to decide whether you want to play more safely or more aggressively.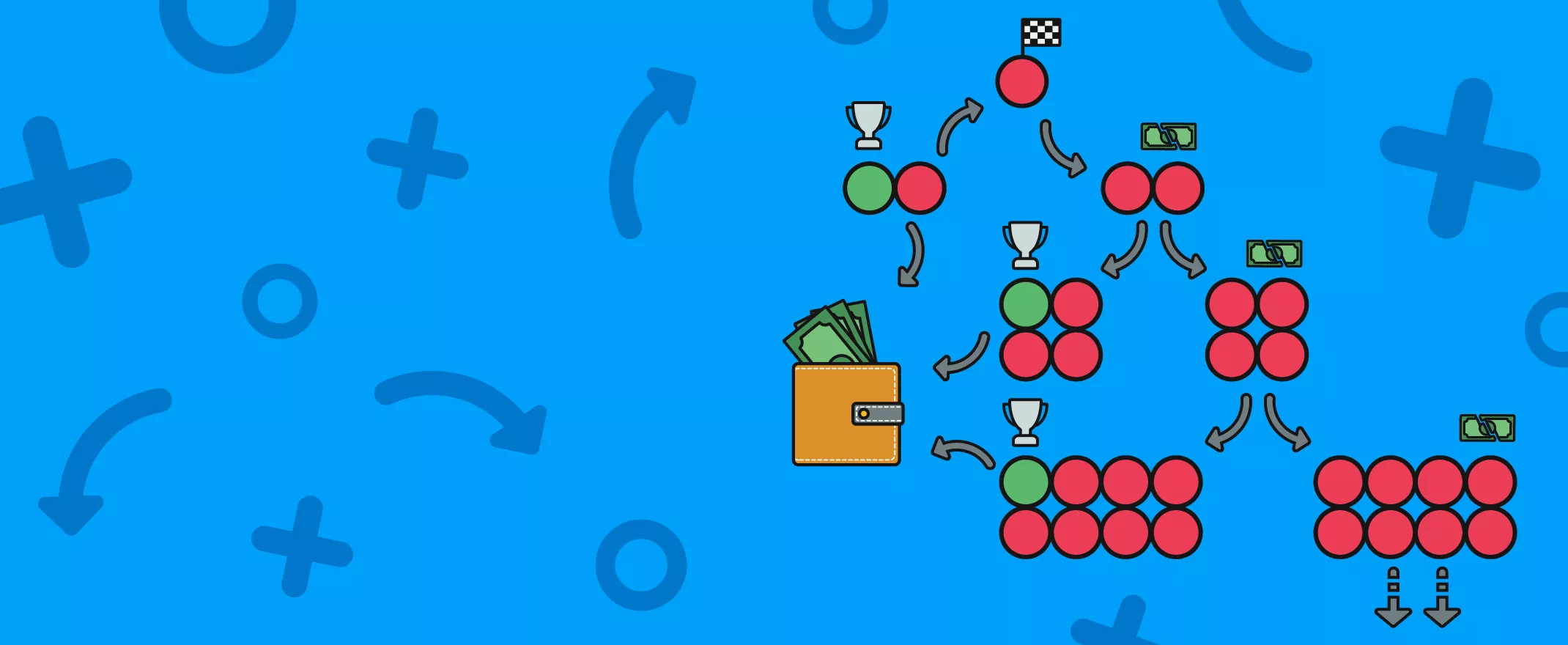 Cautious approach
If you want to play it more safely, then you should adapt your betting pattern to increase your wins. Every time you snap up a win, you can raise your bet slightly and play the next round. This is done so you never bet more money than you can afford to lose.
Martingale system
As mentioned, some players swear by betting systems. One of the most popular betting systems used in casino games is the Martingale system, which dictates that you double the size of your bet each time you lose a round. The risk factor here is quite high, but you would only need one winning hand to recoup your losses.
As advised, I would never recommend this method, especially when you are learning how to win Blackjack, as you could end up losing your bankroll quickly. Having a budget in place and sticking to win-and-loss limits would give you a better chance of turning profits.
Surrender
Out of the many options available at some Blackjack tables, is the Surrender option, which is possibly the least used option by most players. It is so rarely used, that the Surrender option has vanished from various online casinos and games.
Many players think that surrendering should not even be an option in blackjack. The truth is that surrendering is potentially one of the best weapons you have at the table and can help you minimise your losses. When used appropriately, surrendering is one of a few options that help reduce the house edge.
Of course, sometimes you know as a player that you have a bad and weak hand. For example, if you have a 16, the chances of losing are much higher. You cannot hit, because there is a risk of busting and if you stand, the dealer is likely to have a better hand than you resulting in a win.
By surrendering, you are cutting down on your losses and recovering half of your bet.
When to surrender in blackjack
Another tip on how to win Blackjack is to use the Surrender option at the right time. As previously mentioned, when you opt for the Surrender bet, you are folding the hand, risking only half of your bet, rather than the entire hand.
There are two types of surrender. There is the Late Surrender, which is done after the dealer checks for a Blackjack or an Early Surrender. The latter is carried out before the dealer checks.
The decision to Surrender depends on a number of factors, including the dealer's hole card, the number of decks of cards and whether the dealer hits or stands on a soft 17.
The rules of surrender and when to surrender
To opt for the Surrender option, the right opportunity must present itself. Using the Surrender option helps reduce the house edge by 0.07%.
Since the game of Blackjack is a game of percentages and edges, the only way you can win consistently would be to use any means at your disposal to reduce the house's advantage. It is for this very reason that you need to know when to use surrender wisely.
There is a strategy for using surrender which is easy to apply. We have compiled the table below on how and when you should use this option:
| Players Hand Value | Dealers Up Card | Number of Decks | Surrender? |
| --- | --- | --- | --- |
| 15 | 10 | 1 | Yes |
| 16 | 9, 10 or Ace | 1 | Yes |
| 16 | 9, 10 or Ace | 2 | Yes |
| 15 | 9 | 2 | Yes |
| 16 | Any | 4 or more | Yes |
Now there are other factors that come into play. At most online casino sites, there are some special rules when it comes to surrendering:
A player can only surrender any two-card total
You cannot surrender after you have acted on a hand
Without a doubt, most online casino players play Blackjack with the aim of winning. While for some it is all about the experience, the majority of players agree that they play at casinos to win money.
If you have a bad strategy, act greedy and perhaps are careless with your decisions, it can end up costing you big in the long run. Work hard to avoid the below deadly blackjack mistakes so you can win more games.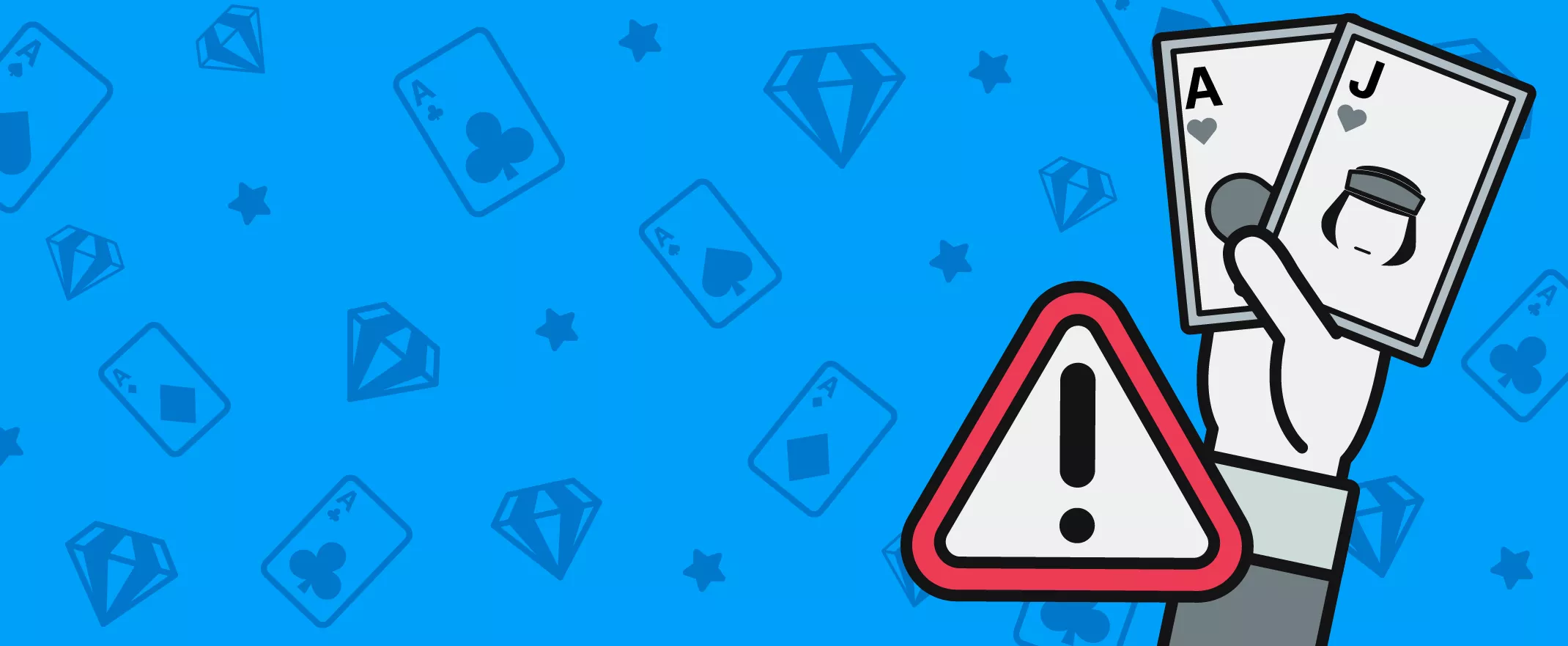 Deadly mistake #1: Not knowing the rules of the blackjack variant
This might be a no-brainer for some, but some players don't realise that each blackjack variant comes with its own set of rules. The concept of the game might be the same but the rules tend to be different. Before you sit down to play a specific blackjack variant, take your time to go through the rules and to see if it's more profitable for you in the long run.
For example, when can you double after a split? Will the dealer surrender at 17? Do you have the surrender option?
It is up to you to go over the rules of the various blackjack tables and to find one that is most favourable for you.
Deadly mistake #2: Playing without having a strategy in place
If you don't have a basic strategy in place, then you are committing one of the most grievous mistakes in blackjack. You need to read books, articles or else go through our strategy guides right here at JohnSlots. Don't play by guessing or basing your decisions on gut instincts.
Although it is a game of luck, you still need to play your hand so use a strategy to make sure you make the best decision possible.
Deadly mistake #3: Not thinking clearly and sharply
Since the game of blackjack is a mathematical game based on odds and strategy, you need to be thinking quite clearly to make the right decisions. Avoid alcohol or playing after a long and tiring day at work.
You could try card counting if you're playing live blackjack but most importantly, only play when you know you can concentrate so you can keep track of the game as it progresses.
Deadly mistake #4: Not knowing when to quit
When you start to make a profit, that's the time to walk away. Many blackjack players keep on playing even when they start to lose. There is this common misconception that the more you bet, the more likely you are to increase your chances of winning. Don't fall for this error.
Deadly mistake #5: Making bad assumptions
Everyone should know that a house edge rarely alters throughout the course of a game. If you are using a betting progression system, you are placing yourself in a position where you must keep on raising bets. Don't place yourself in such a vulnerable position as in the long run you are unable to beat the house edge.
Although betting progression is a fun concept, unless you are card counting, your chances of losing are bigger.
Deadly mistake #6: Side betting
Side bets including insurance bets come in various forms and figures and usually tend to cost quite a bit if you keep placing them. Although the prospect is attractive especially for newbies, the house edge on these bets is much higher. You might win a few of these side bets, but the chances are much lower.
Since they don't cost as much as normal bets, you might get tempted to place them even though you are losing. In the long run, these type of bets will deplete your bankroll and hinder you from making a profit.
Deadly mistake #7: Blaming bad luck
When you find yourself in a situation where you are having several bad hands, control your emotions and do not harass the casino dealer or other players. Try to concentrate and stay focused on the game.
There is no point in arguing with the dealer. Just make good choices from the start and pick a table that has more favourable rules for the sake of your bankroll.
These common mistakes can be easily avoided if you apply a basic betting strategy and concentrate on the game at hand. If you need to hone your skills, you will soon realise that blackjack mistakes can be simply avoided.
Want to learn more about blackjack? Read more strategies and tips and when you are ready to play with real money, check out our trusted casinos and snatch one of our top casino bonus offers right here at JohnSlots.
FAQs About Winning at Blackjack
Please note that the information provided in this FAQ section serves as general guidance. It is always recommended to understand and follow the specific rules and regulations of the blackjack game you are playing, as they may vary across different online casinos.
While blackjack is a game of both skill and luck, it is possible to improve your chances of winning through strategic gameplay. By learning and applying optimal blackjack strategies, understanding basic blackjack principles, and managing your bankroll effectively, you can increase your odds of winning in the long run.
Key blackjack strategies include understanding basic strategy charts, which outline the best decisions based on your hand and the dealer's upcard. Additionally, mastering card counting techniques can provide insights into the composition of the deck and inform your betting decisions. It's important to note that card counting is not applicable in online blackjack games due to the use of random number generators (RNGs).
You can play free blackjack games online to familiarize yourself with the rules and strategies without risking real money. Many online casinos also offer demo versions of their blackjack games, allowing you to practice in a simulated environment. Additionally, you can find blackjack strategy trainers and mobile apps that provide interactive practice opportunities.
Proper bankroll management is crucial in blackjack. Set a budget for your gambling activities and stick to it. Determine your betting unit based on your overall bankroll and bet within your means. Avoid chasing losses and be disciplined with your betting decisions. By effectively managing your bankroll, you can prolong your playing sessions and minimize potential losses.
No strategy can guarantee a win in every blackjack hand. While strategic gameplay can improve your odds, the element of luck still plays a significant role. Remember that blackjack is a game of probabilities, and even with optimal strategies, there will always be variations in outcomes. Focus on making informed decisions and managing your bankroll responsibly rather than relying on guaranteed winning strategies.
Card counting is not feasible in online blackjack games. This is because most online casinos use random number generators (RNGs) to ensure fair and unbiased outcomes. RNGs shuffle the virtual decks after each hand, making it impossible to gain an edge by tracking card values. However, you can still employ strategic gameplay and utilize basic blackjack principles to improve your chances of winning.
+6 Years of Experience

Online Blackjack Expert
Drogo Schultz
Drogo Schultz, the master of online blackjack, offers winning strategies and invaluable insights for players. With his expertise in the game, he helps players improve their skills and increase their chances of hitting the jackpot.
More info on Drogo Schultz