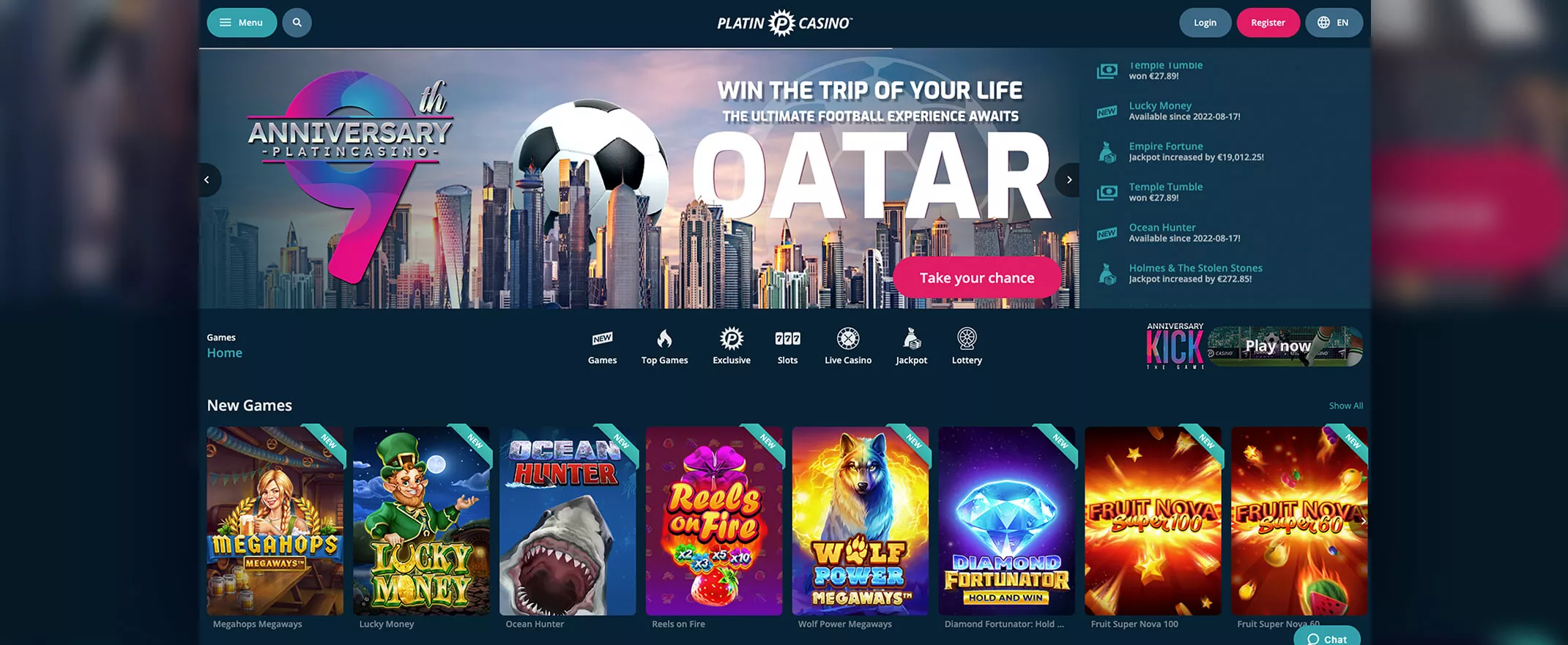 From 8th August to 13th September, you'll be able to collect one raffle ticket every day for your chance to win amazing prizes. Platincasino is giving away an iPhone 13 Pro, an iPad Air, AirPods Pro, and a MacBook Pro to 9 lucky winners (2nd to 10th prize).
As well as that, another 9 winners will get an 8k Samsung QLED TV (11th to 19th prize).
That's not all, though, as the 9 luckiest winners will receive the first prize- a €50,000 worth trip to Qatar for the World Cup in Qatar in 2022! The trip will be for 2 people and will include business class plane tickets, 8 nights in a 5-star hotel, and 2 events.
To participate in the raffle and have your chance to win some of these amazing prizes, you'll have to register for the promotion on the casino's website.
It doesn't matter that the promotion has already started, as you can register any time during the promotional period. Once registered, you'll be able to draw one raffle ticket every day until 4th of September.
To do this, you'll need to complete different daily tasks at the casino. These tasks will be announced in newsletters and pop-ups on the site, so don't forget to check your email and visit the casino daily.
You can expect the daily tasks to be easy to complete. For example, you'll just need to log into your account or play a slot.
On 13th September, all the tickets will be thrown into a lottery pot and the lucky winners will be drawn.
T&C's include:
Only Euro (€) accepted
Winners will be informed in writing (email and/or letter)
18+ only
Additional terms and conditions apply
For the full T&C's, visit the casino website.
If you want to discover more casinos and what they have to offer, check out these categories on our site:
+5 Years of Experience

Casino Bonus Expert
Leonard Sosa
Leonard Sosa is a trusted Casino Bonus Expert with a deep understanding of the intricacies of online casino bonuses. He analyzes and evaluates the terms and conditions associated with different bonuses, guiding players to make informed decisions. Leonard specializes in no wager no deposit bonuses and provides valuable insights on maximizing their benefits. His expertise helps players unlock the true value of casino bonuses and optimize their gaming experience.
More info on Leonard Sosa