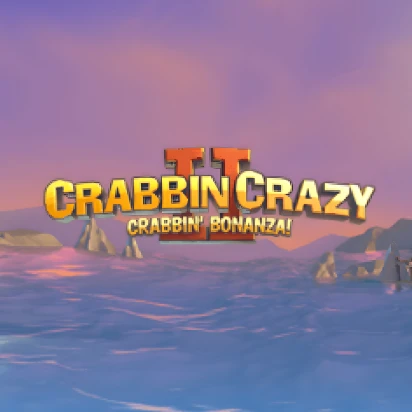 Crabbin' Crazy 2
It is time to prepare your fishing gear and get ready to go fishing! Crabbin' Crazy 2 offers exciting action and the possibility to reel in big wins, such as up to 2,000x your stake.
Rating
3.925
RTP
95.93
Paylines
20
Volatility
Medium
Vulkan Vegas Casino Review
The UK Gambling Commission requires you to be over the age of 18 to play demo games. Are you over 18?
You are playing Crabbin' Crazy 2 for FUN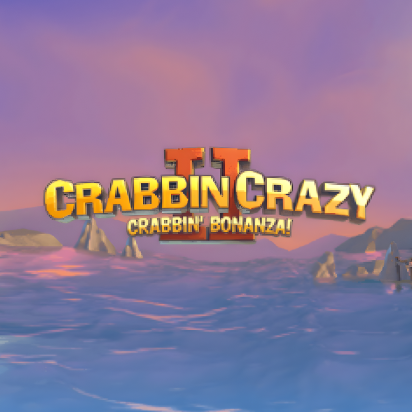 What does John have to say?
The game Crabbin Crazy 2 kept the fun elements from Crabbin' Bonanza, the original slot game. iSoftBet upgraded the visuals and made some adjustments to improve the overall experience which made the game very popular among fans of slot games.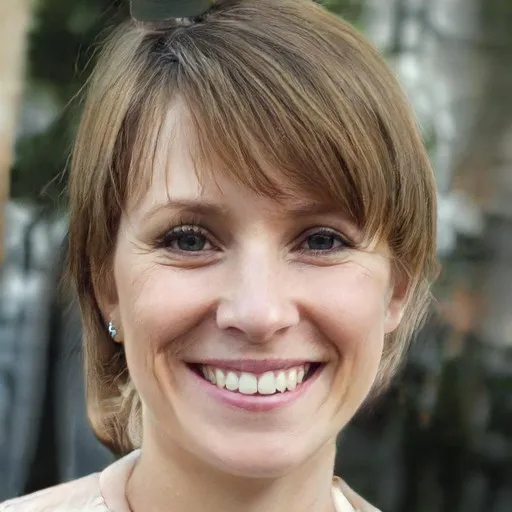 Pros & Cons of Crabbin' Crazy 2 Slot
Here's a summary of all of the great and not-so-great things that Crabbin' Crazy 2 has to offer.
Pros

A huge variety of features

Hold and Win feature with resettable respins

Fantastic visual presentation

5 base game reel modifiers
Cons

Low RTP

Low max win potential at 2,000x
Crabbin' Crazy Slot Review
I always thoroughly enjoy video slots that take their themes seriously, delving deeper into a setting to create a memorable experience. They're the ones which stick with you most, long after you've stopped spinning their reels. So, you can imagine my joy at seeing the visual upgrade that iSoftBet has given 2023's Crabbin' Crazy 2. Sure, fishing-themed slots aren't a novelty anymore, but the provider has managed to take its angle on the genre, with impressive attention to detail. The visuals have been given a more CGI look and feel, which improves upon the more cartoonish style of the original. A fishing boat sails to the right of the reels, while a lighthouse flanks the right side of the reels. The animation here is great, as is that of the symbols on the reels themselves.
But looks aren't all Crabbin' Crazy 2 has going for it. iSoftBet has jammed in as many features, mechanics, and modifiers as they possibly could. It makes for a busy, densely packed slot that can take a different turn on any given spin. Of course, the high volatility setting grounds the action, so don't expect to start hauling in special features on every round.
So, if you're up for more crabbing, don your fishing gear, pop on your wellies, and read through the Crabbin' Crazy 2 review. I'll tell you all about the game's many features and even share some insights on my own experience of playing the game!
| | |
| --- | --- |
| ⚡ RTP | 95.93% |
| 🎲 Volatility | High |
| 💰 Paylines | 20 |
| 🔼 Maximum Bet | 20 |
| 🔻 Minimum Bet | 0.20 |
| ⭐ Bonus Features | Wild symbols, Scatter symbols, Coin symbols, Respins, Hold and Win, Mega symbols, Synched reels, Mystery symbols, Instant cash prizes |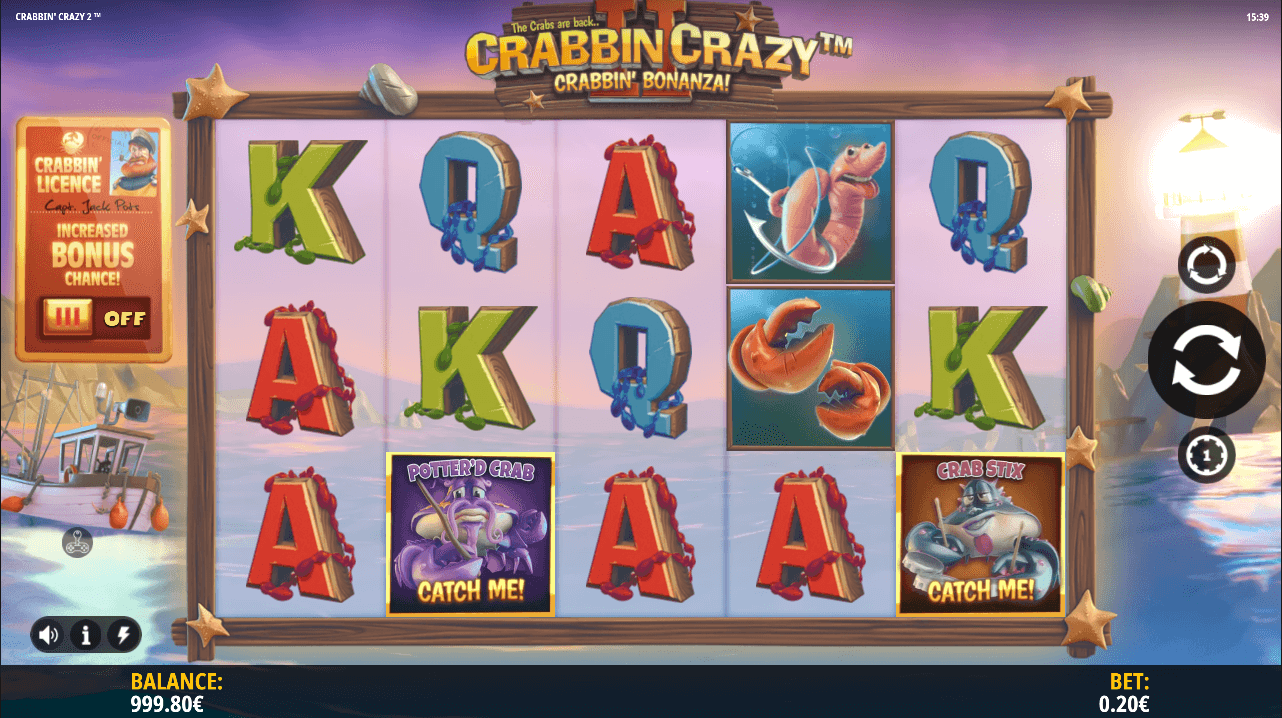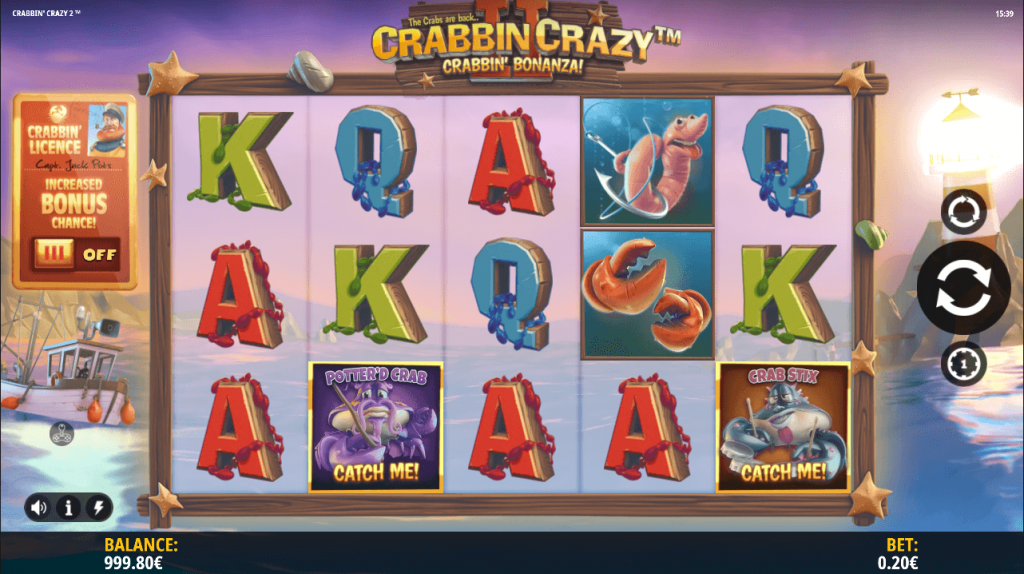 Play Crabbin' Crazy 2 For Free
Free play is a great way to experience Crabbin' Crazy 2 for the first time. It gives you the freedom to explore the game's features and bet levels in a safe space, without the risk of losing any personal funds. Especially with a game like Crabbin' Crazy 2, which is filled with all kinds of mechanics and features, you'll want to know exactly how each function works before making real money wagers. You get the chance to familiarize yourself with the slot's math model too, so you'll feel more confident in placing real money wagers, once you decide to play the game for real. You can find the free demo of Crabbin' Crazy 2 at the top of this review or in most of the online casinos that offer this slot.
Where Will I Be Able to Play Crabbin' Crazy 2 for Real Money?
You can play Crabbin' Crazy 2 across a wide variety of online casinos. iSoftBet is a particularly popular software provider, with its games made available at most online casinos on the net. So, you should have no trouble finding a safe and enjoyable site to play the game. You'll even find a list of recommendations below.
Video slots are all run using a randomised algorithm, so there aren't too many strategies to help you along the way. But I always recommend keeping an eye out for your progress and adapting your bet levels accordingly. Luck will not always be on your side, so make sure you stick to your limits and know when it's finally time to cash out.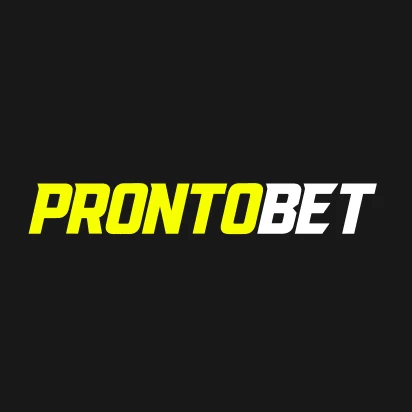 ProntoBet
4.3/5
ProntoBet Review
OhMyZino Casino
4/5
OhMyZino Casino Review
Pro Tips
As expected when playing a high volatility slot, the wins in Crabbin' Crazy 2 weren't particularly forthcoming. When I initially played without the Crabbin License boost, I barely ever triggered any special features and floated for a while in a sea of low-pay symbol wins. But the boost eventually changed things for the better and I finally got to experience all of the features we'll be discussing below. So, I'd recommend switching on the boost and keeping it running throughout your playthrough. The function increases your RTP to a more favourable 96.01%. Sure, it increases your bet by 25%, but you get an actual shot at triggering special features and landing some of the bigger wins.
CRABBIN' CRAZY 2 Slot Bonus Features
If you're after a densely packed, busy video slot machine, then listen up. Crabbin' Crazy 2 is packed to the brim with all kinds of special features and mechanics. I was shocked to see the sheer amount of reel modifiers that have been included here. But whereas in some slots, these game changers would have been the only features around, in Crabbin' Crazy 2, they're just the tip of the iceberg.
Most of the action takes place during the base game, with the Mystery Crates, Taxi Crab and Pick a Bucket features possibly triggering on any given spin. They're all randomly triggered, so you don't need to make any particular wins or collect sets of scatter symbols to trigger them. That setup is reserved for the Crabbin' Bonanza Respins, which delivers the slot's biggest potential wins.
It's worth mentioning that with such a high volatility setting, it's not like you'll be triggering these functions left, right and centre. Even with the activated boost, I still had to spin my way patiently through some dull rounds until the special features finally started landing. But once they land, they can deliver some of the highest wins in the game.
Wilds
It wouldn't be a real crabbing slot without a wild symbol, now would it? Crabbin' Crazy 2's captain makes an appearance as the wild token, stepping in for any pay symbols that could form a winning combination. Bear in mind that he doesn't stand in for any crab symbols, so don't go expecting to land the slot's biggest wins through him. Even so, the wild symbol comes with its very own pay value and 5 of a kind earns you a win of 25x for your selected bet. The symbol makes yet another appearance during respins, but I'll tell you all about that later.
Scatter symbol
There are no classic scatter symbols to be found here, but the crab symbols themselves serve as scatter symbols. They have no value in the base game, but deliver all their goods during the respins bonus. To activate the bonus rounds, you'll need no less than five crab symbols on the reels. This gets you 3 respins, although activating the bonus with the Crabbin License Boost, gets you 4 respins instead.
Mystery Crates
You can have a stack of mystery crates land on your reels. Each mystery crate uncovers the same symbol, increasing the odds of landing a win. Alas, they proved to be pretty elusive during my time with the game, and I never got to make a mystery symbol win.
Pick a Bucket
Randomly activating during any given base game spin, the Pick a Bucket feature prompts the captain to make an appearance, asking you to pick one of the three buckets. Whatever choice you make, the bucket will reveal one of 5 available reel modifiers. These are:
Synced Reels – A minimum of two reels synchronise together, delivering the same symbols across them all.
Mystery Crates – A set of mystery crates are added to your reels, revealing the same symbols wherever they land.
Colossal Cash – A mega-sized 3×3 symbol is added to the reels. This can be any pay symbol, excluding wild symbols and crab symbols.
Catch of the Day – You're guaranteed a win and all your winning symbols are held for a respin. If the respin improves your win, the cycle repeats.
Crazy Crabbin' – The fisherman wild lands as a collector instead, and collects all crab symbol values in sight. Not that super crab and uni crab do not land during base game spins.
Taxi Crab
Triggering randomly after a losing spin, a literal crab in a cab turns up on the screen. They'll either serve you with a big win or activate the Crabbin' Bonanza Respins. Either way, you'll be glad they pulled up.
Crabbin' License Boost
You can activate the license boost at any time, increasing RTP to 96.01% and increasing the chances of triggering special features and landing huge wins.
Respins
Upon activation of Crabbin' Bonanza Respins, all triggering crab symbols are held onto the reels. They're all assigned specific values, which will then be collected at the end of the bonus. On every re-spin, you get the chance to land additional crab symbols. Whenever these land, they come with their very own value and rest the respin counter back to its original number. The crab symbols can land with a 0.25x, 2x, 5x, 10x, 18x, 30x, 75x and 500x value. The super crab will double the value of all other crabs on the screen, before uncovering a win of 10x, 25x or 50x.
If the reels start getting crowded, you might hope for a fisherman wild symbol to land. This time around, the token becomes a collection symbol, collecting the values of all crab symbols on the reels and removing their symbols to make room for new ones to land. I had a pretty great bonus game, where my fisherman symbol collected over 1,000x and opened up space for more wins to follow, even if sadly, they never did. Once you run out of spins, all of the values are collected and awarded.
RTP & Volatility of Crabbin' Crazy 2 Slot
Crabbin' Crazy 2 is incredibly fun, but it clocks its volatility at a high setting. This makes special feature activations and wins particularly scarce, especially when considering the 95.93% RTP. When compared to similar slots, the RTP is lower than I'd expect it to be and its effect is felt throughout the gameplay, as you struggle to trigger even one of Crabbin' Crazy 2's long list of features.
That's where the Crabbin License Boost comes in. For 25% of your selected bet, you increase the RTP to 96.01%, effectively improving the above-mentioned issues. Although it did the trick, I couldn't help but feel that the RTP could have simply sat at 96.01% to begin with, removing the bonus and delivering a more complete experience, to begin with.
iSoftBet is a renowned game provider, so you can rest assured that Crabbin' Crazy 2 is a legitimate and safe game to play. Of course, you'll need to make sure you play at a good online casino, ideally one with strong gaming licenses like the UKGC and MGA.
Crabbin' Crazy 2 Slot on Mobile
Mobile compatibility is a must in this day and age and iSoftBet delivers in this department too. You can join the crabbers on this fun-packed slot game no matter where you go thanks to a responsive design and touch controls. The game is compatible with both Android and iOS devices, so you can play the full game with zero compromises on your favourite mobile device.
Conclusion
Crabbin' Crazy 2 was one of those fun slots that I enjoyed playing. I'm a sucker for good-looking games and iSoftBet did a fantastic job of creating a memorable and immersive experience. Of course, the visuals are supported by a huge variety of included functions and features. It kept me on my toes throughout, wondering if the next spin will bring one of the many mechanics along with it. I even managed to land a decent win through the hold and spin bonus.
Yet it's not all calm waters for Crabbin' Crazy 2. The low RTP is particularly annoying and although you can increase it to a normal level, this comes at the cost of 25% of your selected bet. It should just sit at the higher level to begin with, without asking you to fork out any extra funds. Furthermore, the slot only has a maximum win of 2,000x, which compared to similar releases is also quite low.
But, if you're in the mood for a fun, visually striking slot with loads of features and don't mind settling for an increase in bet price, then Crabbin' Crazy 2 might just be what you're looking for.
FAQs
If you still have burning questions or comments about Crabbin' Crazy 2 and all it has to offer, you can always get in touch and I'll get back to you as soon as possible. In the meantime, take a look at these frequently asked questions. They might just hold the answers you seek.
Crabbin' Crazy 2's bonus feature is a hold-and-spin bonus. You get up to 4 respins and can collect all of the values carried by crab symbols.
Crabbin' Crazy 2 is packed with all kinds of features, including wild symbols, scatter symbols, mega symbols, synched reels, mystery symbols, instant cash prizes and more.
You can find Crabbin' Crazy 2 at a wide variety of online casinos that support iSoftBet's releases.
Yes, Crabbin' Crazy 2 improves on its predecessor's maximum potential with a maximum win of 2,000x your selected bet.
+10 Years of Experience

Online Slot Expert
Leanna Madden
Leanna Madden is an expert in online slots, specializing in analyzing game providers and evaluating the quality and variety of slot games. With her extensive knowledge, she guides players to the best slot options, including high RTP slots and those with exciting bonus features. Leanna's insights help players make informed decisions and enjoy rewarding slot experiences at online casinos.
More info on Leanna Madden