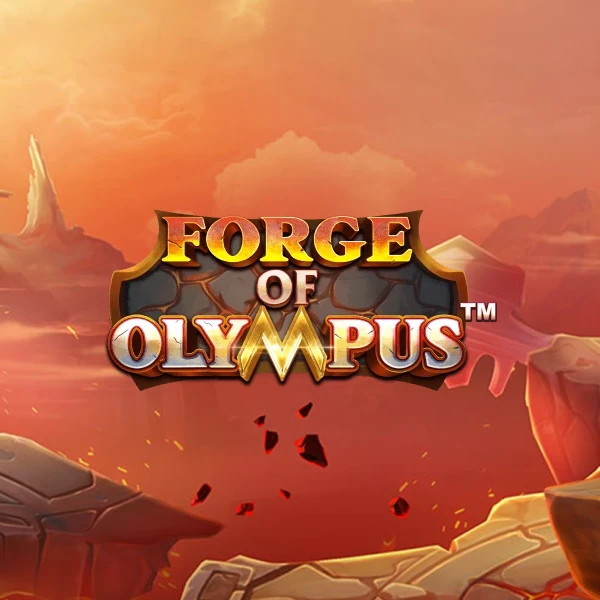 Forge of Olympus
Get your tools ready as you enter the majestic workshop of ancient Greece's most notorious blacksmith in Pragmatic Play's Forge of Olympus.
Rating
3.975
RTP
96.25
Paylines
20
Volatility
High
Vulkan Vegas Casino Review
What does John have to say?
As in other Pragmatic Play games, Forge of Olympus' tumble feature remains effective. The slot is identical to numerous predecessors inspired by the successful Gates of Olympus, yet it still has a remarkable maximum win possibility of 5,000x your bet.
Pros & Cons of Forge of Olympus Slot
The gods of Olympus have crafted some memorable moments in Forge of Olympus and the following elements make it stand out for all the right reasons.
Pros

5,000x maximum win.

Multiplier symbols with up to 100x your win.

Re-triggerable free spins with upgradable levels.

Cascading reels that help boost multiplier wins.
Cons

Recycled features from similar video slots.
Forge of Olympus Slot Review
Hephaestus, the outfitter of the gods himself takes centre stage, in a slot that pairs cascading reels with multiplier symbols and free spins to create a fresh gaming experience. Although I've seen Greek mythology-themed slots before, Pragmatic Play has gone for a different look and feel here, with a visual presentation that's so strong, that it makes the slot stand out from the rest of the crowd.
| | |
| --- | --- |
| ⚡ RTP | 96.25% | 95.04% | 93.96% |
| 🎲 Volatility | High |
| 💰 Paylines | 20 |
| 🔼 Maximum Bet | 100 |
| 🔻 Minimum Bet | 0.20 |
| ⭐ Bonus Features | Multiplier Symbols, Scatter Symbols, Free Spins, Ante Bet, Buy Bonus, Cascading Reels |
Forge of Olympus Slot Game Free Demo
Unless you're certain that Zeus is on your side to walk you through the Olympus forge, I'd suggest trying out the Forge of Olympus free demo before playing the game for real money. The free version helps you get to grips with the game's features to better understand how multiplier symbols work and what the free spins bonus looks like.
By playing for free, you get all the space you need to try out different bet levels, test the potential of winning big through the bonus buy feature and understand just how often special features and wins trigger.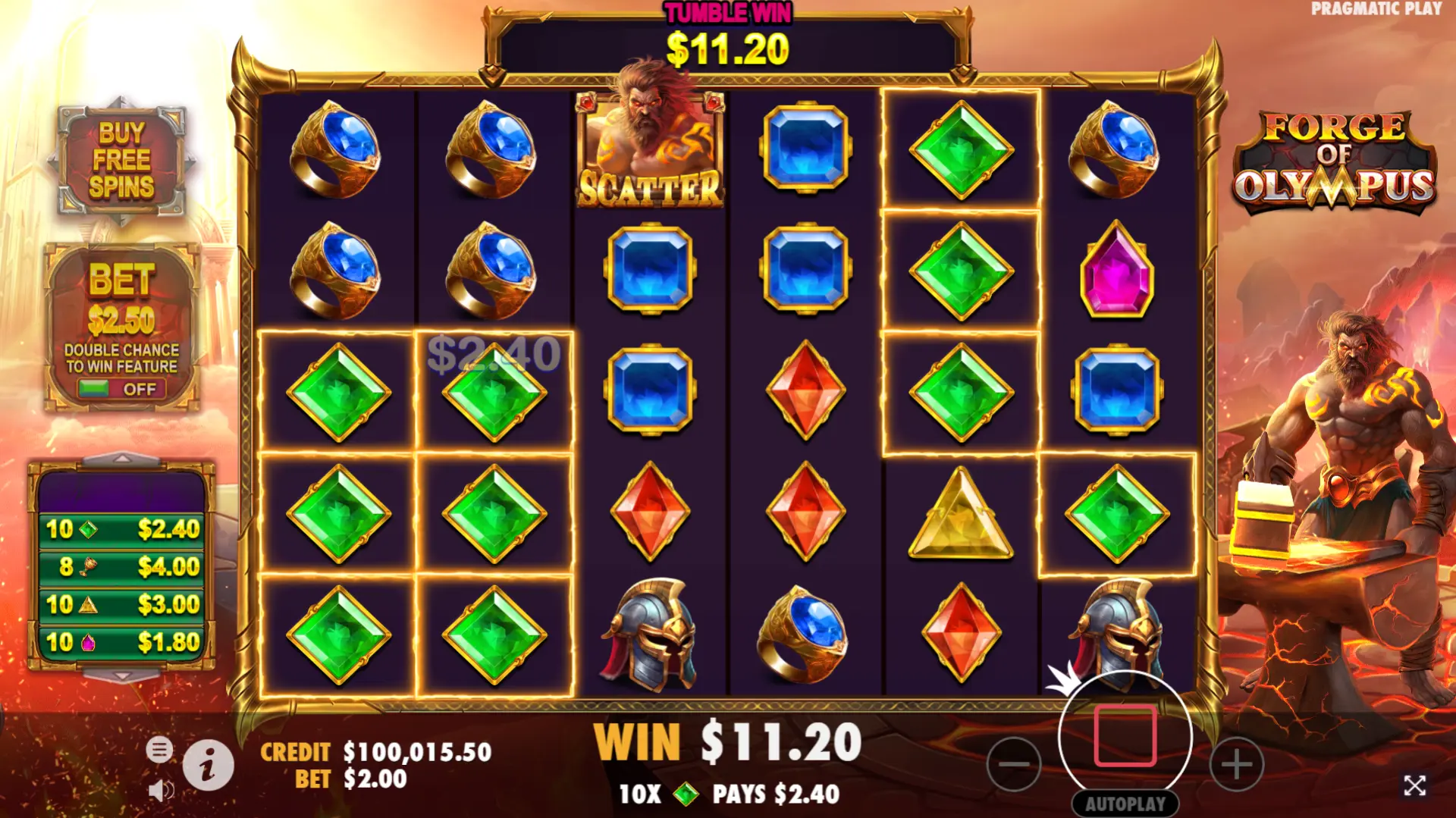 Where Can I play Forge of Olympus for Real Money?
You'll find loads of fantastic places to play Forge of Olympus for real money. Pragmatic Play is an incredibly popular game provider and online casinos love to fill up their shelves with the developer's titles. But if you're not in the mood for online casino hunting and would rather I just point you in the right direction, then have a look at my top list of the best online casinos to play Forge of Olympus.
All of these casinos come with a great promotional bonus, a varied game library and strict licenses that make sure they're safe spaces to play at.
Pro Tips:
I'll be honest with you; Forge of Olympus is one of the most volatile video slots I've ever come across. Sure, you can hit that 5,000x maximum win but you'll need to play through quite a few mundane spins with miniscule rewards before you get anywhere near that figure. It took me well over 200 base game spins before I hit the free spins bonus and that first set of bonus rounds didn't go all that well for me.
So, your best bet is to set a comfortable wager that can get you through as many spins as possible, giving you the space to trigger free spins several times in the hopes of maximising your wins. The bonus buy may seem like a good option if you're tired of spinning through winless rounds, but this comes at quite a cost and can easily drain your budget in no time at all.
Forge of Olympus Slot Bonus Features
Pragmatic Play has furnished this forge with a fantastic set of features. It's a relatively minimal selection, but all the mechanics that have been put in here work together to build towards the slot's 5,000x maximum win. The scatter and multiplier symbols are the most important tokens here and they're the ones I was constantly on the lookout for throughout my playthrough. But more on them and other great Forge of Olympus features below.
Wilds
Hephaestus' bellows are renowned for the magnificent weapons they've crafted for the Greek pantheon, but this time round, they don't manage to put together any wild symbols. That's right, Forge of Olympus doesn't throw any of these helpful symbols your way, so you won't be snatching any close wins from the jaws of defeat.
Cascading Reels
Whenever you hit a winning combination, all the winning symbols are removed from the reels and a fresh set of new symbols cascade from above to take their place. There is no limit to the number of cascades you can have and as long as you keep putting together winning combinations, you keep getting more cascades.
Multiplier Symbol
But don't let the lack of wild symbols put you off. The gods have devised a replacement that could very well offer better wins than any wild symbols I've ever come across. Enter Forge of Olympus' multiplier symbols. They're very aptly represented by Hephaestus' very own hammer and come with win multipliers that range anywhere from a mere 2x to a staggering 100x.
Multiplier symbols don't form part of any winning combinations. To activate their multiplier, you just need to land a win, any win at all. Multiplier symbols can also drop from cascades that follow from winning combinations. I got some of my biggest wins when I built up a big win through multiple cascading wins that got boosted by a multiplier symbol.
Scatter Symbol
If you want to access the Forge of Olympus free spins, then you'll need to collect no less than four scatter symbols. Landing 4, 5 or 6 scatter symbols gives you 10, 15 or 20 free spins, respectively. You also get a payout of 3x, 5x or 100x, respectively.
Now it's quite tough to land enough scatter symbols to get anywhere near the bonus rounds, so strap yourselves in cos it might be a while. It took me well over 200 base game spins before I got my first activation. But if you're not the patient type, you can always have a look at Forge of Olympus' bonus buy features.
You can buy into free spins at levels 1, 2, 3 or 4 for 100x, 200x, 400x and 500x your stake. And if you're wondering what these different free spin levels are, then read on below to find out.
Free Spins
Free spins are easily the best way to hit the best wins possible in Forge of Olympus. They come with a progressive system where you can level up the minimum multipliers that land from multiplier symbols. You start at level one and whenever multiplier symbols land during free spins, they get collected by a meter and slowly push you towards the ultimate level four. The four levels offer the following:
Level 1: Multipliers between 2x to 100x
Level 2: Multipliers between 8x to 100x
Level 3: Multipliers between 15x to 100x
Level 4: Multipliers between 50x to 100x.
I managed quite a few great multipliers during the bonus rounds and even managed to hit a 100x boost during one lucky spin. You can also add five more scatter symbols to your tally by hitting three or more scatter symbols.
RTP & Volatility of Forge of Olympus Slot
Braving the workshop of Hephaestus is no easy task and Pragmatic Play makes you feel the burn with the game's high level of volatility. Wins and bonus triggers are pretty scarce, although you stand to bag some fantastic rewards whenever things go your way. When it comes to RTP, you'll find several configurations, offering 96.25%, 95.04% and 93.96%. I'd recommend finding a site that offers the 96.25% RTP, as it's the most ideal version of all three.
Pragmatic Play is one of the most celebrated video slot providers, having created some of the best releases I've played over the years. It's a developer with a great track record and you can rest assured knowing that the slots they produce, including Forge of Olympus are fair and safe games to play. Of course, you should always make sure you play at sites that are regulated by strong licenses like the MGA or UKGC to ensure your safety and security.
Forge of Olympus Slot on Mobile
Face the might of Olympus on the go, thanks to Forge of Olympus' fantastic mobile compatibility. The same fantastic graphics, engaging features and max win potential are all available on the mobile version too, so the experience is seamless across all devices. Forge of Olympus is available on both Android and iOS systems, so you can potentially play it on all the mobile devices you own.
Conclusion
With Forge of Olympus, Pragmatic Play finds a way to reimagine familiar features and mechanics to create a fresh new experience that's teeming with fantastic win potential. We've all experienced cascade reels, win multipliers and free spins before, but Forge of Olympus manages to breathe new life into these functions thanks to its winning formula.
Sure, I would have appreciated having a few original features added in, but it's not the end of the world. Any shortcomings the slot has are easily made up for with its fantastic maximum win potential which can hit 5,000x your stake. It's a highly volatile slot, but whenever the wins come through, they're well worth the wait.
So, if you're up for a fun, action-packed slot, with a wonderfully realised Greek mythology theme and brilliant win potential, then be sure to check out Pragmatic Play's Forge of Olympus.
FAQs
Still, have more burning questions to ask about the wonderful works of master Hephaestus? Be sure to drop me a message from the contact form below and I'll get back to you as soon as possible. In the meantime, sift through the FAQ section below for more information on Forge of Olympus.
No, there are no wild symbols in Forge of Olympus, so you'll be relying on the multiplier symbols and scatter symbols to deliver the action instead.
The highest paying symbol in Forge of Olympus is the shield symbol which pays out 50x your stake for five of a kind. This is followed by the helmet, chalice and ring symbols that pay out 25x, 15x and 12x your stake respectively.
If you land more than one multiplier symbol in a winning round, their values are added together for an even bigger win multiplier. So, hitting two 2x symbols will combine them for an even bigger 4x multiplier.
There are several free spin setups that you can buy into. Paying 100x, 200x, 400x or 500x your stake will get you free spins at levels 1, 2, 3 or 4, respectively. You get a guaranteed four scatter symbols with the possibility of hitting four or even five scatters for a full 20 free spins.