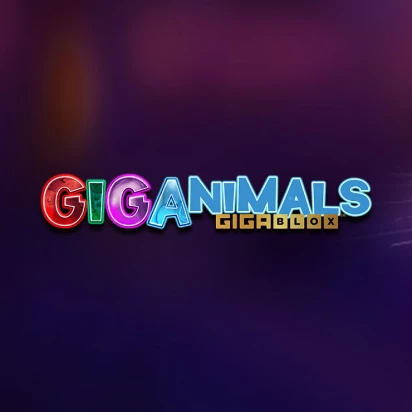 Giganimals Gigablox
Launch into space with the courageous farm animals to battle evil extraterrestrials in Giganimals GigaBlox the new slot from Yggdrasil!
Rating
3.8
RTP
96
Paylines
40
Volatility
High
Vulkan Vegas Casino Review
The UK Gambling Commission requires you to be over the age of 18 to play demo games. Are you over 18?
You are playing Giganimals Gigablox for FUN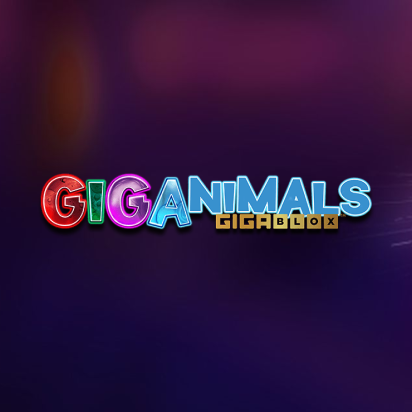 What does John have to say?
If you're up for an unusual space odyssey, complete with barn animals, transforming wilds, free spins and Gigablox symbols, then check out our full Giganimals Gigablox review below.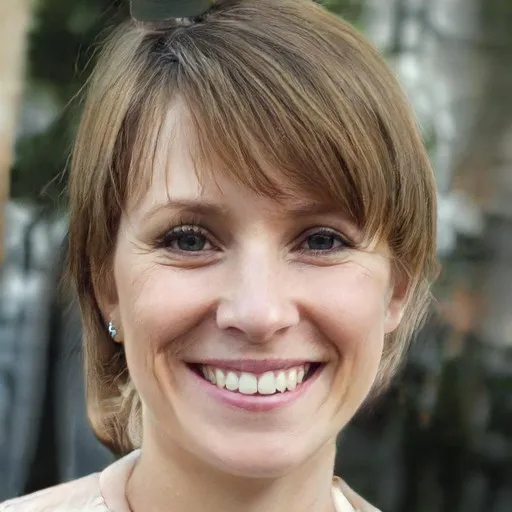 Pros & Cons of Giganimals Gigablox Slot
It's time to narrow down my time with Giganimals Gigablox into a series of advantages and disadvantages.
Pros

Over 5,000x maximum win potential.

Collection free spins with transforming wilds.

Three ways to get to the free spins bonus.

Gigablox symbols with up to 6x6 symbols.
Cons

Very few features in the base game.

High volatility might deter casual players.
Giganimals Gigablox Slot Review
The Gigablox mechanic has given us some memorable video slot experiences and loads of studios have rushed to partner up with Yggdrasil for a chance at implementing the feature themselves. Now, Yggdrasil has seen it fit to present its take on the popular mechanic, with a quirky slot by the name of Giganimals Gigablox. And yes, it's just as mad as it sounds.
I'm a sucker for wild video slot themes and Giganimals Gigablox delivers a fantastically bizarre setting. We're placed in an outer space setting, complete with flying saucers and alien flora. At the centre of it all, are four main characters, a pig, a cockerel, a ram, and a bull. They each fly their flying saucer to the left of the reels and collect any paylines you complete using their respective low-paying symbols. The symbols themselves are a mix of coloured battery low-paying symbols, as well as high-paying alien symbols. The presentation is decent enough, although it's missing that flair in animation that I've come to expect from Yggdrasil's games.
On the other hand, Giganimals Gigablox has loads going for it in the feature department. You can either get wild symbols landing directly on the reels or have low-paying symbols transform into them. They play a part across both the base game and free spins, which can be triggered from both scatter symbols, the collection feature or the buy feature. But the centrepiece remains the Gigablox mechanic itself, which can land huge symbols that cover up to 4×4 tiles on the reels.
| | |
| --- | --- |
| ⚡ RTP | 96.0% | 94.0% | 90.5% | 86.0% |
| 🎲 Volatility | High |
| 💰 Paylines | 40 |
| 🔼 Maximum Bet | 100 |
| 🔻 Minimum Bet | 0.20 |
| ⭐ Bonus Features | Wild symbols, Scatter symbols, Gigablox, Transforming wilds, Free spins, Collection feature, Collection multiplier |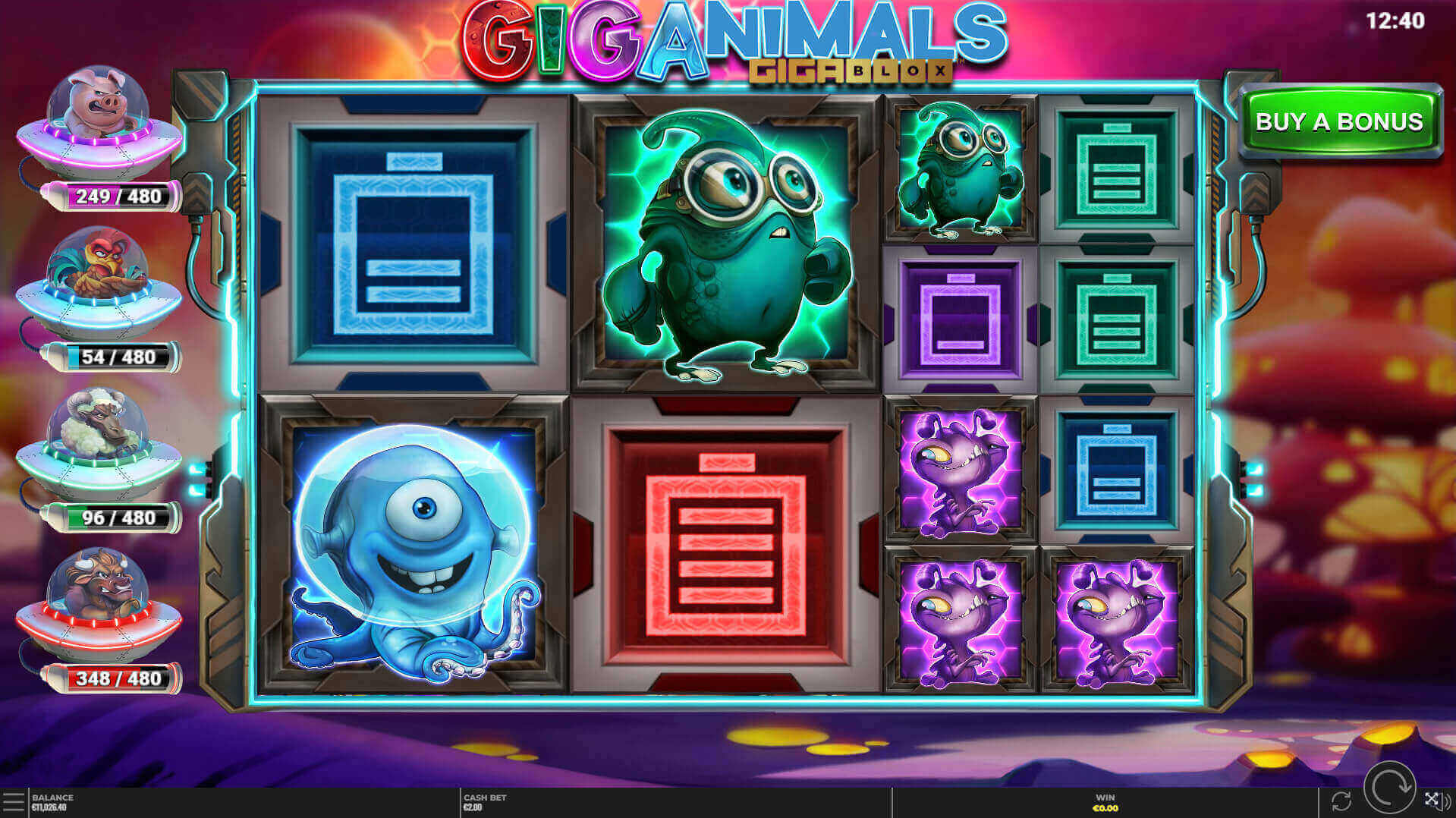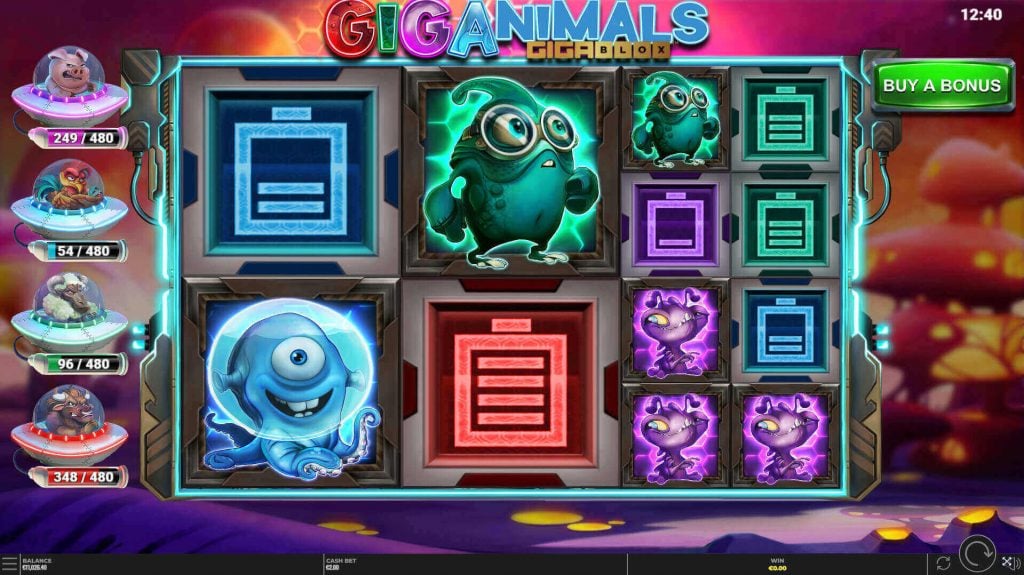 Playing Giganimals Gigablox Slot Game for Free
All video slots should come with their free version and Yggdrasil's games are no exception. The Giganimals Gigablox free demo gives you the chance to try out the game without placing any of your funds on the line. It's a fantastic way to get to grips with the slot's mechanics and features and understand how they come together to form the Giganimals Gigablox experience. I'd recommend spinning with a few regular rounds before hitting the bonus buy feature to see how this affects the game. Once you've explored the game within the safe boundaries of the free demo, you'll be ready to kick things up a notch by playing the game for real.
Where Will I Be Able to Play Giganimals Gigablox for Real Money?
You'll be able to enjoy Giganimals Gigablox and all of its madness at online casinos that support Yggdrasil's games. As one of the most prominent providers in the industry, Yggdrasil's video slots are available at a wide range of online casinos, so you'll have no issue finding a quality site to play at. Be sure to check the RTP on the version of the game you're playing, as Yggdrasil has issued different iterations, with figures ranging from 86% to 96%. Always play at the site that offers the highest setting.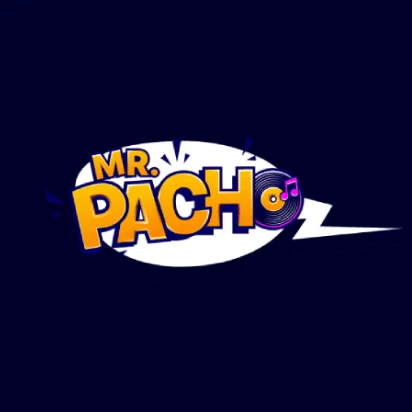 Mr Pacho
4.2/5
Mr Pacho Review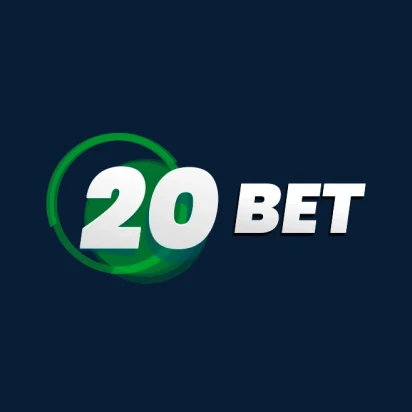 20Bet Casino
4/5
20Bet Casino Review
Pro Tips:
With a highly volatile slot like Giganimals Gigablox, wins can be quite scarce. It takes a while to fill up the collection symbols and trigger collection free spins, and you'll need to be ready to wait a while before activating the feature. I'd recommend picking a bet level that you're comfortable playing with in the long run, as this is a game that requires both time and patience before you can start getting any big wins. As tempting as the buy feature might be, I'd try to focus more on unlocking the collection features through gameplay. The buy feature is pretty expensive at 25x your bet, and there's no telling if the free spins will even cover that cost.
Giganimals Gigablox Slot Bonus Features
With Giganimals Gigablox, Yggdrasil has implemented a fair selection of features across both the base game and free spins. There's a sense of progression here too, brought by the collection symbols which absorb any low-paying wins you make. It's reminiscent of Yggdrasil's very own Vikings Go Berzerk, although there are enough differences to separate the two. The progression is made even tighter by merging all of the different features and mechanics. Wilds, free spins, and collection symbols are all somehow involved with each other, creating this symbiotic experience across the board.
All in all, it makes for a good, varied feature list, although having spent a lot of time grinding through base game spins, I would have appreciated having more mechanics during that phase.
Wilds
Wild symbols feel like a necessity in a slot like Giganimals Gigablox. The symbols step in for any missing pay symbols that could form part of a winning combination and even carry a maximum value of 6x your selected bet for five of a kind. I found them incredibly helpful throughout, especially during free spins, when they managed to connect several wins across multiple symbol combinations.
You can land wild symbols directly on the reels or transform low-paying symbols into wilds through the Wild Surge feature. This can trigger on any base game spin, turning up to 4 low-paying symbols into wilds for the particular spin.
Gigablox
The titular feature, Gigablox adds quite a bit of excitement to Giganimals' reels. You can land mega symbols for all symbols in a 2×2, 3×3 and even 4×4 format. This adds loads the potential for even bigger wins, with the Gigablox symbols dividing into several 1×1 identical symbols whenever they form part of a winning combination. The feature is identical across both the base game and free spins, giving you plenty of Gigablox action across the board.
Scatter symbol
Scatter symbols, or bonus symbols as Giganimals Gigablox calls them, are one of your ways into free spins. You'll need no less than five scatter symbols to access the bonus rounds, with each symbol awarding one free spin. Putting together five scatter symbols in one round is no joke, and I had better luck accessing the bonus mode through the collection feature instead.
Collection Feature
I've already mentioned Giganimals Gigablox's bizarre protagonists, sitting in their flying saucers to the left of the reels, ready for action. The pig, cockerel, ram and bull have their colour, purple, blue, green and red, respectively. This is reflected in the low-paying symbols on the reels, which land in the same colours. Whenever you make a winning combination using a set of low-paying symbols, the winning symbols are absorbed by the character with their same colour. Once the character's meter is full, they trigger collection free spins.
Occasionally, the collection multiplier may trigger on a low-paying win, increasing the collection value of each symbol by up to 6x.
Free Spins
There are two distinct free spins bonuses in Giganimals Gigablox, scatter free spins and collection free spins.
As you may have already guessed, scatter free spins are triggered through scatter symbols. They award free spins based on the number of triggering scatters and allow you to turn low-paying symbols wild through low-pay symbol collections. The collection meter here follows a similar setup to the one in the base game. Filling up a collection meter during free spins will also add another two free spins.
On the other hand, collection free spins are triggered by filling up the collection meter during the base game. You get awarded a random number of free spins ranging from 5 to 24, although the first couple of triggers are guaranteed to have at least seven free spins. The low-paying symbol that triggers the free spins is made wild throughout the duration of the bonus spins. Once again, filling up a collection meter during the free spins turns the respective symbol wild and awards two free spins.
In both cases, you can choose to gamble your free spins for the chance of having an extended bonus. Although you may end up with a higher number of bonus rounds, you also risk the possibility of losing all of your free spins bonus.
Additionally, you may also opt for the buy feature. Here you choose from three options, scatter spins with 10-24 spins for 7x your bet, scatter spins with 24 spins for 15x your bet and collection spins with 24 spins for 25x your bet.
RTP & Volatility of Giganimals Gigablox Slot
As expected, Giganimals Gigablox cranks its volatility up to the high setting, so don't expect to be landing huge wins on every single spin. On the other hand, there's a variety of RTP settings available, offering 86%, 90.5%, 94% and 96%. I'd suggest sticking to the 96% version, so always make sure you check which iteration your casino offers, before playing.
During my time with Giganimals Gigablox, I noticed that although I landed low-paying wins quite often, the higher wins never hit. I kept holding out for the collection free spins to trigger which made a big difference, although I never had more than 8 free spins, even when using the gamble feature. You'll need to play the waiting game with this one, and you have to be willing to incur a few losses before the free spins hopefully make up for it once they trigger.
Yggdrasil is, of course, a renowned, trusted game provider, so you can rest assured that games like Giganimals Gigablox are safe and legit. You'll still need to keep an eye out for the casinos you play at, and always make sure you pick sites with strong gaming licenses like the UKGC and MGA.
Giganimals Gigablox Slot on Mobile
Giganimals Gigablox is equipped to run on a vast variety of mobile devices, including Android and iOS systems. The mobile version adapts well to smaller screens and can be played on your favourite device's mobile browser. There's no compromise at all here, so you get the full game with all the bells and whistles. Simply head to your favourite mobile online casino and enjoy the game in all its Gigablox glory.
Conclusion
Yggdrasil has always been creative with its releases and its Gigablox mechanic has been used to create some truly memorable experiences. With Giganimals Gigablox, the provider decides to recycle some of its older ideas and the result doesn't hit the nail on its head. The visual design is fantastic, and the collection feature offers to bring quite a lot of action with it, but more often than not, you're left spinning around in a base game, hoping to net some low-paying wins.
But if you just want to enjoy Gigablox features within a wonky space theme, then I reckon Giganimals Gigablox might just be what you're looking for.
FAQs
Are you still looking for more facts or insights about Giganimals Gigablox? Reach out to me through this contact form and I'll give you the answers you're looking for as soon as possible.
Giganimals Gigablox has a maximum win of 5,125x.
Gigablox symbols in Giganimals Gigablox can land in 2×2, 3×3 and 4×4 sizes.
You can get free spins by landing five scatter symbols, filling up a collection meter or using the buy bonus feature.
Giganimals Gigablox features wild symbols, transforming wilds, symbol collection, collection multipliers, scatter symbols, free spins, a buy feature, and a gamble feature.
+10 Years of Experience

Online Slot Expert
Leanna Madden
Leanna Madden is an expert in online slots, specializing in analyzing game providers and evaluating the quality and variety of slot games. With her extensive knowledge, she guides players to the best slot options, including high RTP slots and those with exciting bonus features. Leanna's insights help players make informed decisions and enjoy rewarding slot experiences at online casinos.
More info on Leanna Madden