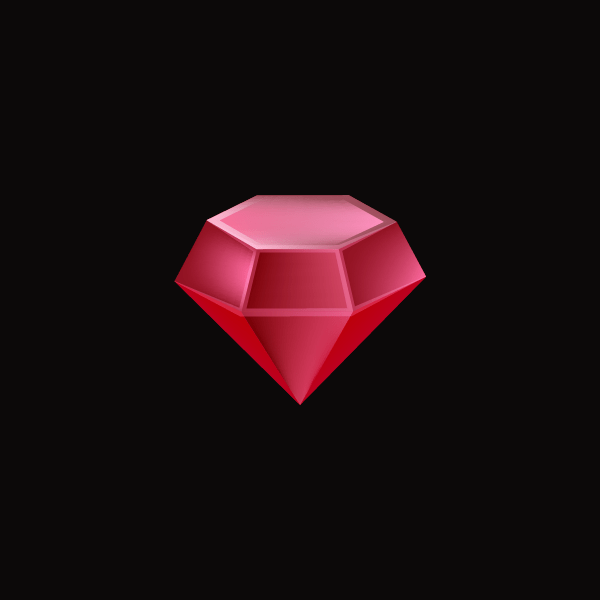 Marvelous Mouse Coin Combo
Marvelous Mouse Coin Combo is the latest slot from SG's Shuffelmaster Studio. With not one but four fixed jackpots, this win-all-ways game has some big prizes. To help you win the Asian fortune, this slot has a coin collection feature as well as free spins. Review by Arram Bekarian.
Rating
3.25
RTP
96.26
Paylines
243
Volatility
Medium
Crazy Fox Casino Review
What does John have to say?
An innovative multiple feature game with a jackpot twist.
Marvelous Mouse Coin Combo Review
Marvelous Mouse Coin Combo from SG takes you on a ride back to the Tang Dynasty, where Ming-Yu the Marvelous Mouse collects Element Coins. The magical Bowls where the coins are stored, fill rapidly and spill over when least expected, bringing with them the auspicious fortunes of Du A Fu, the 'Lucky Children'. What will Marvelous Mouse bring you?
Read on for the full review.
SLOT FEATURES
Free Games, Fixed Jackpots, Collection Feature, Win All Ways
RELEASE DATE
27th April 2021
GAME PROVIDER
SG Digital
SLOT TYPE
Video Slot
THEME
Asian
REELS, ROWS, PAYLINES

5 Reels, 3 Rows, 243 Ways to Win (Base Game)
5 Reels, 6 Rows, 7,776 Ways to Win (Free Games)

BET LEVELS
0.22/88.00
MAXIMUM WIN
250,000.000
SCATTER SYMBOL
Yes: Elements Coins
WILD SYMBOL
Yes: House
BONUS GAME
Yes
FREE SPINS
Yes
RESPINS
No
MULTIPLIERS
No
JACKPOT
Yes- Fixed
RETURN TO PLAYER
96.26%
VOLATILITY
Medium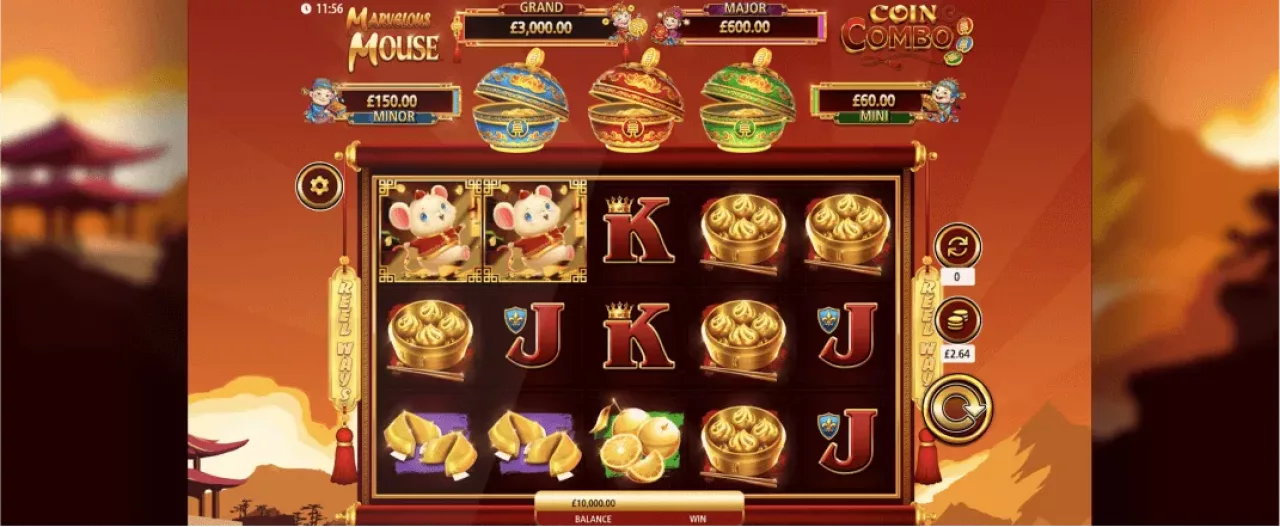 Initially, MMCC looks like a highly acclaimed Asian themed game from SG's Shufflemaster studio, briming with red and gold highlights. Shufflemaster holds a long line of successful titles in this genre and style, dating back to the 88 Fortunes slot machine from 2004 (which was co-designed with help from cultural advisors in Macau). Needless to say, it was a hit in Macau, Australia and much of SE Asia and, and it spurred a chain of popular slots and jackpot products stemming from the same learning.
Once you play MMCC, however, you soon realise the cog turners at SG have applied their decisive hand under the bonnet and the smooth, slick, focused roots of 88 Fortunes have been consumed.
Features
Be prepared to consult the rules pages regularly, as merely playing it isn't enough to learn how it works. In an attempt to save you the brain drain of trying to understand the rules, below is a summary written in plain English intended to help all players such as yourselves.
Base Game:
The important symbols are:
WILDs – appear on reels 2, 3, and 4.
Coloured ELEMENT COINS (Blue, Green and Red) – appear on all reels.
When an ELEMENT COIN lands, coins fly from it and into the corresponding coloured Bowl, above the reels.
The Bowl that receives coins fills a little, but its level bears no significance in the game
Free Games:
One or more of the three Bowls may activate and trigger a feature, which varies depending on the combination of Bowls that activate. More than one bowl can be activated on a single spin.
BLUE BOWL: 6 Free Game at 4 rows high
GREEN BOWL: 6 Free Game at 5 rows high
BLUE + GREEN BOWL: 6 Free Game at 6 rows high
During the Free Games triggered by the Blue and/or Green Bowls, only RED ELEMENT COINS and Red Bowl are available. RED ELEMENT COINS may award either +1 or +2 Free Games or a cash prize.
Jackpot Pick and Free Games
If a Feature is triggered with a Red Bowl or a Red/Blue/Green Bowl combination, a Jackpot Pick is awarded together with Free Games.
RED BOWL: JACKPOT PICK
RED + BLUE BOWL: JACKPOT PICK + 6 Free Game at 4 rows high
RED + GREEN BOWL: JACKPOT PICK + 6 Free Game at 5 rows high
RED + BLUE + GREEN BOWL: JACKPOT PICK + 6 Free Game at 6 rows high
During the Free Games triggered with a Red/Blue/Green Bowl combination, the same Free Game rules apply, plus RED ELEMENT COINS may also award a Mini or Minor jackpot (not Major or Grand).
Jackpot Pick
In the JACKPOT PICK feature, 15 coins are presented.
Clicking coins will reveal 1 of 4 FU BABIES corresponding with 1 of the 4 jackpots, or an UPGRADE symbol.
Once 3 matching FU BABIES are revealed, the corresponding jackpot is awarded.
If 3 UPGRADE symbols are revealed before a jackpot is awarded, the jackpot won is upgraded to the next level. If the Grand jackpot is awarded after 3 UPGRADE symbols, it will be awarded twice.
Paytable Review
Why do the paytable values drop during the Free Games? What's the point of increasing ways in the Free Games only to hamper the awesomeness of it by dropping prizes? During the Free Games, there seems to be more MOUSE symbols added to the reels to embrace the increased row height. Yes, the frequency of prizes increases (as it should) with a higher reel area, but normalising prizes to make it fit scores low in integrity and goes against any and all design principles.
Yes, developers need to balance elements that increase RTP, but this is normally done by adjusting hit rates; NOT by reducing prizes in Free Games and insulting players. Games should build trust, not reduce it.
We must ask SG:
How high would the Free Game Hit Rate need to be to maintain the same prize table as the Base Game? Considering the current Hit Rate is less than 1 in 100, as a player, there is room to push the hit rate out.
To save RTP, could the Base Game prizes have been reduced to match the Free Games paytable?
Could a balance between the two have been a solution to maintain paytable integrity?
85% of paytable prizes are at-or-below bet. Looking at the prizes alone isn't inspiring, as individual wins are miniscule. The Base Game top award of 0.65p comes in at 2.95x bet, while the same prize in the Free Games is 1.36x. The paytable needs to be examined in context with the rest of the game to understand it. It's a 'ways' game with stacked symbols, meaning there will be lots of coinciding wins.
The reel height increases up to 7,776 ways in the Free Games, creating significantly more coinciding wins, plus the MOUSE symbol quantities are boosted here as well. Next, as the jackpots are fixed, so we can include them as paytable prizes. This then brings the bet-prize ratio down to 73% of prizes at-or-below bet. And the top award now becomes 1,136.36x bet. However, if the Grand jackpot is won after revealing 3 UPGRADE symbols, the prize is doubled to 2,272.73x.
Playability
If you're not familiar with some of SG's gameplay DNA, here's some insight:
After a spin, the spin button reactivates and is clickable with an audible ding, but if you click it before the bet and settings buttons reactivate, you need to click the spin button again.
The spin button remains inactive longer in a win making you wait for the smaller win rollups to complete, and part of the mid wins and above. This is very annoying, as many wins are less than the bet, especially if you're a clicker.
There is no spin stop function. Although the spin button becomes a square (indicating a stop spin function), it is in fact inactive.
Although these items are not specifically game related, they are frustrating and hinder playability.
All these aside, the game itself is interesting. The heightened reels in the Free Games are inspiring enough and, together with the highly populated MOUSE symbol and extra Free Games from the ELEMENT COINS, you should expect an intense experience. Even being aware that the coins filling the Bowls is for visual excitement only and provide no indication of progress, they do give a sense of progression, albeit pseudo. It is possible to trigger any one of the features on the first spin and, if you do, you'll see a Bowl comically grow in size from minimum to maximum before exploding. The Free Games can be rewarding BUT you'll need to be awarded a bunch of extra spins as the initial 6 usually result in dismay.
Win Hit: 1 in 2.77 spins
Feature Hit: 1 in 96.88 spins
Big Win Hit: 1 in 105.46 spins
Average Feature Win: 54.09x total bet
The Glory Spin
The max win is capped at 250,000.00 at any bet and hence there is no such Glory Spin.
Of course, the higher your bet, the more likely you'll be to reach this value, but you shouldn't be too concerned. Even at the max bet of 88.00, the Grand jackpot becomes 100,000.00 and, if it's won after the UPGRAGE symbol doubles it to 200,000.00, you still have 50,000.00 breathing room in the Free Games before the cap applies.
Delights and Surprises
Red Bowl continues to fill during the free games and re-enters base game with its levels from the Free Games.
Shortcomings
Needing to click numerous times to initiate a spin.
The incredibly small paytable AND a reduced Free Games paytable.
No keyboard shortcuts.
Overall blandness of event celebrations. Eg: If you win an upgrade in the jackpot pick, there's no event celebration. It just awards you the value of the next jackpot.
Cultural insensitivity in symbol choice.
The MOUSE symbol sends mixed messages as it looks like the highest paying symbol with a full-sized decorative gold border.
Conclusion
Don't even try to learn the rules in this game as even those with a PhD in Gaming will struggle to wrap their heads around it. Rather, just spin it and let it take you on its ride.
Marvelous Mouse Coin Combo gets 47 Spins out of 100 based on the following ratings:
| | |
| --- | --- |
| PLAYABILITY | 40 |
| ORIGINALITY | 65 |
| BUILD QUALITY | 35 |
| MARRIAGE | 65 |
| IMMERSION | 55 |
| RUN FOR MONEY | 50 |
| INTEGRITY | 20 |
| TOTAL | 47 |