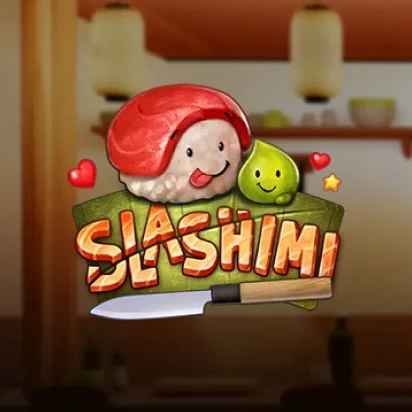 Slashimi
Fancy some sushi? Then you will love the new Play'n Go video slot Slashimi. Join Chef Jiro Miike, a master of the culinary arts as he takes you on a flavor-filled journey.
Rating
4.75
RTP
96.2
Paylines
1000
Volatility
High
Vulkan Vegas Casino Review
The UK Gambling Commission requires you to be over the age of 18 to play demo games. Are you over 18?
You are playing Slashimi for FUN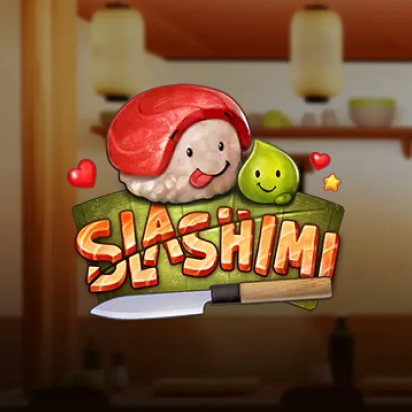 What does John have to say?
Even though Slashimi may be a tonne of fun, especially for gamers wanting a less frenetic experience spinning the reels, I am left wondering what could have been if the slot's potential had been fully explored.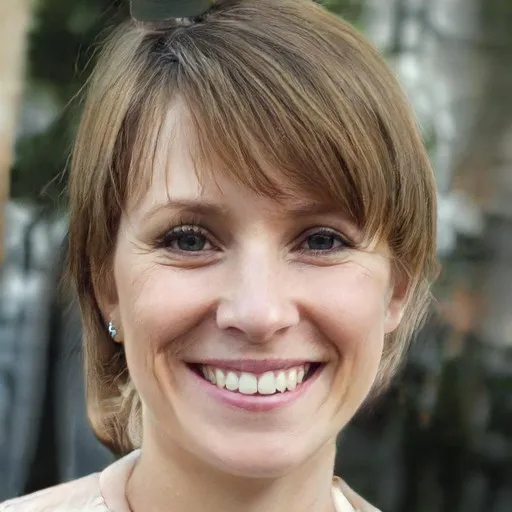 Pros & Cons of Slashimi Slot
I've discussed Slashimi and its offerings in quite some detail in this review, but let's see what the key takeaways are from Play'n Go's sushi-themed slot.
Pros

5,000x maximum win potential.

Great visual and audio presentation.

Splitting symbols across both the base game and free spins.

A great use of the scatter mechanic across all of the game's pay symbols.
Cons

Short free spins bonus.

Lack of base game features.
Slashimi Slot Review
Ever got that craving for sushi which can't be sated until you've gorged yourself on a big plate of the good stuff? Well, Play'n Go's Slashimi quite impressively manages to capture that feeling within a sushi-themed video slot. Now, I've experienced quite a lot of Play'n Go's catalogue and I have to say, Slashimi's presentation is up there with the very best online slots the provider has ever made.
The backdrop immerses you in a proper sushi restaurant, complete with a chef to the left of the reels and a fish bar to the right. Play'n Go even made the backdrop interactive and clicking on the hanging fish and octopus will have them react accordingly. It's a level of detail that we don't always get to see in video slots, but Slashimi is an absolute joy to behold. The reels themselves are also animated, with the sushi themselves reacting whenever they land or form part of a win or activate a feature.
But good looks aside, Slashimi has other things going for it. It plays out on 3 reels and 5 rows with up to 125 paylines. The feature list here isn't crazy, but you still get wild symbols, a cool take on scatter symbols, splitting symbols, free spins and sticky symbols. They all come together to deliver a maximum win of up to 5,000x, which isn't bad, considering this is a medium to high volatility slot.
So, if the promise of splitting symbols, free spins, a 5,000x win potential and plenty of animated sushi rolls tickle your fancy, check out the Slashimi review below. I'll tell you all about the slot's features and mechanics and even give you some insight into my experience of playing the game.
| | |
| --- | --- |
| ⚡ RTP | 96.2% |
| 🎲 Volatility | Medium – High |
| 💰 Paylines | 125 – 1,000 |
| 🔼 Maximum Bet | 100 |
| 🔻 Minimum Bet | 0.10 |
| ⭐ Bonus Features | Wild symbols, Scatter symbols, Splitting symbols, Free spins, Sticky symbols |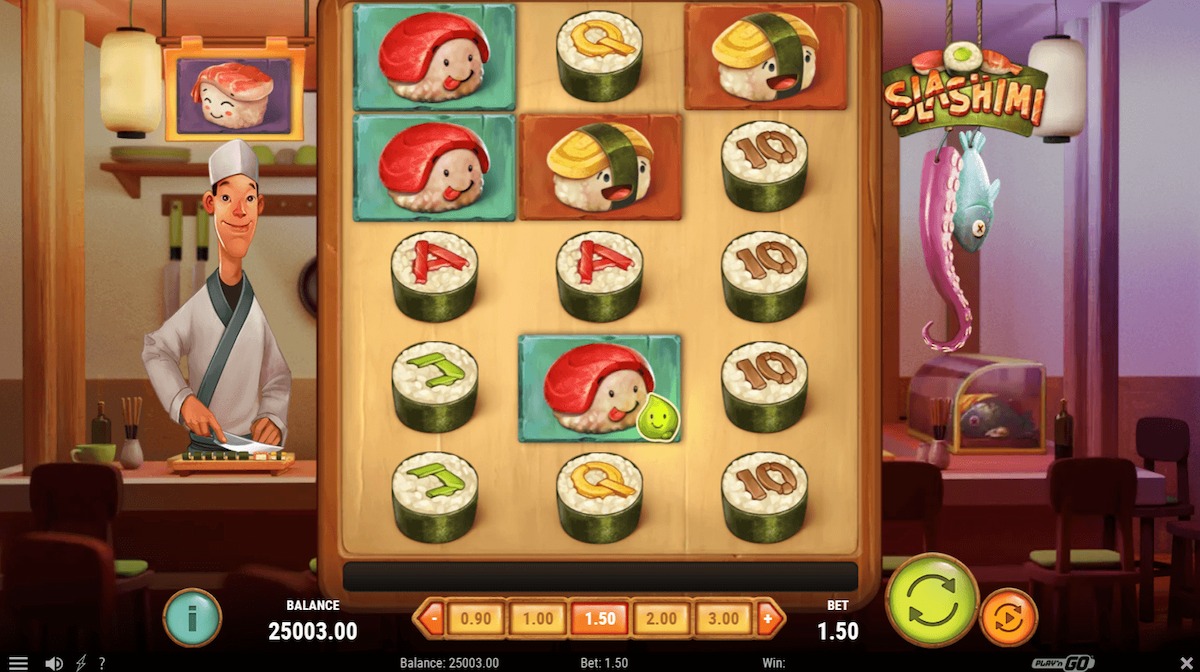 Playing Slashimi Slot Game for Free
Before playing for real, you may want to explore Slashimi and its features in a safe and free space. Free play is a wonderful way to enjoy the game without putting any funds on the line. You can try out different bet levels and experience just how often the game's wins and special features trigger. There aren't any strategies to wrap your head around here, but it certainly helps to familiarise yourself with the game in this environment. Once you've had your fill of free play, you can simply switch to the real deal and play for money.
Where Will I Be Able to Play Slashimi for Real Money?
As one of the most popular game providers in the industry, Play'n Go's vast catalogue of games is sought after by all. This means you won't need to search too long before coming across an online casino that offers Slashimi. But how should you approach Slashimi when playing for real?
I've mentioned time and time again that there aren't any set strategies to apply in video slots. These games work with pre-set random number generators that determine when and how both special features and wins are triggered. The best you can do is to keep an eye out for your progress and modify bet levels accordingly. For safety's sake, I always recommend setting a limit and sticking to it no matter what. Remember, luck can turn on you at any given moment, so it's always best to monitor every situation and end a session if your losses exceed your limit.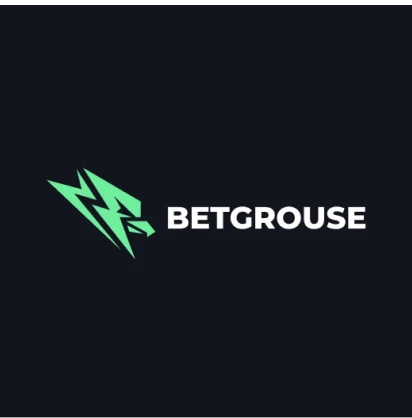 BetGrouse
4.4/5
BetGrouse Review
Terms & Conditions Apply. New Players Only 18+. Min Deposit £20. Spins Available for Book of Dead. Wagering Requirements Apply 35x. Offer Valid for 24h. Terms & conditions apply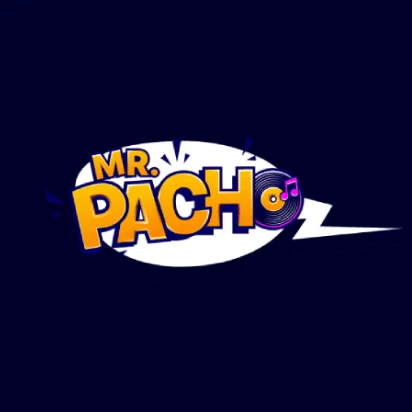 Mr Pacho
4.2/5
Mr Pacho Review
Pro Tips
I found Slashimi to be quite forthcoming in terms of both wins and feature activation. That's largely due to the slot's medium to high volatility, which paired with a 96.2% RTP delivers a satisfying level of success. Perhaps the biggest choice you have to make here comes during the free spins bonus, where you'll need to pick a symbol that will be automatically split into two and stuck to the reels for the duration of the bonus rounds. I preferred going for mid-volatility symbols, as they're more likely to land than high-paying symbols and carry more value than the lower-paying tokens.
Slashimi Slot Bonus Features
Play'n Go hasn't filled Slashimi with the largest amount of features I've ever seen, but there's still plenty to enjoy here. Perhaps the best thing about this feature list is the way they all work together and connect to push your chances of winning even further. This is particularly true of the connection between splitting symbols and free spins. But the highlight for me here is the innovative way in which scatters are implemented. It's a fun mechanic that could increase the number of scatter symbols that land on any given spin. But more on that and all of Slashimi's features, below.
Wilds
Slashimi's course kicks off with a standard wild symbol. This steps in for any missing pay symbols that could otherwise form a winning combination, and can even strengthen existing wins. Wild symbols in Sashimi also carry their values and landing 3 wilds pays you 1x your bet.
It's not a particularly innovative use of wild symbols, but these tokens still managed to help out during my playthrough. They were a godsend whenever they landed and helped turn quite a few lost causes into winning rounds.
Scatter Symbols
Now, while wild symbols are as generic and unimaginative as ever in Slashimi, scatter symbols take a different turn. Rather than throwing in your usual scatter symbols, Slashimi opts for a mechanic that allows all symbols to be scatters. This works through a scatter mark, which takes on the form of an animated dot of wasabi. Symbols that land with a wasabi dot on them act as both pay symbols, as well as scatters. What this essentially means is that you can combine scatter tokens from across different pay symbols.
It's a great way to implement the scatter mechanic, with the added potential of landing more scatter tokens on the reels and in turn activating more special features.
Splitting Symbols
Sitting high atop the chef's head is a specials board. On every base game spin, the specials board will display a different sushi pay symbol. If any symbols identical to the one on the specials board land during that round, they will be automatically split into two. This seriously increases the chances of landing winning combinations and has the potential to enhance wins further. It increases Slashimi's ways to win from a mere 125 to an impressive 1,000.
Apart from the mechanic's gameplay opportunities, I loved how the feature is animated, connecting the chef to the reels and the sushi symbols that land on them. The feature gets its very own upgrade during the free spins bonus.
Free Spins
You'll need a total of 3 wasabi blobs to trigger free spins. Each bonus kicks off with 4 free rounds, and you continue adding more rounds by landing more wasabi blobs during free spins. Upon activating the bonus mode, you're presented with a menu, displaying all of Slashimi's pay symbols, as well as their respective volatility levels.
You need to pick one of these symbols to be the split symbol throughout the bonus. So, whenever your selected symbol lands during free spins it is automatically split into two. Furthermore, the symbol remains sticky on the reels until the end of the bonus rounds. Of course, the more sticky symbols you have on the reels, the higher the chances of landing big wins that can bring you closer to the 5,000x maximum win.
Although it's quite short, Slashimi's free spins bonus manages to combine its base game features effectively. Sure I've landed better wins in other free spin bonuses, but Slashimi still fed me a few tasty, bite-sized sushi victories.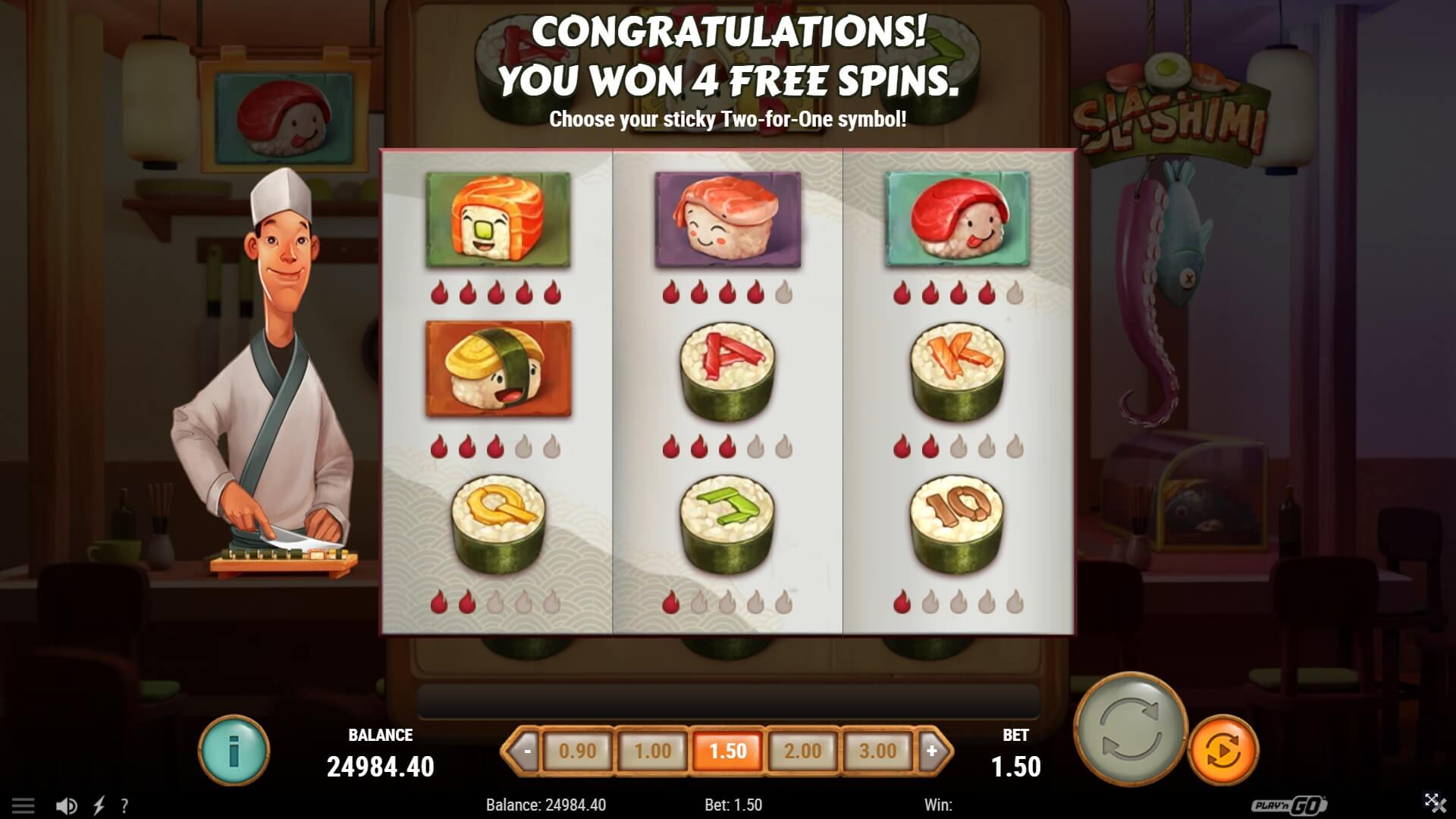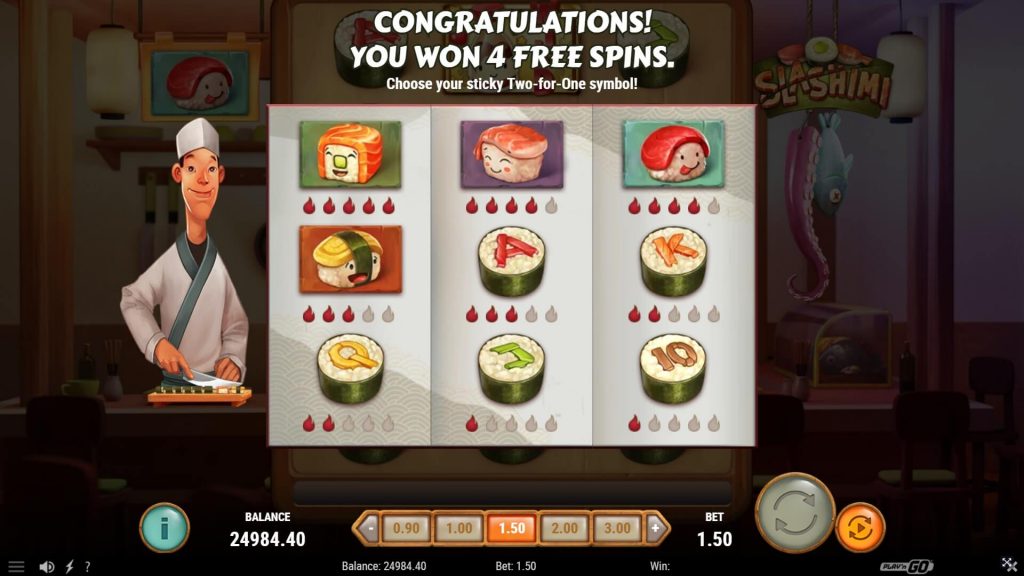 RTP & Volatility of Slashimi Slot
As a medium to high volatility slot, Slashimi is geared toward a more casual audience. When paired with a 96.20% RTP, wins land often enough, so you won't be left around watching sushi roll down the reels in silence, while your bankroll steadily empties.
As one of the most popular game providers in the business, Play'n Go is a trusted name, so you can rest assured that Slashimi is a legitimate and safe game to play. Of course, I always recommend playing slots at online casinos with strong casino licenses, such as the MGA and UKGC, for the best experience possible.
Slashimi Slot on Mobile
If you're thinking of taking Slashimi with you on the go, you'll be pleased to know that the slot performs exceptionally well on mobile devices. The design fits in perfectly on smartphone and tablet screens and the added touch functionality makes it all the more fun to play. To access the game on mobile, simply visit your favourite mobile casino on your browser and fire up the game. You'll get Slashimi in all its glory, with zero compromises between the desktop and mobile versions of the game. It's also available for both Android and iOS systems, so you can play it on your favourite mobile device.
Conclusion
Slashimi certainly hits the mark in terms of visual presentation. It's one of those slots that completely captivated me from the start and made me instantly want to give the experience a chance. The animations, designs and sounds come together to create a holistic experience, one which mechanics and features are also built into. And while the features Slashimi offers are also implemented quite well, they always felt quite limited, like a restaurant lacking a main course menu.
Don't get me wrong, Slashimi can be an absolute blast, especially for players looking for a less hectic time on the reels, but I can't help but wonder what might have been, had the slot's potential been pushed further.
FAQs
So, do you still have more questions about Play'n Go's Slashimi? Check out the FAQ section below for some quick answers. And if you still don't find what you're looking for, contact me with anything you need to know and I'll get back to you as soon as possible.
Slashimi is equipped with a host of features and mechanics, including splitting symbols, wild symbols, scatter symbols, free spins and sticky symbols.
Slashimi is set in a sushi restaurant, with all of the symbols being made up of different types of sushi.
You can find Slashimi at all leading online casinos that support Play'n Go games. We recommend playing at online casinos that have strong gambling licenses, like the UKGC and MGA.
You can win up to 5,000x of your selected bet when playing Slashimi. You'll get closest to this number when activating free spins.
Other online slots by Play'n Go
+10 Years of Experience

Online Slot Expert
Leanna Madden
Leanna Madden is an expert in online slots, specializing in analyzing game providers and evaluating the quality and variety of slot games. With her extensive knowledge, she guides players to the best slot options, including high RTP slots and those with exciting bonus features. Leanna's insights help players make informed decisions and enjoy rewarding slot experiences at online casinos.
More info on Leanna Madden