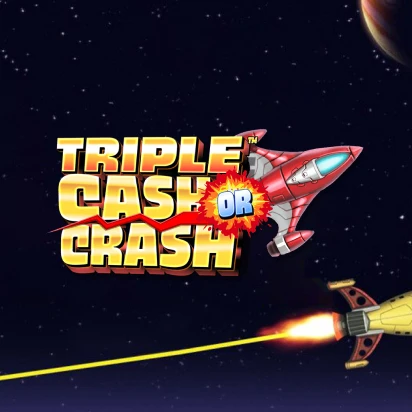 Triple Cash Or Crash
Triple Cash or Crash is a thrilling risk-rewarding slot where players must decide when to cash out. The choice is yours, eject the astronauts at any time and take the winnings before the rocket explodes.
Rating
3.55
RTP
96
Paylines
0
Volatility
Medium
Vulkan Vegas Casino Review
The UK Gambling Commission requires you to be over the age of 18 to play demo games. Are you over 18?
You are playing Triple Cash Or Crash for FUN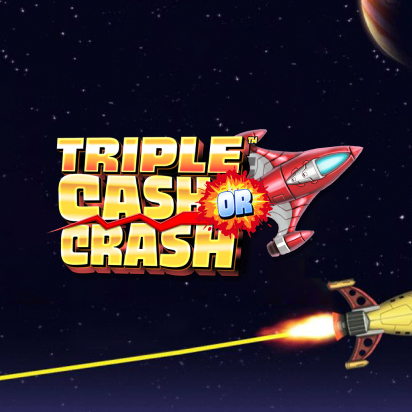 What does John have to say?
Triple Cash or Crash is definitely worth a go if you enjoy its high-risk, high-reward gameplay. With an impressive payout potential of 100,000x your stake, it will keep the excitement going at anytime.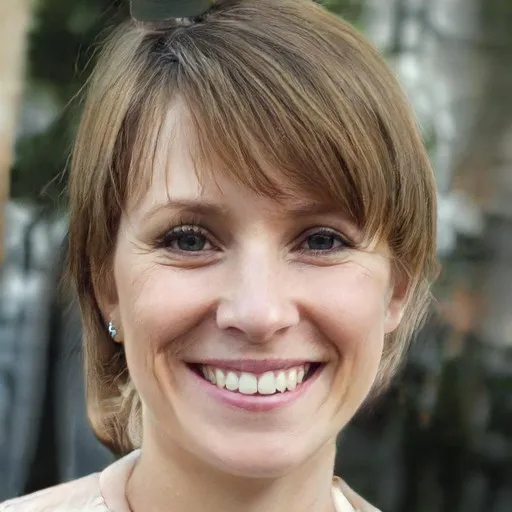 Pros

Immense payout potential - 100,000x your stake

Average RTP - 96.00%

Multi-Bet mechanic

Auto cashout feature
Cons

No traditional bonus features

Cluttered layout
Triple Cash or Crash Slot Review
3. 2. 1. Blast off! It's time to reach for the stars, travelling the infinite depth of space in search of huge win multipliers and massive payouts!
Launched in 2023, Betsoft's Triple Cash Or Crash is a new and innovative space-themed crash game that offers massive payout potential – up to 100,000x your stake! There are no paylines and no symbols. Instead, it's your mission to send your astronauts into space in search of increasing win multipliers and make sure they eject before the rocket explodes – every millisecond counts!
It's an exhilarating, adrenaline-pumping ride, so if you want to learn more about it, be sure to continue reading our Triple Cash or Crash review!
| | |
| --- | --- |
| ⚡ RTP | 96.00% |
| 🎲 Volatility | N/A |
| 💰 Paylines | N/A |
| 🔼 Maximum Bet | 100 |
| 🔻 Minimum Bet | 1.00 |
| ⭐ Bonus Features | Multi-Bet, Multipliers, Auto Cashout Feature |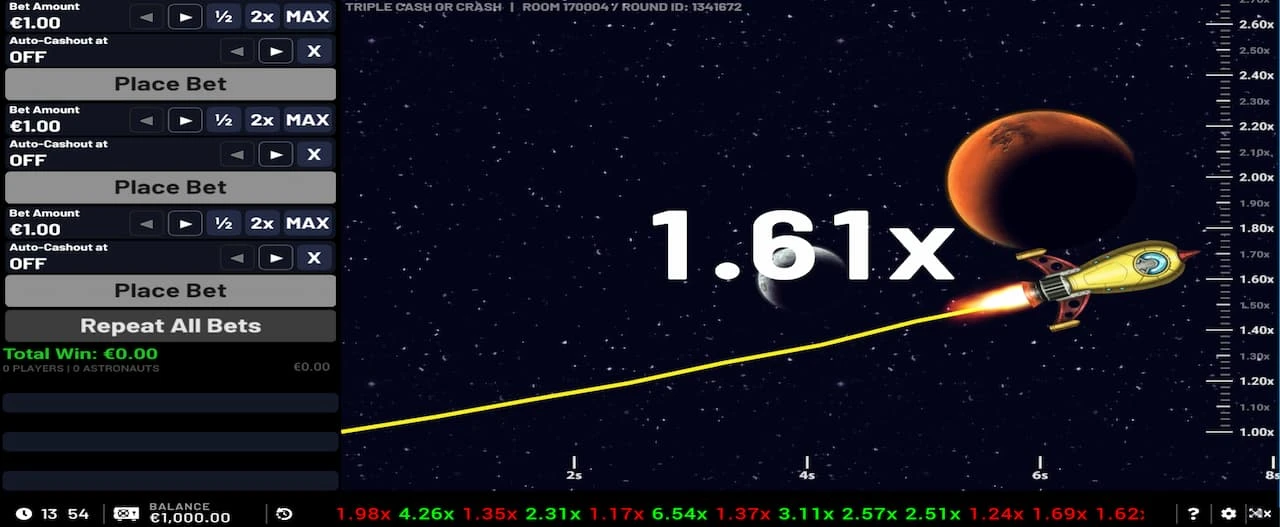 Where Can I Play Triple Cash or Crash for Real Money?
There are multiple online casinos where you can play Triple Cash or Crash for real money. On the list below, our team selected three casino sites with attractive deposit bonuses where you can find the game.
OhMyZino Casino
4/5
OhMyZino Casino Review
Lapilanders Casino
3.5/5
Lapilanders Casino Review
Pro Tips
Before writing this review, I spent a good amount of time playing Triple Cash Or Crash to figure out exactly how the game works. That way, I'd be in the best position to offer several tips and strategies on how to increase your chances of winning. After all, I could hardly offer professional advice if I'd never played the game. So, let's dive straight in.
Now, Triple Cash Or Crash lets you place up to three bets per game round, which is a great way to potentially boost your winnings. However, if you're planning to select all three, my advice is to reduce each of your bets to what you'd be willing to risk on a single wager. For example, if you're happy to bet £3 on one astronaut, go for £1 on all three. That way, you still have the potential to win just as much as you would with one £3 bet, but you have more of a safety net.
Next, I strongly advise that you make use of the auto cashout feature. There's nothing worse than clicking the eject button only to find out the rocket exploded milliseconds earlier. The time between making the decision to eject and manually clicking the button can be the difference between winning or losing. Set an auto cashout and you'll have nothing to worry about.
Finally, always remember that gambling should be fun. Triple Cash Or Crash is an enjoyable game, but it's one that can quickly chew through your account balance if you're planning to go for bigger win multipliers. So, set yourself gaming limits, both in terms of how much you're willing to spend and at what point you'll walk away.
Triple Cash Or Crash Bonus Features
Triple Cash Or Crash isn't your typical online slot that includes a range of special features to potentially deliver huge payouts on any spin. In fact, I wouldn't even class it as an online slot. It's more akin to cutting-edge crash games such as Aviator and Jet X, where the idea is to balance risk versus reward and cash out multiplier-based payouts before the game round ends. As such, you won't find any traditional bonus features such as free spins. Still, it does have several in-game mechanics that help to enhance your overall experience.
Wilds
As Triple Cash or Crash isn't a traditional slot game and features no paytable, there is no Wild symbol.
Scatter Symbol
While most slot games use Scatter symbols to trigger various bonus features, Triple Cash or Crash has no in-game bonus rounds. Therefore, there is no Scatter symbol.
Free Spins / Respins
I and many other people enjoy playing online slots to experience new and engaging bonuses such as free spins and respins. Triggering these features gets the blood pumping and there's always a sense of anticipation of what could happen in the next few minutes. Now, I'm not saying that Triple Cash or Crash isn't an exciting game, because it is. Once I got used to how everything worked, I was constantly on the edge of my seat trying to push the multiplier to its upper limits before ejecting the astronauts and cashing out my winnings.
However, due to the nature of the gameplay, you cannot hit any jackpot, or win any free spins on Triple Cash or Crash. It's not that it's simply lacking features, it's just something that wouldn't fit with the underlying gameplay. So, if you prefer playing casino games with free spins and other similar features, I suggest you take a look at our other slot reviews to find a better match.
Win Multiplier
Once you've placed your bets during the takeoff countdown period, the rocket will launch and the next game round will begin. As it follows a trajectory through space, the win multiplier will increase, and the further it flies, the more the multiplier grows. However, the rocket can explode at any point. So, it's your goal to make sure your astronaut(s) eject with your winnings before disaster strikes. If you successfully eject, you'll receive a payout based on the current win multiplier and your chosen stake.
Multi-Bet Mode & Auto Cashout Feature
Triple Cash Or Crash features two new game-changing mechanics that sets this title above similar games in the crash game genre.
The first, multi-bet mode, allows you to place up to three individual bets on each of the astronauts. You can either eject them one at a time if you'd like to cash out a portion of your bet, or you can eject them all at once if you're satisfied with the current win multiplier.
The second mechanic, the auto cashout feature, is a great way to ensure you never have to worry about missing the eject button. Before each game round, you can use the arrow buttons beside each of your bets to set a multiplier value at which your astronauts will automatically eject. As soon as the rocket reaches that level, you'll receive your winnings.
RTP & Volatility of Triple Cash Or Crash
I understand that many players choose to play certain games based on how they look as well as what special features and prizes they have to offer. However, if you want to give yourself the best chance of winning, you should also factor in the game's RTP and volatility. A casino game's RTP (Return to Player) rate, estimates your theoretical returns over the long run, so the higher it is, the better. Likewise, its volatility dictates the frequency and value of its expected payouts. Low volatility slots tend to produce smaller wins more often, while high volatility titles usually favour infrequent yet larger payouts.
So, what are the key stats for Betsoft's Triple Cash or Crash? Well, the game lists a 96% RTP, which falls in line with the average for a modern release. However, as you have to manually cash out any potential wins, this can greatly deviate one way or the other during the course of your session. As for volatility, there isn't a definitive setting, perhaps because it depends on your playing strategy – if you keep going for huge multipliers, it's undoubtedly going to be high, whereas if you consistently cash out smaller amounts it will be much lower.
One thing you'll never have to worry about though is the game's safety. It has undergone extensive testing before release to ensure it meets fair play standards, and provided you only play at UKGC or MGA-licensed online casinos, you'll never have to worry about its security.
Triple Cash Or Crash on Mobile
If, like me, you enjoy playing slots on the go, you'll be pleased to hear that Triple Cash or Crash is fully optimised for mobile play. It's available on all market-leading iOS, Android and Windows devices, including smartphones and tablets. Therefore, you'll always be able to reach for the stars for a chance at huge win multipliers whenever and whenever you choose to play.
One thing I will mention, however, is you should always make sure that you have a strong internet connection when playing. Weaker connections may experience server lag, which can affect the outcome. This may cause you not to eject in time, resulting in a potential loss. Thankfully though, if your connection to the server is slow, the rocket will flash red to warn you of this problem.
Pros & Cons of Triple Cash Or Crash
All casino games have their pros and cons, and I can't say that Triple Cash or Crash is without its faults. Thankfully though, if you know what to expect going in, you'll find that this game has plenty to offer.
I should point out that I've played similar games before, so I knew the fundamentals before I got started. However, what I didn't expect was the multi-bet mechanic. Usually, this type of game limits you to a single bet, win or lose. So, the fact that there was the option to place three separate wagers on the same game round was greatly appealing, and if used right, it can severely reduce your risk. Next, I've got to highlight the game's potential. A 100,000x maximum multiplier is absolutely staggering, and the fact that you can win up to £200,000 per round is a huge draw. Of course, getting to that stage would require nerves of steel, but very few other games can match Triple Cash or Crash's sheer payout potential.
Now, the downside. Although I found the game immensely enjoyable, the graphics don't look particularly attractive. There was so much information on the screen that it felt more like I was analysing a stock exchange instead of playing an online casino game. Granted, more experienced users might like how it's set up, but I do believe it might appear rather intimidating to newcomers. Still, once you get to grips with the gameplay and how the betting system works, you can focus on what matters – the multiplier and the eject button.
Conclusion
So, what's the verdict? Is Triple Cash Or Crash destined to take off and reach greatness or will it simply fail to launch? Well, personally, I think it's a hit, even if it might only appeal to a niche audience. The gameplay feels much smoother and more responsive than similar titles and the addition of the multi-bet feature is a great step forward for the crash game genre. I also loved the auto cashout setting, especially when combining it with multiple bets per game round. Provided you set it to a realistic amount, it offers something of a safety net as you go in search of much bigger wins.
On the whole, Triple Cash Or Crash is another solid release from one of the industry's leading game developers. If you enjoy mixing things up from time to time, or you would simply like to experience something other than regular slot gameplay, I think it's well worth your time to check it out!
FAQs
If you have any further questions about Betsoft's Triple Cash Or Crash, take a look at the FAQ section below. If you still can't find what you're looking for, feel free to reach out to me and I'll do my best to get back to you as quickly as I can.
Yes, Triple Cash Or Crash is fully optimised for the smaller screen. You can play using any of the latest handheld devices, including smartphones and tablets, and you'll still get the same great experience that you would via a desktop. Just make sure you have a strong internet connection before heading to your favourite mobile casino to play.
Yes, all casino games, including Triple Cash Or Crash, are rigorously tested before release to ensure they meet fair play standards. As such, as long as you play at a UKGC-licensed casino, you'll never have to worry about the safety of any of the games on offer. Plus, if you ever run into any issues when playing, you'll always be able to contact customer support to find a solution to your problem.
As Betsoft is one of the iGaming industry's leading game providers, you'll be able to play Triple Cash or Cash at a wide range of UK online casinos. Sites such as LeoVegas and Spinyoo Casino are great options, as not only do they offer a fantastic selection of all of the latest releases, but they also have some great welcome bonuses and other casino bonuses and promotions for both new and existing players.
Yes, a lot of UK casinos allow you to try out casino games for free in demo mode. You may first need to sign up on the site as a new player to do so, but you shouldn't need to make a deposit to play the demo version. It's a risk-free way to learn how the game works before switching to real money play. You can also test the game in demo mode at the top of this page.
Triple Cash or Crash is all about decisions and luck. In the long term, there isn't any game strategy that will guarantee you some profits. However, our suggestion is to use the multi-bet mode and split your bet between each of the astronauts in order to reduce your risk.
+10 Years of Experience

Online Slot Expert
Leanna Madden
Leanna Madden is an expert in online slots, specializing in analyzing game providers and evaluating the quality and variety of slot games. With her extensive knowledge, she guides players to the best slot options, including high RTP slots and those with exciting bonus features. Leanna's insights help players make informed decisions and enjoy rewarding slot experiences at online casinos.
More info on Leanna Madden