In this easy-to-follow guide, we've covered some beginner information you'll need to be aware of when playing video poker online. You'll also find a list of some of the most popular video poker variants and top tips from our experts on making the most of your poker experience.
The best thing about video poker is that, unlike traditional poker, you're not playing against other players, giving you plenty of time to make decisions and create your own video poker strategy. Admittedly, playing video poker won't make you rich, but it will bring plenty of thrills whether you're playing at home or on your mobile. Besides, it's always nice to switch things over and play something more skillful than video slots.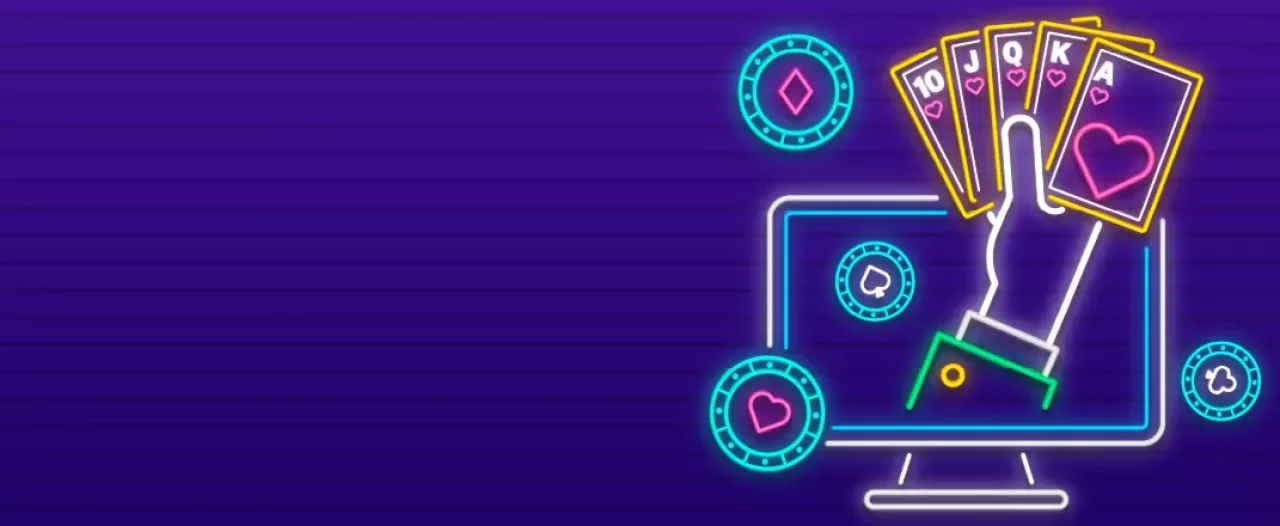 What is Video poker and why should you play it?
Video poker is a casino game of strategy based on 5-Card Draw, or simply an enhanced version of the traditional draw poker. It's an excellent game for any player, but still, unlike video slots, it requires some skill level for the best experience.
For starters, you'll need to learn the basic ways to win so that when you're dealt a five-card poker hand from a randomly shuffled 52-card deck, you know what to do next. Luckily, the rules aren't too complicated, and all you need to do is decide which cards to keep and which to discard to form a winning hand.
In addition to being a fun and easy game to master for punters of all levels, you can also play video poker online with a casino bonus. Ranging from match deposit bonus to no deposit and comp bonus, you can boost your cash balance thanks to the variety of generous offers available at many trusted online casinos.
Video Poker Rules and how to play it
Most generic 5-card online poker games have the same basic rules and come with hand rankings like Jacks or Better, Two Pair, 3 of a Kind, Straight, Flush, Full House, 4 of a Kind, Straight Flush and Royal Flush. Royal Flush is usually the highest-paying card combination, while Jacks or Better is the minimum hand requirement for a payout. Your goal is to draw a set of cards offering payouts and even double up your cash if you feel confident.
To play online video poker for real money, you'll want to sign up with one of your preferred online casinos, claim bonuses if available, deposit and pick a title from the video poker games lobby. Next, look over the paytable, settle your bet, and push the "deal" button. You'll be dealt 5 cards and decide to hold or discard up to 3 (4 in some variants) for the next draw, based on their value.
Video Poker vs Regular Poker
It would be a lie to say that video poker is the same as regular poker. The basics are definitely similar as you use the same hand values in both video poker and regular poker. But other than that, the differences are quite significant.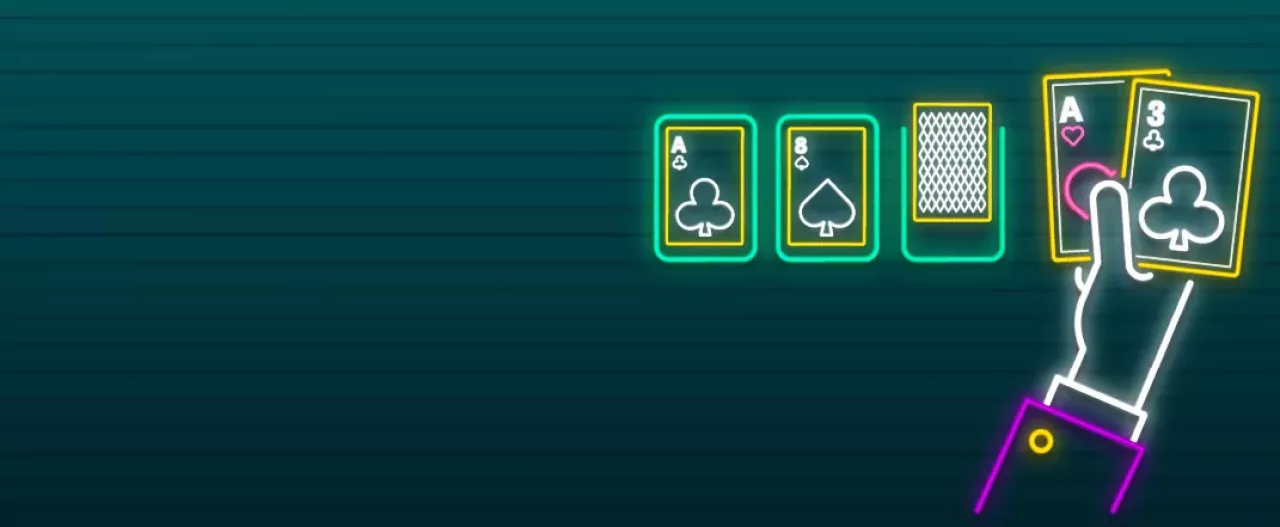 When you play regular poker, including Texas Hold'em and 5 Card Draw, you'll play against other players and the game is monitored and controlled by a dealer. The difference between video poker and slot machines is that real poker can be considered more skill oriented, while chance and luck will determine the game result on a video poker machine.
Real Money vs Free Video Poker games
Like many other casino games, you can play video poker online for free or for real money. If you've never played video poker before, you'll benefit from free gameplay. It will allow you to develop new or hone existing skills needed to build your perfect video poker strategy.
On the other hand, in addition to winning real cash, casinos with real money poker games can offer you bonuses, promotions or VIP perks if you play often. Besides, you'll have a bigger choice of games to play and maybe even try live dealer video poker variations.
Which video poker game has the best odds?
The odds of winning on video poker differ from game to game, but they can still offer a significantly higher return percentage than online slots. Also, odds in video poker are more transparent, making it easier for you to beat the house.
There are many different opinions, but statistically, Double Bonus Poker, closely followed by Loose Deuces, Deuces Wild and Jacks or Better, have some of the highest winning odds. Depending on the poker variant and its paytable, the payout percentage or RTP for these games can range from 99.54% to 100.76%.
Mobile Video Poker
When game developers chose to focus on mobile games, video poker was one of the obvious additions to online gaming.
Today, it is considered standard for casinos to accommodate video poker on their mobile casino platform. Having access to the game on mobile is excellent for those times you need some quick entertainment. Not many ways of killing time that will cash out this well!
Most Popular video poker games
If you're looking to play video poker online but don't know where to start, below you'll find the top 5 recommendations handpicked for you by our casino buffs. Thanks to their simple rules, all these games are easy and enjoyable to play, but each version brings something different to the table.
Jacks or Better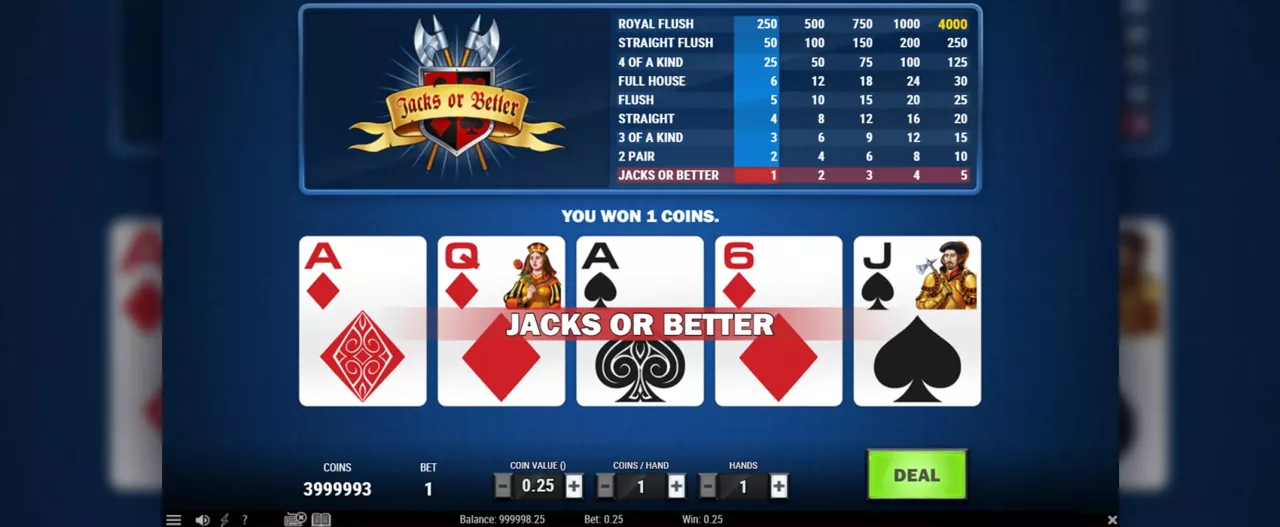 Jacks or Better is one of the most popular variants among players, and you'll find it at almost all online casinos offering video poker games. It usually comes with a 9/6 paytable and a payout percentage of over 99%.
Being so similar to 5 Card Draw, it's also one of the easiest games to understand and play.
Deuces Wild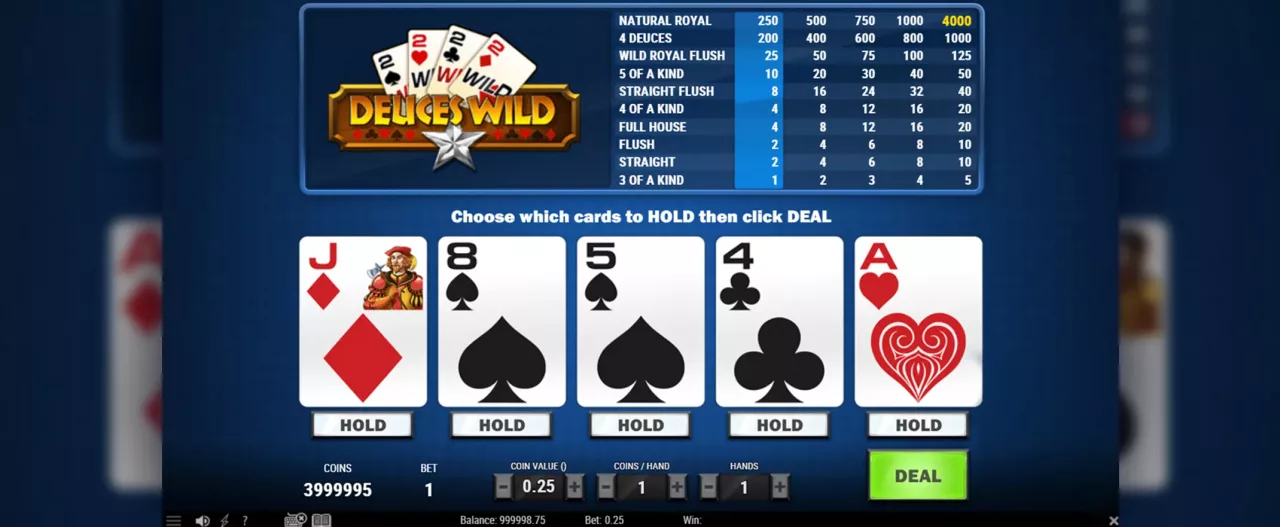 Deuces Wild is another popular version of video poker, and if you enjoyed Jacks or Better, you'll find it easy to play this version too. As the name suggests, all deuces in the game are wild cards that you can use as substitutions when completing a winning hand.
Double Bonus Poker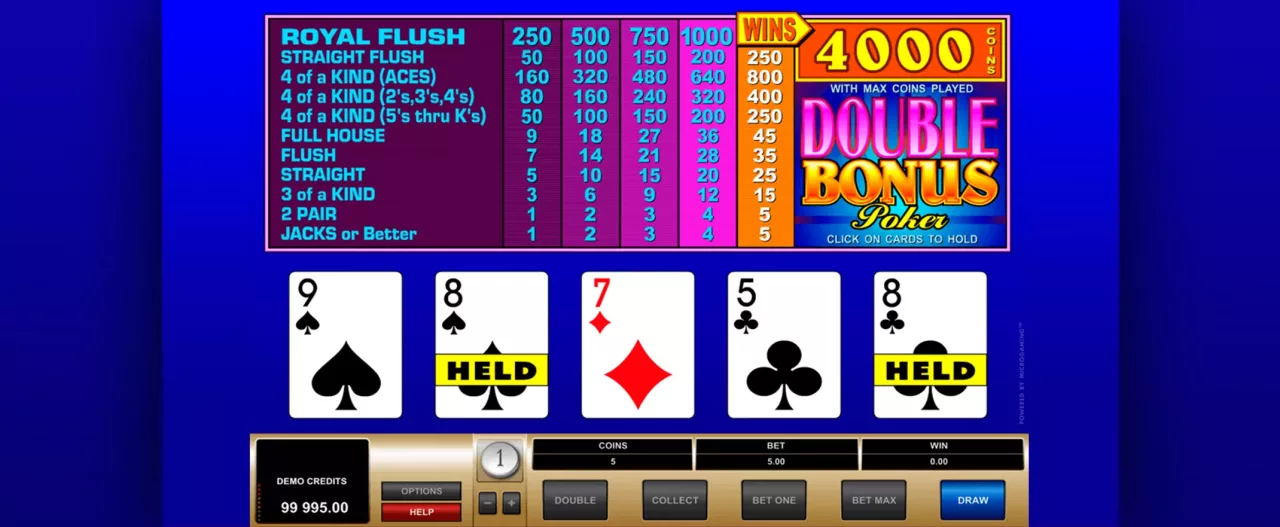 Double Bonus Poker is a great-looking and fun video poker game. It comes with payouts twice as high for the 4 of a Kind hand rank compared to its sister variant, Bonus Poker, resulting in a very appealing payback percentage of 100.17%.
All American Video Poker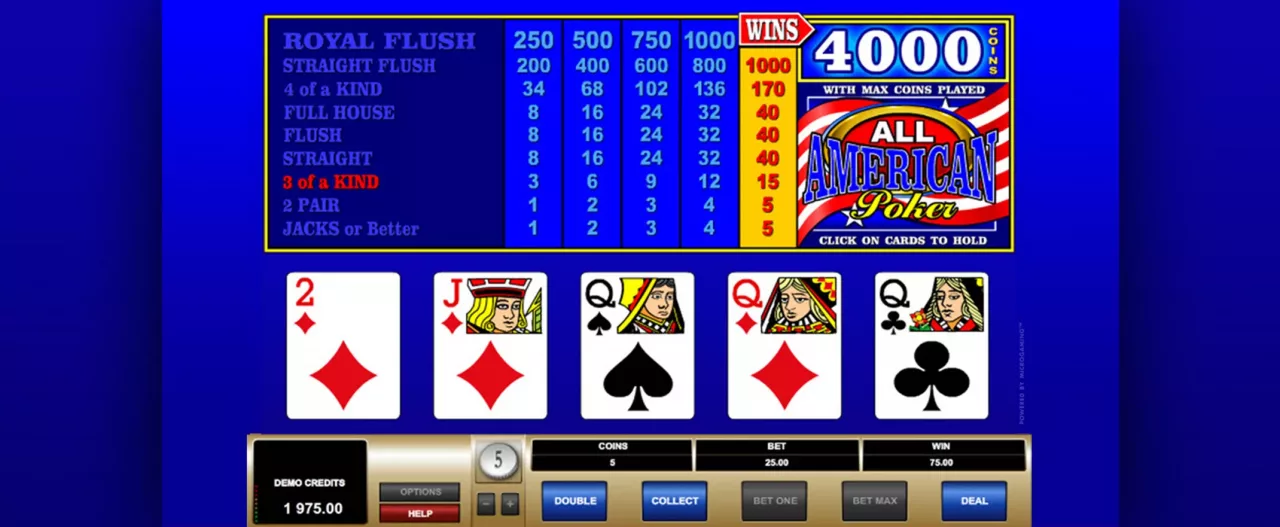 Famous for its sky-high payout percentage of 100.72%, All American Video Poker is another great variation of the Jacks or Better game. It's perfect for players who want to keep it simple but still have room to learn something new. It doesn't have 4 of a Kind but offers bigger payouts for some other specific hand combinations like Flush, Straight and Straight Flush.
Joker Poker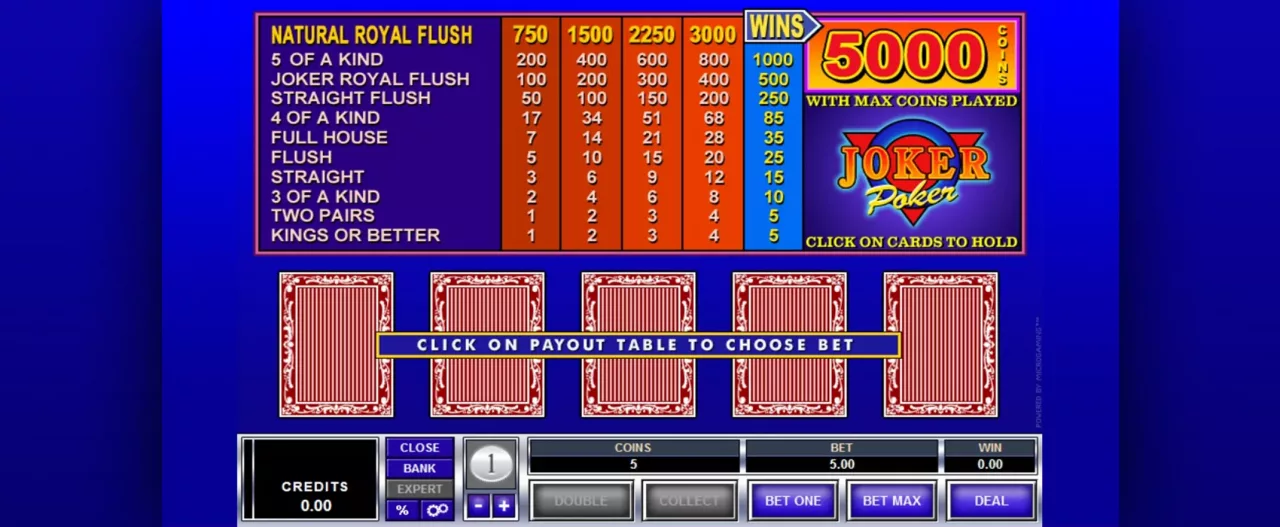 Boasting a payout percentage of 100.65%, Joker Poker is another famous variant with a wild card, meaning that this game comes with a 53 rather than a 52-card deck. Like Deuces Wild, you can use the Joker as your substitution card to build a winning hand.
5 Tips When Playing Video Poker
There are many tricks to playing and winning video poker online. Most popular recommendations include playing at your own pace, joining various player's clubs and managing your bankroll. Below are five more tips to help you make the most of your video poker experience.
Know the basic rules
Like we mentioned before, video poker is based on 5-Card Draw Poker, and understanding the basics will help you play a better game. Whether you're playing the most common or high-hand video poker variations, knowing the hand types and rankings will make your experience more enjoyable. If it helps, you can even download or print a cheat sheet.
Pick the right paytable
No two hands are the same in video poker, so it's important to know your paytable. You'll want to know precisely what you can expect from specific combinations so that you can calculate your winning strategy. Fortunately, you can find the paytable included in every game and consult it before betting.
Bet max
You don't always have to bet max if you don't want to, but you give the casino a higher house edge whenever you decide not to. Also, if you hit the Royal Flush jackpot combination while betting max, you'll win the maximum payout possible.
Play games with the high payout percentage
Like the RTP rate of slot machines, you'll want to look out for video poker games with the highest payout percentage possible. A payout of 99% is a good start, but your returns will be considerably bigger if you can find a variant with a payout percentage of 100% or over.
Play with casino bonuses
Not all online casinos offer video poker bonuses, but if you find one that does, be sure to take advantage of the promotion for an opportunity to play the game with extra cash. Joining a VIP club where you can accumulate points for playing casino games and then use them on video poker is also a great idea.
Is Video Poker Easy to Learn?
Video poker is a game of skill and strategy, but If you know the basic rules, it's easy to understand and play. It's a popular game for a reason – anyone can play it. It might take some time to get to grips with the hand types and rankings, but once you've cracked Jacks or Better, you'll only need to watch out for one or two differences in other game variations.
+5 Years of Experience

Harper Gallagher is a respected specialist in online casino games, particularly craps, poker and casino table games. By staying abreast of emerging technologies and trends, she inspires others to pursue their own passions in the exciting world of online casino gaming.
More info on Harper Gallagher