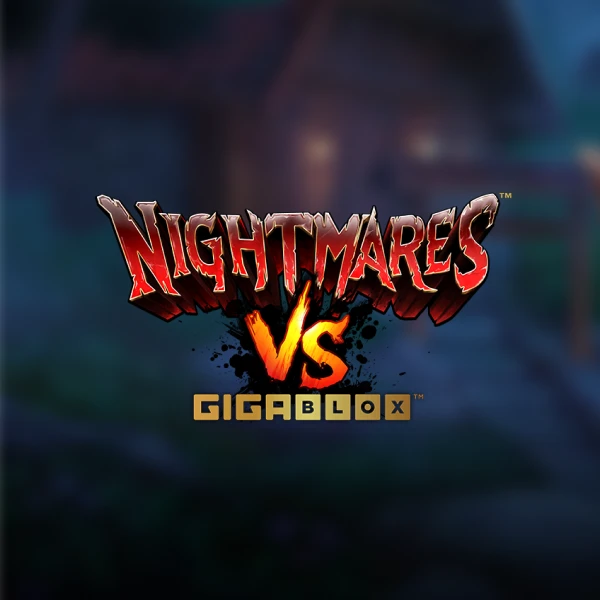 Nightmares VS GigaBlox
With a haunting village setting and creatures of the night fighting each other, Hot Rise Games' newest video slot, Nightmares VS GigaBlox, is the creepiest-looking game in the series so far.
Rating
4.2
RTP
96.1
Paylines
50
Volatility
Medium
Vulkan Vegas Casino Review
The UK Gambling Commission requires you to be over the age of 18 to play demo games. Are you over 18?
You are playing Nightmares VS GigaBlox for FUN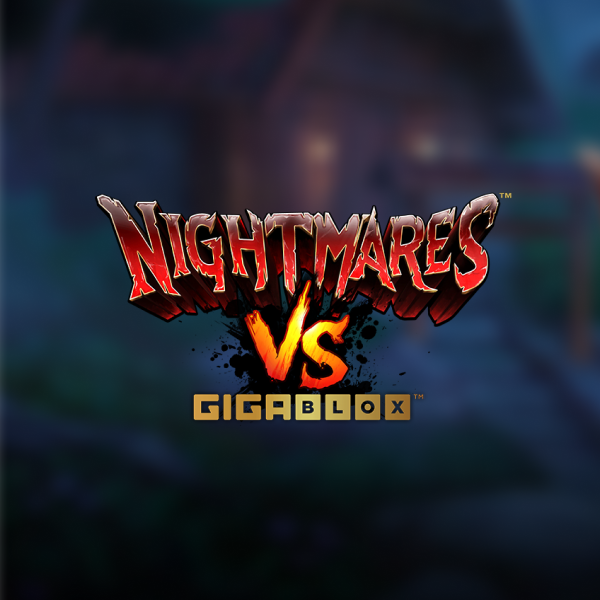 What does John have to say?
While visually appealing, Nightmares VS GigaBlox was not as visually spectacular as its predecessors. However, GigaBlox enthusiasts and fans of horror games can still have fun playing this slot with huge wins of up to 7,353x your stake.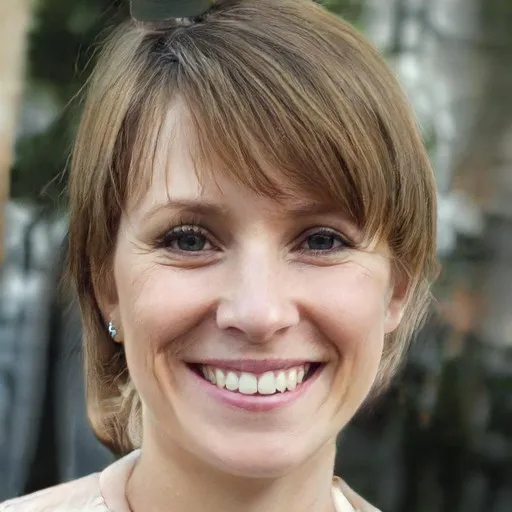 Pros & Cons of Nightmares vs Gigablox Slot
Nightmares vs Gigablox proves to be another fun time at the reels, with the following features being an absolute stand-out, despite some issues that held it back from being a home run:
Pros

7,353x maximum win.

Gigablox symbols of up to 6x6.

Wild symbols that can pay up to 500x your stake.

A versus feature with win multipliers and huge prizes.
Cons

Recycled features from previous entries.

The free spins bonus from previous games is missing.
Nightmares VS GigaBlox Slot Review
You've witnessed colossal battles between monsters from the deep and mythical gods of old, but now it's time to pit nightmarish creatures against one another in Nightmares vs Gigablox! ReelPlay and Hot Rise Games have gone with this garish direction for the latest addition to the 'Versus Gigablox' series, using the same fantastic visuals the series is known for to bring the confrontation to life. The titular Gigablox symbols and versus bonus feature make yet another appearance and you could walk away with huge wins of up to 7,353x your stake.
| | |
| --- | --- |
| ⚡ RTP | 96.1% | 93.9% | 90.6% | 86.4% |
| 🎲 Volatility | Medium/High |
| 💰 Paylines | 50 |
| 🔼 Maximum Bet | 20 |
| 🔻 Minimum Bet | 0.50 |
| ⭐ Bonus Features | Wild Symbols, Gigablox Symbols, Scatter Symbols, Versus Feature, Bonus Buy |

Nightmares vs Gigablox Slot Game Free Demo
Facing up against the creatures of the night comes with its fair share of challenges and you'll need all the practice you can get. That's why you should try out the Nightmares vs Gigablox slot free demo before playing for real money. Of course, the slot runs on a completely randomised algorithm, so there are no strategies to learn here, but the demo helps you familiarise yourself with the game's symbols, features and drop rate. It's ideal to understand what ideal bet levels you should set to suit your gaming budget.
Where Can I play Nightmares vs Gigablox for Real Money?
ReelPlay and Hot Rise Games have created some incredibly memorable experiences, which makes their games particularly popular at leading online casinos. So, you should have no problem finding loads of sites out there that offer Nightmares vs Gigablox.
If you'd rather not have to go through the gruelling task of finding an online casino yourself, why not have a look at the list of best Nightmare vs Gigablox online casinos I've put together? All of these sites offer a fantastic bonus, varied game libraries and top-notch customer support. They're also licensed by strict regulators like the MGA and UKGC, so they're as fair and safe as can be.
Pro Tips:
Despite its medium to high level of volatility, I struggled to trigger Nightmares vs Gigablox's bonus game. Sure, I landed quite a few base game wins along the way, with no shortage of wins hitting through the Gigablox symbols, but the best wins ultimately came from the versus feature. I got my first trigger after 120 spins, although consecutive activations didn't take all that long to drop. My success here mostly depended on how far I managed to make it up the bonus trail, with loads of win multipliers and additional free spins helping along the way. Make sure you pick a bet level you can afford in the long run, giving you plenty of opportunities to trigger and retrigger the bonus mode.
Nightmares vs Gigablox Slot Bonus Features
The derelict roads of Nightmare vs Gigablox's setting are teeming with all kinds of vicious creatures, sent back to earth from the very bowels of hell to rain terror and Gigablox payouts on unwilling players. But when it comes down to it, this is yet another entry into Hot Rise Games' ever-popular 'Versus Gigablox' series.
Not much has changed here. You get the same features you fell in love with over the first two games, minus the free spins bonus. That's right! Nightmares vs Gigablox does away with the traditional special bonus, so you simply switch between base game spins and the coveted Versus feature.
Wilds
You'll need all the help you can get when facing the denizens of darkness, and wild symbols can give you just the boost you need. They pop up as golden crowns, stepping in for missing pay symbols that can form a winning payline. Wild symbols pop up quite often and saved me a good deal of grief, both in completing paylines on near misses and enhancing existing wins.
They also have their values, which are equal to those of the Vamptress, which offers 500x your stake for five of a kind. They're also incredibly helpful when landing next to Gigablox symbols.
Gigablox Symbols
The titular Gigablox makes yet another appearance, landing mega symbols across the reels that can cover spaces anywhere between 2×2 and 6×6. The Gigablox stacks can lead to some massive wins since each tile in the Gigablox counts as an individual symbol.
Think of them as massive symbols stacks that can help you hit the five of a kind of any symbol in the game. Of course, you'll need to have them form part of a win to get that sweet payout.
Scatter symbol
Base game spins and Gigablox can be eventful enough, but ultimately, you'll want to get to the special Versus feature to land the game's biggest wins. That's easier said than done since you'll need no less than six scatter symbols to make it to the bonus game.
The game's medium to high volatility means it's not all that hard to put these together. But I must admit that I did struggle to land my first trigger, which took well over 150 regular spins. I managed to activate the bonus a couple of times after that and even dipped into the bonus buy feature a couple of times.
The bonus buy feature costs 80x your stake and guarantees six scatter symbols to unlock the Versus feature.
Versus Feature
This is the main event of Nightmare vs Gigablox and it follows the same fighting game structure that the series is known for. At the start of the bonus rounds, two nightmare characters are randomly selected from the roster, facing each other on opposite sides of the reels.
You start with six free spins, during which symbols that correspond to the two chosen characters are collected. They're added to the character's bonus trail and can unlock win multipliers, additional free spins, wilds and major prizes. The major prizes give you massive win multipliers that can help you hit that 7,353x max win.
It's a particularly exciting bonus that had me at the edge of my seat throughout. But it is ultimately a rehash of the previous versus features, with no significant overhauls to push the mechanic further.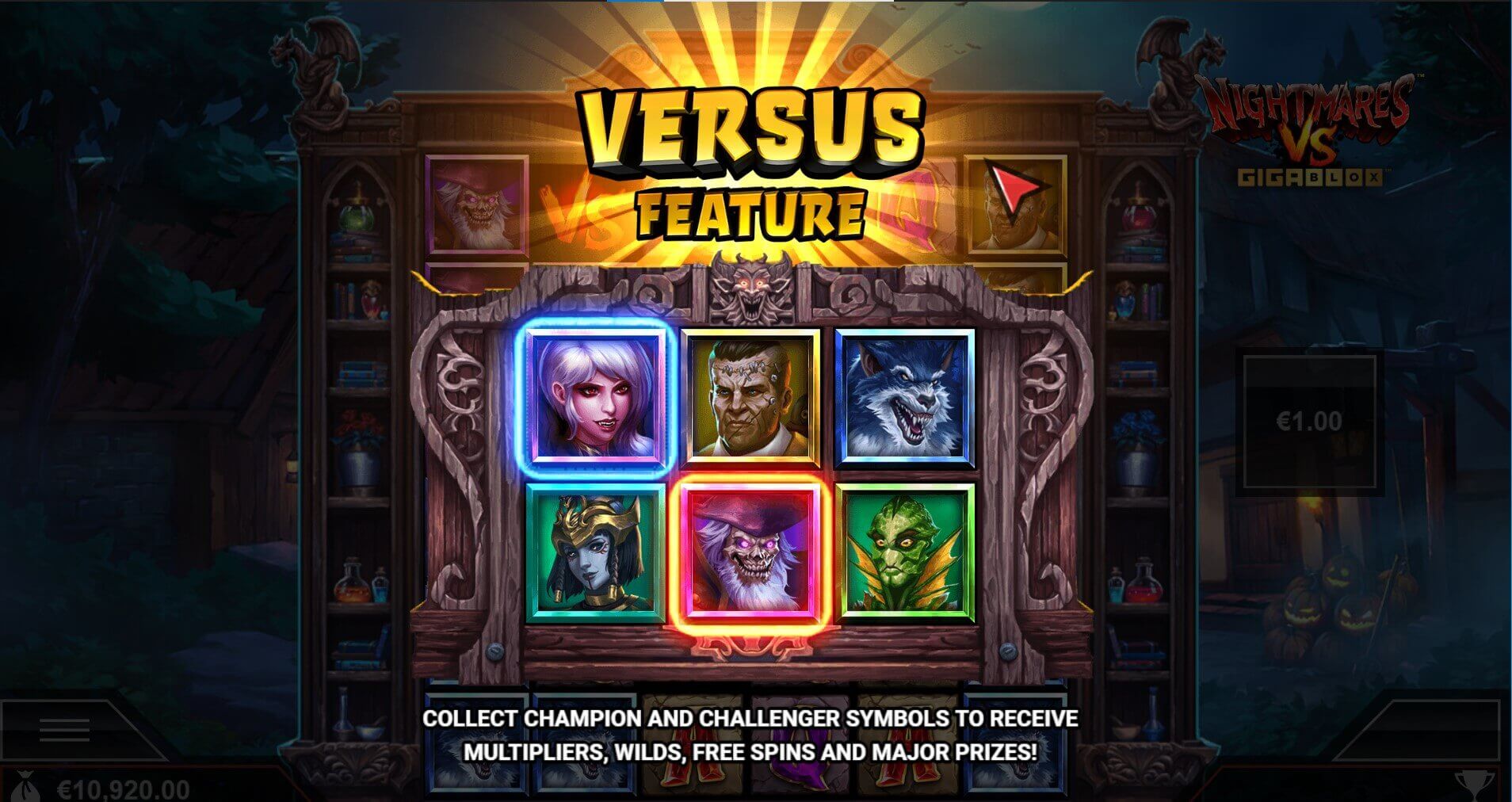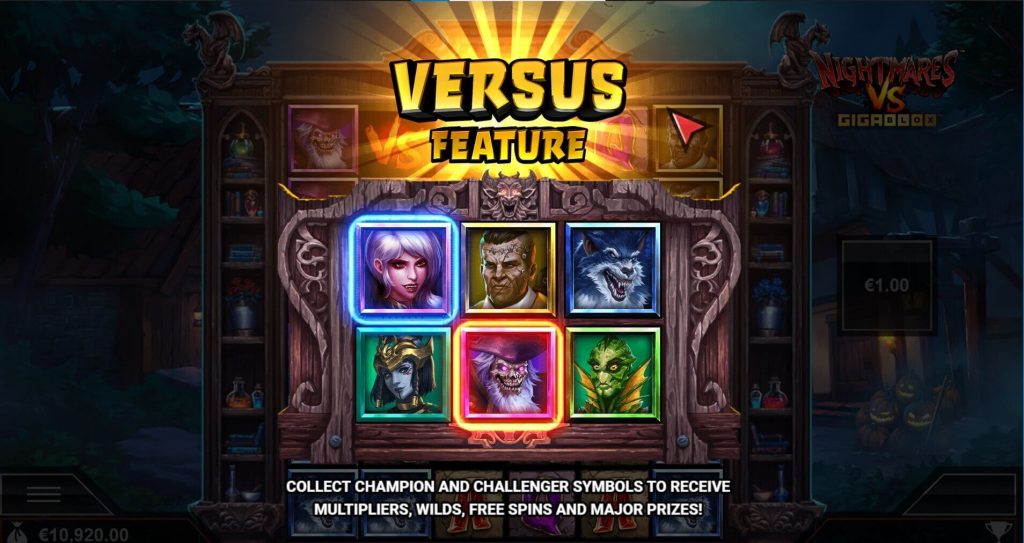 RTP & Volatility of Nightmares vs Gigablox Slot
Nightmares vs Gigablox sets a medium to high level of volatility. It means wins and special features aren't all that rare, even if they don't land on every other spin. But Hot Rise Games makes up for it with a relatively low RTP setting of 96.1%. It makes for a rather balanced math model, although you can find other versions out there with lower RTP rates of 93.9%, 90.6% and 86.4%.
Rest assured that Nightmares vs Gigablox is a very safe game to play. It's developed by Hot Rise Games in conjunction with ReelPlay and Yggdrasil Gaming, which are all trusted game providers in the online casino industry. Of course, I urge you to play at a licensed online casino to ensure your overall safety.
Nightmares vs Gigablox Slot on Mobile
Feel like taking your nightmare creatures for a walk? Well, you can play Nightmares vs Gigablox wherever you like thanks to the game's fantastic mobile compatibility. The mobile version is compatible with both Android and iOS devices and responsively adapts the interface to fit on smaller screens while automatically adding touchscreen controls. So, you get the full experience regardless of the device you're playing on, complete with all the same great graphics, versus features and maximum payout you get on the desktop version.
Conclusion
If you're up for a spooky slot where deadly creatures battle it out over rewarding win multipliers, then you'll want to check out Nightmares vs Gigablox. The game maintains the same momentum set by its predecessors with both the Gigablox symbols and the Versus feature providing loads of entertaining spins and fantastic wins.
But at the same time, I feel like the formula is beginning to show its age. Whereas Gods vs Gigablox is built on the promise of the original game, Nightmares vs Gigablox stagnates. It removes the free spins feature and doesn't add anything new. Sure, the gameplay loop is fun enough, but unless it continues to invest in the winning formula with bigger and better mechanics, the whole 'Versus Gigablox' series might run out of steam quickly.
I ultimately had a great time playing Nightmares vs Gigablox and if you're up for another spin on the series with a handful of Halloween characters to keep you company, then be sure to give it a go too!
FAQs
That's all for the Nightmares vs Gigablox review! But if you still have more questions to ask about these garish creatures and the rewards they offer, be sure to drop me a message from the contact form below. I'll get back in touch as soon as these undead monstrosities are safely back in the ground! And have a loo
To progress in the Versus feature's bonus trail, you'll need to land symbols that correspond to the two characters that get chosen at the beginning of the bonus game. The more symbols you collect, the higher up the ladder you'll go and the better the rewards you'll unlock.
Yes, all symbols including wilds and scatter symbols can land as Gigablox in Nightmares vs Gigablox.
The bonus buy feature costs 80x your stake and awards you with an immediate six scatter symbols. This takes you directly to the Versus feature.
The free spins bonus that came with previous 'Versus Gigablox' games has been removed. But you still get the Versus feature as a bonus game.
+10 Years of Experience

Online Slot Expert
Leanna Madden
Leanna Madden is an expert in online slots, specializing in analyzing game providers and evaluating the quality and variety of slot games. With her extensive knowledge, she guides players to the best slot options, including high RTP slots and those with exciting bonus features. Leanna's insights help players make informed decisions and enjoy rewarding slot experiences at online casinos.
More info on Leanna Madden