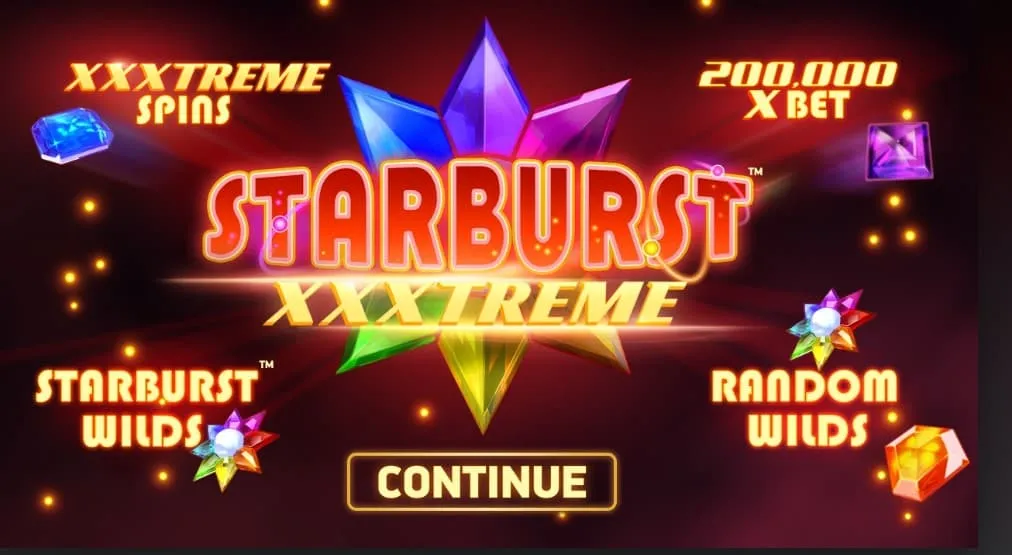 Starburst XXXtreme
NetEnt has finally come out with a sequel to the world' most loved slot. They've added some enormous 150x multipliers and whacked the volatility up to high. If that isn't XXXtreme, we don't know what is! Review by Arram Bekarian.
Rating
4
RTP
96.26
Paylines
9
Volatility
High
Crazy Fox Casino Review

Level Up Casino
4/5
Level Up Casino Review
What does John have to say?
Hold on to your seats people, Starburst just got amped! If you're a fan of the original, then this XXXtreme makeover is definitely worth checking out.
It's finally here! The heavily anticipated sequel to the most popular casino game of all time… Starburst XXXTreme from NetEnt. Starburst XXXTreme packs an unexpected punch while maintaining the core respin bonus from the original along with the iconic gems it was best known for.
Read on for the full review.
SLOT FEATURES
Respins, Random Wilds, Multipliers
RELEASE DATE
15th July 2021
GAME PROVIDER
NETENT
SLOT TYPE
Video Slot
THEME
Gems
REELS, ROWS, PAYLINES
5 Reels, 3 Rows, 9 Paylines
BET LEVELS
£0.10 – £50
MAXIMUM WIN
20,000x Your Stake
SCATTER SYMBOL
No
WILD SYMBOL
Yes – Star
BONUS GAME
No
FREE SPINS
No
RESPINS
Yes
MULTIPLIERS
Yes
JACKPOT
No
RETURN TO PLAYER

96.26%

96.45% XXXTreme Spins

VOLATILITY
High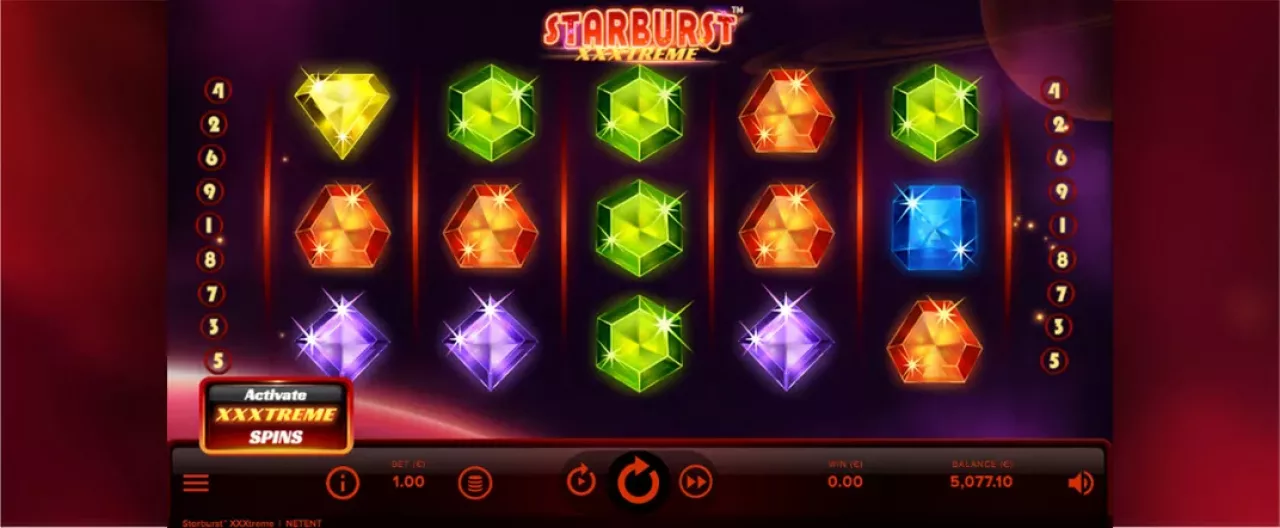 On the surface, very little has changed from the original Starburst. Aside from a tint change from purple to red, everything looks and sounds identical. The same dated gems, the same spacey ambience, the same uninspiring cost-cut imagery.
Under the bonnet though, Starburst XXXTreme is a very different machine. NetEnt has taken their tame low volatility giant back to the engine room with a clear direction to unleash the beast within. And after a few seemingly minor adjustments, out struts Starburst XXXtreme, Starburst's evil sibling with a devilish red gaze. Starburst has undergone a makeover and now, it's all about the multipliers.
Starburst XXXTreme, while being ultimately different from the original Starburst, shares some striking similarities. Similarities specifically intended to carry forth the legacy of Starburst while adding elements acquired over the last decade of gaming evolution. This review will attempt to compare the similarities and differences between Starburst and Starburst XXXTreme.
Features
STARBURST WILDS
Wilds appear on reels 2, 3, and 4 and substitute for all symbols.
Wilds expand and each one that lands awards a Re-Spin and a random Multiplier.
Any additional Starburst Wild symbol that lands on the reels during a Re-Spin also expands and awards another Re-Spin.
Reels covered with Starburst Wild symbols are locked during subsequent spins.
RANDOM WILDS
The Random Wilds feature is randomly activated after a spin or a Re-Spin, awarding 1 to 3 Starburst Wild symbols that land on reels 2,3, and 4.
Each Starburst Wild symbol awards a random Multiplier of: x2, x3, x5, x10. x25, x50, x100, x150.
XXXTREME SPINS
It is possible to purchase XXXtreme Spins which is a Buy Bonus*. Activating XXXtreme Spins guarantees Starburst Wilds. XXXtreme Spins cost:
10x the bet for 1 guaranteed Starburst Wild symbol per spin, or
95x the bet for 2 guaranteed Starburst Wild symbols per spin
*Only available in certain jurisdictions
Paytable Review
Simplicity runs throughout Starburst and Starburst XXXTreme is no different. 7 paying symbols and a wild.
There are 33% or prizes at-or-below bet which is identical to the original. Some prizes have been adjusted up or down. The most noticeable difference is the 3 and 4 of-a-kind prizes of the BAR and SEVEN are now considerably lower than the original but their 5 of-a-kind prizes are higher.
Playability
NetEnt has evolved Starburst with what it lacked in the beginning. Multipliers on the WILDS. Each WILD randomly adds a multiplier to the respin up to 150x! And yes, they add up to a potential 450x if you're so lucky to hit 3 WILDS where each of them awards the max multiplier. In doing so, the multipliers introduce an additional anticipation layer over and above the respin, in some way reducing the impact of the respins themselves. The chase now has been shifted from winning the respin to 'what's the multiplier?'.
As with anything in slots, if something is added, something must be taken away. Multipliers don't come cheap, especially to such a frequent hitting feature and to a paytable and hit rate comparable to the original. So, what has been reduced from the original to make way for the added volatility and multipliers?
The both ways pay direction is removed. In comparison to Starburst, where 10 coins bought you 20 paylines (10+10 from the right), in Starburst XXXTreme 10 coins buy you 9 paylines.
Maintaining the 10 coin minimum bet effectively makes the game a forced ante bet of 1 coin per spin. That 1 coin per spin helps the game fund its multipliers.
A few prize adjustments in the paytable.
The win hit rate of 1 in 5 spins in Starburst XXXtreme is almost the same as the original. On paper, the change in win hit rate from 1 in 4.41 to 1 in 5 spins seems insignificant but you must remember the latter only pays from one direction. You're getting almost the same rate of pay as the original with about half the lines. If the original Starburst were to pay from the left alone, its 1 in 4.41 hit rate would become 1 in 8.82 spins. Starburst XXXTreme's 1 in 5 spin hit rate means NetEnt has almost doubled the rate of pay from the original to compensate the single pay direction otherwise the win hit rate would be far too high and have far too many deadspins to maintain player interest. NetEnt wanted pay frequency to be maintained to replicate the action of the original as best as possible.
One would also expect the feature hit rate of Starburst XXXTreme to be higher than Starburst to compensate for the multipliers but, it feels as though it's the same. The reduction of wins from a reel 4 trigger must have been enough to counter the need to reduce the trigger frequency. Starburst's 1 in 11.9 spin feature hit rate was engineered to offer a very high chance to trigger at least one bonus in a typical 10 free spin promotion and I am confident NetEnt wanted to maintain this 'coincidence' for operators.
On the plus side, Starburst XXXtreme plays very well. It delivers what it was designed to do. That is to evolve the most iconic casino game while maintaining its look and feel, drawing on player recognition and opening doors for new players who today, demand a more volatile and rewarding experience.
WIN HIT: 1 in 5 spins
FEATURE HIT: 1 in 11.9 (estimated)
The bought feature aka XXXTreme Spin has two modes. Buy one WILD for 10x or 2 WILDs for 95x. In any bought feature the buy value is an indication of the average value of that bonus. A 10x buy-in on average will return 10x. But 95x is a huge investment to make for a single spin which may return a zero win and a good indication of just how volatile this game can be. If the average win of around 95x includes many zero-win features from a single spin you can imagine how high the top end variance must be.
In bought respins, you really need the double wilds from the to land on reels 2 and 3, otherwise you know you're in for disappointment after you've paid 95x for a single respin.
Audio
Audio played a major role in Starburst and it's no different in Starburst XXXTreme. The underlying synthwave ambient tune generates a relaxed atmosphere so unobtrusive that you tend to forget it's there. Its wintunes are an extension of the ambience that erupts from a splash sound as winning combos are sprayed across the reels in a pulsing sensory overload of colour and sound.
There are subtle audible reinforcements throughout the game like a little 'ding' when the win rollup ends. The electrical turbine cranking sound of the wild expanding relays a message of a motor starting up and anticipation of the respin build. The reverse sound signifies the turbine shutting down and to expect its restart soon.
The Glory Spin
The Glory Spin of 200,000 coins is won if… you win the respins with 3 WILDS and each give you a 150x multiplier. Then you land stacked BAR on reels 1 and 5. 5 BAR pays 50x per payline times 9 paylines in total paying 450x coins then, multiplied by 450x (150x per WILD) to total 202,500x! As you would expect, this event does not occur frequently but nonetheless, the potential is immediately understood once the respins are triggered.
Delights and Surprises
Simplicity. Ease of play.
Fast action
Rewarding and intense celebrations
The multipliers are applied twice. Once for the triggering spin and once for the respin
Shortcomings
The XXXTreme Spins buy bonus must be manually turned off. Otherwise, you'll spin up another bought bonus. This 'feature' will surely catch many players off guard and very surprising that NetEnt created it in such a way.
The rarity of hitting a second or third WILD
Quite often, the respin feature can result in a zero win, especially now that the right-to-left pay direction has been removed
Be prepared for lots of WILDs on reel 4 and zero-win respins.
Conclusion
Will Starburst XXXTreme live up to expectations? After all, it has huge shoes to fill in the footsteps of its older brother. The beauty and simplicity of Starburst's respin feature is, that it's coupled with both way pays. Remove one of the symbiotic elements and the other suffers. Reel 4 triggers become far less valuable and suddenly you feel their frequent occurrence. Sure, multipliers are great and we love them but at what cost? Starburst XXXTreme is a great game and solid sequel to a slot god. It delivers what players want today in a package that's familiar and trustworthy.
Starburst XXXTreme gets 76 Spins out of 100 based on the following ratings:
| | |
| --- | --- |
| PLAYABILITY | 80 |
| ORIGINALITY | 50 |
| BUILD QUALITY | 90 |
| MARRIAGE | 85 |
| IMMERSION | 80 |
| RUN FOR MONEY | 60 |
| INTEGRITY | 90 |
| TOTAL | 76 |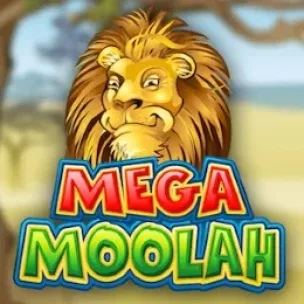 Mega Moolah
4.48/5
Microgaming
Play Now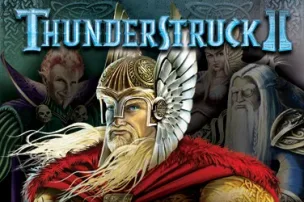 Thunderstruck 2
4.25/5
Microgaming
Play Now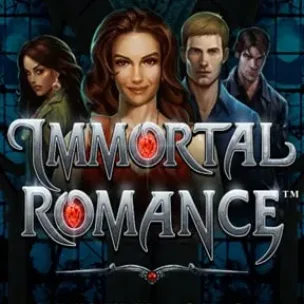 Immortal Romance
4.25/5
Microgaming
Play Now