Today, we have 3 line slots in different themes and layouts from top developers like Playtech, Red Tiger and Microgaming. Admittedly, betting on a max of 3 lines might not sound a lot, but it has its benefits. Plus, several of these sneaky 3-liners can offer wins bigger than some of the modern slots ever will. To learn more about how these slots work and the advantages of playing them, join us as we delve deeper into the universe of 3 payline slots below.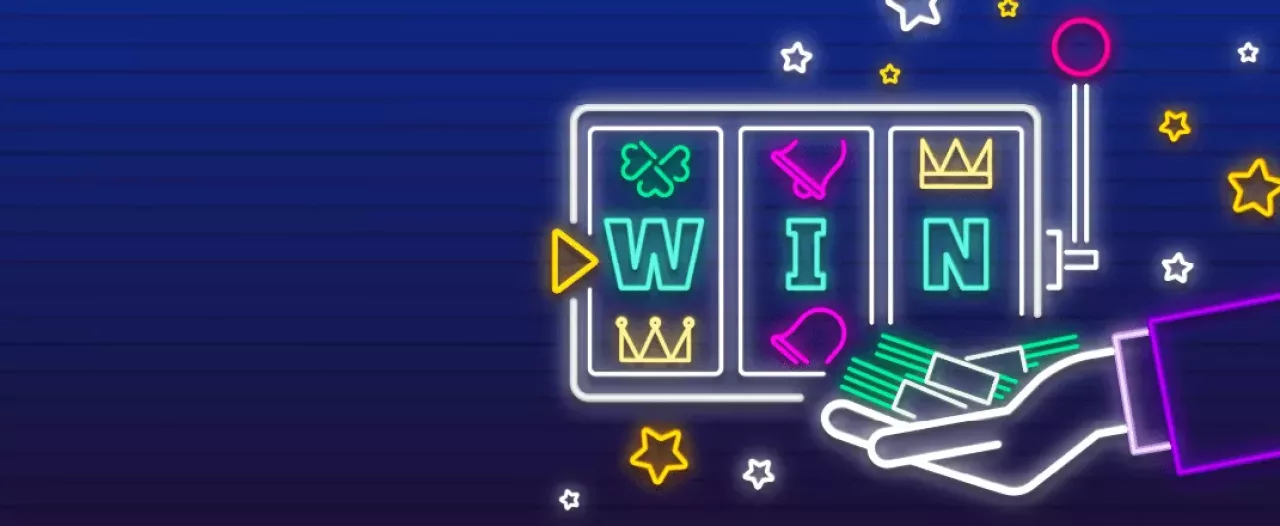 What Are Slot Paylines?
Not to be confused with reels and rows, winning paylines in a slot are lines that generate a win based on the combination of winning symbols. So when you hit a spin button and line up several identical symbols on an active payline, you'll be rewarded with a payout according to the paytable.
Most modern slots can calculate multiple paylines crisscrossing the reels in horizontal, zigzag, diagonal or vertical patterns. But classic 3-reel fruit slots usually come with 3 horizontal lines, hence the term 3-line slots.
How 3 Slot Machine Paylines Work
To create a win, you need to land a number of matching symbols on a winning payline. In most 3 line slots, you need to land 2 to 3 identical symbols on the top, middle or bottom horizontal line to hit a win. However, the winning symbols must land on adjacent reels from left to right, starting with the leftmost reel. For example, you'll need to line up a cherry symbol on reels 1, 2 and 3. The win is then calculated immediately and equates to your initial bet multiplied by the value of the winning combination as indicated in the paytable.
As you move from classic to modern multi-line slots, the payline mechanisms get a little more complicated but the more paylines you play, the more chances you have to land a win.
How Many Slot Paylines Can You Have?
While retro slots usually come with one, three or five paylines, the latest modern-day slots can have multiple betways. For example, some of the most popular 5-reel or grid slots can have as many as 100 paylines. Megaways slots, on the other hand, can offer over 100,000 win ways in just a single spin. Here's a quick example of how many paylines you can have in an online slot:
10 paylines
15 paylines
20 paylines
25 paylines
50 paylines
100 paylines
243 ways to win
How to Play 3 Line Slots?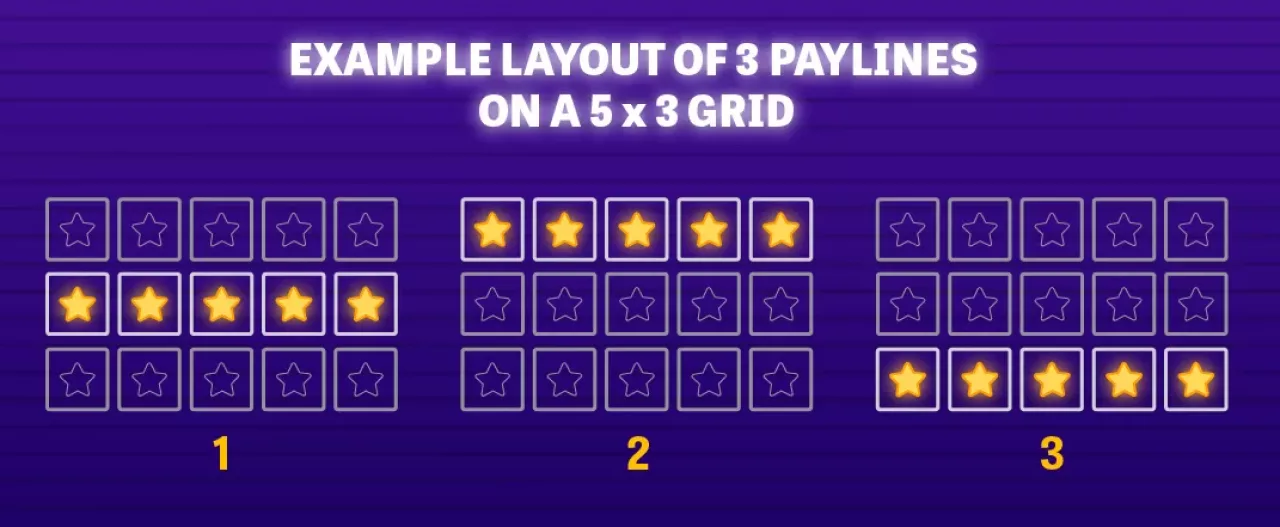 Playing 3 line slots is as easy as hitting the spin button. Find the game you want to play at your favourite online casino, adjust your bet per spin and watch the reels spin. Depending on your budget, you can stake the minimum, maximum, or anything in between. Still, as easy as it sounds, you should study the paytable and glance over the rules before playing.
Another tip we can give you is to check the game's key stats, such as volatility and RTP, as they will impact the frequency of your wins and the overall top prize. Also, for a more immersive experience and to make your bankroll last longer, look out for 3 line slots with bonus rounds and special features.
What Are the Benefits of 3 Line Slots?
If you've never played slots before, these games can be a good introduction to online gaming, but there are many more benefits to playing 3 payline slots than that. Here're just some of the most immediate from our experts:
They're simple: consisting of a max of 3 paylines, 3 line slots are easy to understand and don't contain complex bonus features, making them relaxing and enjoyable to play.
They're fun: whether you're new to slots or not, it's always fun to try something different, especially if you're after some quick and uncomplicated gameplay.
They're good for your bankroll: most 3 line slots offer adjustable betting levels, which is great if you have a limited budget. Plus, betting on just 3 paylines will make your cash last longer.
What Are the 3 Payline Slots Features?
Most 3 payline slots indeed have less complex bonus features than their multi-line sister slots. But if you dig deeper, you'll be pleasantly surprised at how many of them have special features.
Ranging from wilds, scatters, free spins, the gamble feature, bonus rounds and multipliers, they can improve your gaming experience by boosting your winning potential and extending your gameplay.
The Most Popular 3 Payline Slots Games
3 payline slots offer effortless gameplay as one of their most attractive traits but don't be deceived by their simple nature. Some have more than one trick up their sleeve and are highly rewarding.
Take the mediaeval-themed Fortress Charge: Reel Quest from Microgaming and Crazy Tooth Studio as an example. It only has three paylines and yet comes packed full of entertaining bonus features leading you to some magnificent wins of up to 16,000x your stake!
A couple of other popular 3 payline slots you'll find in our slots library include Big Hitter and Golden Cryptex.
The Best 3 Payline Slots Software Developers
While most software developers today focus on multi-line slots with complex bonus features, you can still find quite a few 3 line gems in their extensive games collections. Here are just some of these developers:
Realistic Gaming
SkillOnNet
FAQ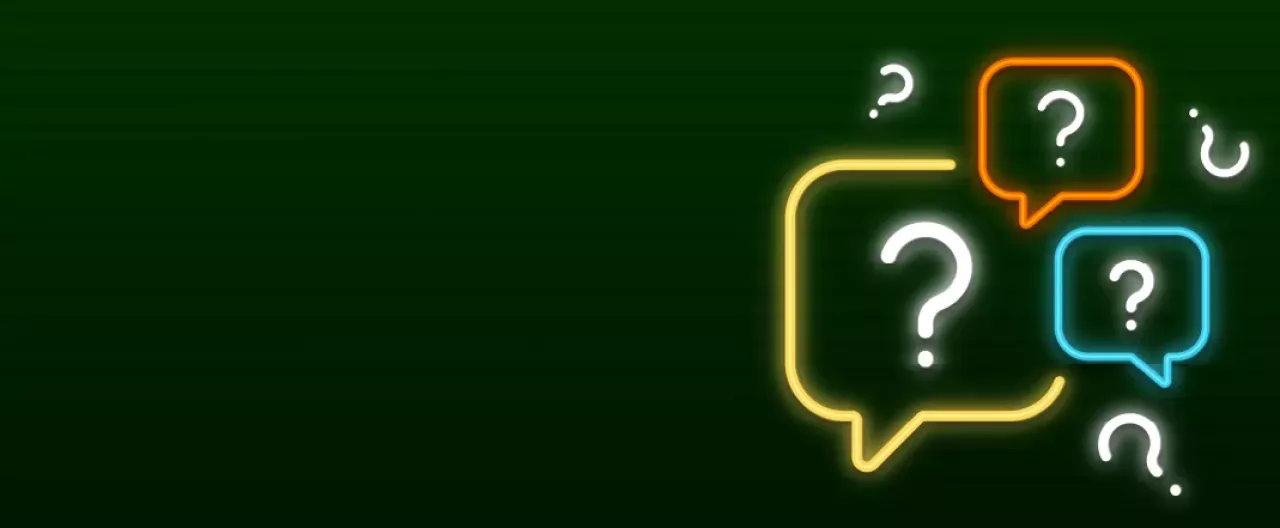 Differences Between Payline Slots and Reel Slots?
Reels are the vertical columns that spin while paylines are the patterns that can read whether you landed a win on not. Therefore, a 3-reel slot refers to the slot's layout, while a 3-payline slot indicates how many winning lines you can win on.
Are More Paylines Better in Slots?
It depends on your playing style and budget. Multi-line slots with 10, 20 or 50 lines can be more expensive to play and eat into your budget quicker than betting on one, two or three lines. But, at the same time, more betting lines offer more winning chances.
Real Wins vs. False Wins at Slot Machines
The difference between real wins and false wins is that the false wins will make you feel like you've won even though you actually lost cash. Next time you play a slot, monitor your wins; if any of them appear to be less than what you bet per spin, you've spotted a false win.
How Does a Slot Machine Payout?
Slot machines are powered by the random number generator (RNG), which continuously generates random number sequences per second. These numbers correlate with symbols, and if you land a symbol combination needed to create a win on an activated payline, the slot machine will calculate the prize according to the paytable. Then, the overall win will be automatically added to your casino balance for withdrawal.
+10 Years of Experience

Leanna Madden is an expert in online slots, specializing in analyzing game providers and evaluating the quality and variety of slot games. With her extensive knowledge, she guides players to the best slot options, including high RTP slots and those with exciting bonus features. Leanna's insights help players make informed decisions and enjoy rewarding slot experiences at online casinos.
More info on Leanna Madden
Facts checked by Leanna Madden , Senior author
Updated on 24 May, 2023
2 min read