Paysafecard
Our mission at JohnSlots is to find the best online casinos so that you can enjoy quality time playing the latest slot games. With that in mind, we understand that the casino experience extends to more than just simply dealing your next card. You want everything to remain smooth, including the deposit method you use. Some deposit methods are more superior than others which is why we've created a guide to help you deliberate whether Paysafecard is the ideal deposit method for you.
Paysafecard is a leading prepaid payment method that merges cash with the online experience. It's a hugely popular deposit method amongst avid casino players. It works like a prepaid card that can be topped up from your local convenience store. Paysafecard is widely accepted amongst many of the top-class online casinos so you can try this payment method at your favourite casino 2023.
Find the Best Paysafecard Online Casinos at JohnSlots!
We are constantly looking for the UK casinos that accept Paysafecard and delivering thorough and honest reviews for you to read. Paysafecard is part of the Paysafe Group family (also home to Skrill and Neteller) which are vastly popular in the casino world because they make transferring payments easier. Casino veterans may also remember Ukash, which has now merged with Paysafecard to deliver a better experience for you.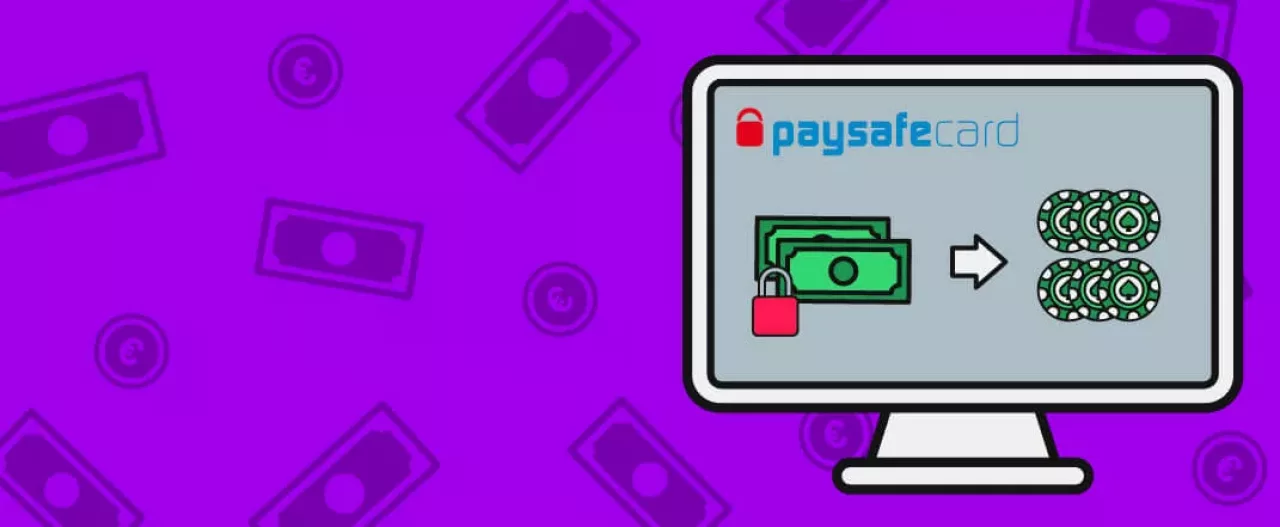 What is Paysafecard?
Paysafecard is a prepaid card you can buy and top-up at your local store. You can use this voucher to then load your casino account with funds, so you can go ahead and play some slot games. You can either buy a one-off voucher or top-up your existing account. It's as simple as inserting a 16-digit code on your casino deposit page next time you wish to add funds to your account.
You'll find many outlets all over the United Kingdom sell Paysafecard vouchers, including supermarkets, newsagents and petrol stations, so you'll never have to worry about going without. It's most likely that your nearest convenience shop will have the option when you ask next time you pop to the store. It's great to use if you don't want to reveal your bank details online but it's good to remember that you won't be able to withdraw any winnings back into your Paysafecard account.
Why Should You Play at Casinos with Paysafecard?
With Paysafecard being one of the most widely accepted casino payment methods, you'll, of course, want to find out more about this popular deposit method. Here are some of the pros and cons of Paysafecard:
| PROS OF PAYSAFECARD PAYMENTS | CONS OF PAYSAFECARD PAYMENTS |
| --- | --- |
| Easy and secure | Cannot accept withdrawals |
| Widely accepted across many casinos | Cannot make any large deposits as you can only deposit £100 with one pin or £250 with combined pins |
| Your bank details won't be shared with the casino | Some casinos charge a fee which comes out of your deposit |
| Can purchase using your cash at a store | You'll be charged if you don't use all your money in 12 months |
| Fast money transfers so you don't have to wait days for payments to process | Some casinos won't let you claim the welcome bonus |
| Low minimum deposit required | You can only deposit at your local outlet |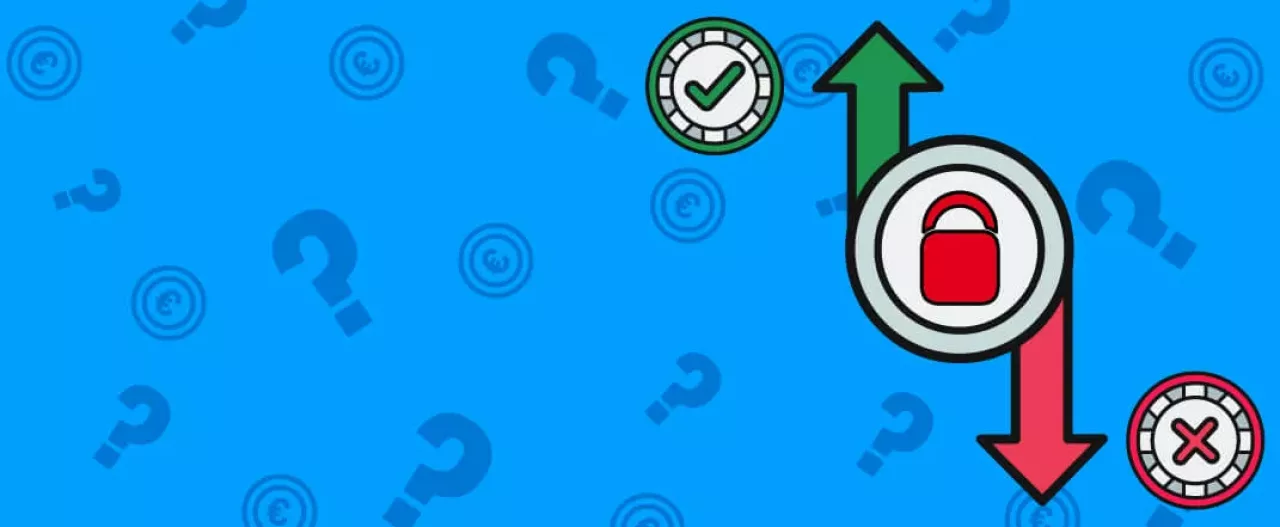 There are many reasons why you should choose Paysafecard as your deposit method. For starters, it's one of the most secure payment methods you'll find because you don't have to share any bank details whatsoever, which is its major competitive edge. You can keep your mind at rest knowing that Paysafecard holds a licence by the Financial Conduct Authority in the UK, so there are a certain number of standards it needs to uphold.
You can deposit as little as £10 and start playing the most popular slot games once you arrive home. You can purchase one of these cards when you're out doing your grocery shopping, so you can even pay using cash. However, due to the new UK licensing laws that commenced in early April 2020, you will not be able to top-up your Paysafecard account using a credit card. Aside from that, the process is quick and simple, meaning you'll get your money straight away into your casino account.
Whilst Paysafecard has many advantages and will definitely appeal to many casino players, that doesn't mean it's without its drawbacks. Be sure to check the terms and conditions of your favourite casino website because some will charge a small fee to process the payment, which will come out of your deposit. You may even catch yourself unlucky and lose out on a bonus promotion because you will no longer meet the minimum requirements. Many casinos will also not let you claim your welcome bonus if you're depositing using Paysafecard, so you may be missing out on some fantastic offers.
You also have to be aware that there are fees involved if you have any money left over in your Paysafe account after 12 months. There's also the catch that if you prefer to make some pretty hefty deposits, you're not going to have that option with Paysafecard as the maximum deposit per PIN is £100.
Yet, the biggest disadvantage when it comes to this deposit method is the fact you cannot withdraw your winnings with Paysafecard. This is quite possibly going to delay your withdrawal process because you will have to send a proof of your bank statement so that your money can reach your account via bank transfer. Deposits may be easy and convenient, but withdrawals are not. However, don't let this put you off if you're really looking for that safety feature before anything else.
How to Set Up a Paysafecard Account
You don't have to set up a Paysafecard account if you don't want to. Here's how to use Paysafecard without an account:
Visit the Paysafecard website to locate your nearest sales outlet
Purchase a Paysafecard PIN with the cash amount you wish to deposit (£10, £25, £40, £50, £75 or £100)
If you don't wish to create an account, you can simply enter the 16-digit PIN code when you deposit at your online casino.
Alternatively, you can set up an account using the Paysafecard app:
Download the my Paysafecard app and create an account
Purchase a Paysafecard PIN at your local outlet
Insert your 16-digit PIN to top up your my Paysafecard account
How to Make a Paysafecard Deposit at an Online Casino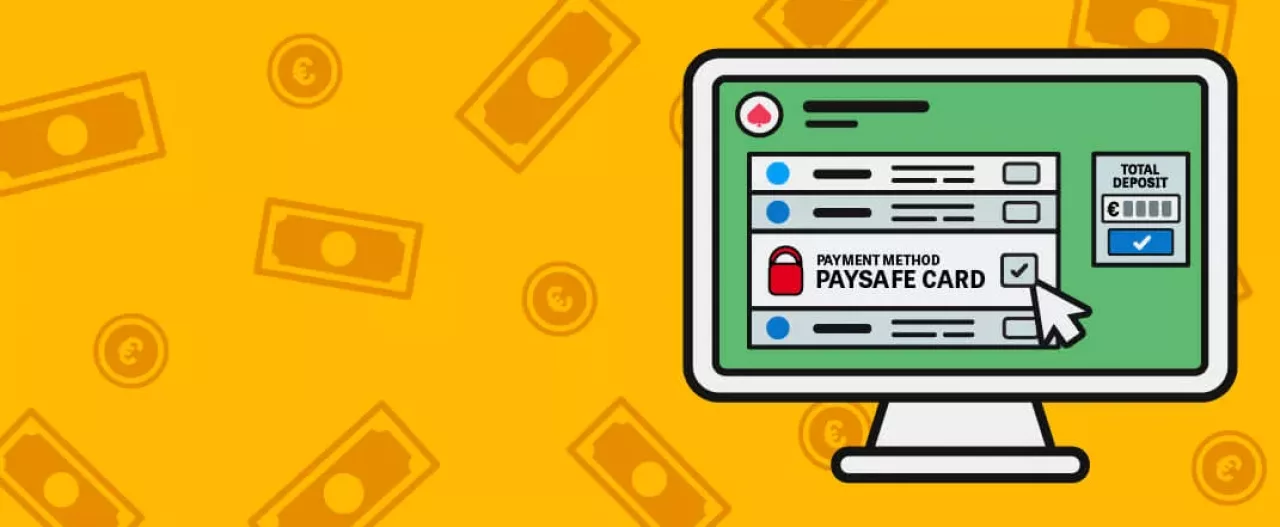 You'll find that Paysafecard is widely accepted amongst most online casinos. It's quite rare to find a casino not offering this method. However, be sure to check whether they charge a fee or not for this service. Whilst most casinos don't charge a fee to use this deposit method, there are a few that do. It's always best to read the terms and conditions or get in touch with customer support if you are unsure.
To make a deposit using Paysafecard, use the following steps:
Purchase a Paysafecard PIN or set up your Paysafecard account and top-up
Select a Paysafecard casino from our list
Choose Paysafecard as a payment method when you deposit
Enter the amount you would like to deposit
Enter your Paysafecard account details or the 16-digit PIN and click confirm
Go back into your casino account and play
As you can see, depositing using Paysafecard is pretty straightforward. Once you've bought your Paysafecard PIN or set up an account, you're pretty much there!
Paysafecard and bonuses
In most cases, you won't be able to claim the welcome bonus if you deposit with Paysafecard. Casinos prefer that you use another method, such as a debit card, so they can verify your account. However, you'll certainly be able to use Paysafecard to opt-in to future bonus promotions. Here's how:
1. Log-in to your casino account and locate the Promotions page
2. Find a great offer that appeals to you
3. Use the bonus code or deposit via the bonus link to activate the promotion
4. Choose Paysafecard as your deposit method and enter your details
5. Your bonus is ready to play
Fees when using Paysafecard for deposits
The rules vary regarding fees depending on which casino you choose to play with. Some casinos do have a habit of charging heavy fees as high as 4% when depositing via Paysafecard. This will be taken out of your deposit amount, so you'll have less money to play with.
You have to be extra careful when it comes to bonus promotions too as most bonus offers require a minimum deposit. However, this won't activate if a fee subtracts from your deposit. For instance, if you deposit £10 for an offer with a minimum deposit requirement of £10 but are left with £9.60 after the removal of the 4% fee, you will no longer be eligible for the offer. It's worth knowing that not all casinos have this fee, so be sure to check the terms and conditions.
Minimum deposits with Paysafecard
The minimum amount you can top-up your Paysafecard is £10. Whilst this will suffice for some casinos, others have a minimum deposit amount of £20 which must be met. You can easily check the limits of your casino as they'll usually display the minimum deposit on the deposit page. Otherwise, you can always check the FAQ or contact customer support.
How fast are Paysafecard deposits?
If you're looking for speed, Paysafecard is the way to go. Once you enter your 16-digit code or log-in through your My Paysafecard account, your money will instantly appear on your account. Whilst you do have to go out of your way to purchase a Paysafecard voucher from your local convenience store, the rest of the process is pretty smooth and simple.
If for whatever reason something goes wrong, your first line of contact is to get in touch with customer support. They'll be able to do some digging for you and try to help you out. It may be the case that you will have to contact Paysafecard directly if the problem persists.
Can I Make a Withdrawal Using Paysafecard at an Online Casino?
You can't use Paysafecard as a withdrawal method as it doesn't support this option. Paysafecard's purpose is to only deposit funds safely and securely. Paysafecard doesn't store any bank details as it acts as a prepaid card, so you are unable to accept money back into your My Paysafecard account.
Alternative Withdrawal Options for Paysafecard Deposits
Just because Paysafecard doesn't accept withdrawals doesn't mean you won't be receiving your winnings. However, you'll have to find an alternative route. Usually, casinos will pay out any winnings via a bank transfer. You'll need to enter your IBAN and BIC/SWIFT code to receive your withdrawal. One reason why you may not want to use Paysafecard is because bank transfer withdrawals take up to 5 working days to reach your account. Although depositing using this method may be quick and easy, trying to withdraw your winnings will take substantially longer. It's also very likely that the casino will ask for a copy of your bank statement to prove that the withdrawal is going to an account under the same name, delaying the process even more.
Best Online Casinos that Accept Paysafecard in 2021
When choosing an online casino that accepts Paysafecard, there are a couple of things you should look out for:
Check whether the casino charges any fees when using Paysafecard;
Have a look at how long a typical withdrawal takes as you'll want to find a casino that deals with these quickly;
Make sure to see whether you can use Paysafecard to activate any bonus promotions you have your eye on.
Similar payment methods to Paysafecard
Whilst Paysafecard may be a superb option for players that want to keep their bank details safe, it's not going to be a payment method for everyone. Other players may find other options a lot simpler to use.
PayPal remains one of the most popular deposit methods for UK casino players. It's convenient and safe to use. All you have to do is create a free account and connect your bank details and you're ready to go. Your deposit will quickly register into your account when you deposit via your PayPal account.
Debit cards are the traditional way to deposit and remain a firm favourite by many still. You are no longer allowed to use credit cards to deposit on an online casino, but VISA and Mastercard debit cards are still widely accepted. All you have to do is enter your card details and you're ready to play.
If you're after convenience without the hassle of creating an account, Trustly may be the deposit method for you. You don't need to leave the casino site and you'll be able to deposit using Trustly's safe and clever bank transfer service which is connected to banks all across Europe.
Play at a Paysafecard Casino and Enjoy the Rewards!
Paysafecard is a great option for players that don't want to disperse their personal details. It was developed for the very reason to keep bank accounts safe and protected. Paysafecard is particularly good to use if you're new to the casino world and concerned about depositing money into your account for the first time. Although there is nothing to worry, this payment option will keep your mind at rest knowing your bank details aren't being stored.
Learn more about Paysafecard casino sites (FAQs)
JohnSlots is here to help you answer the most common questions concerning the Paysafecard deposit method: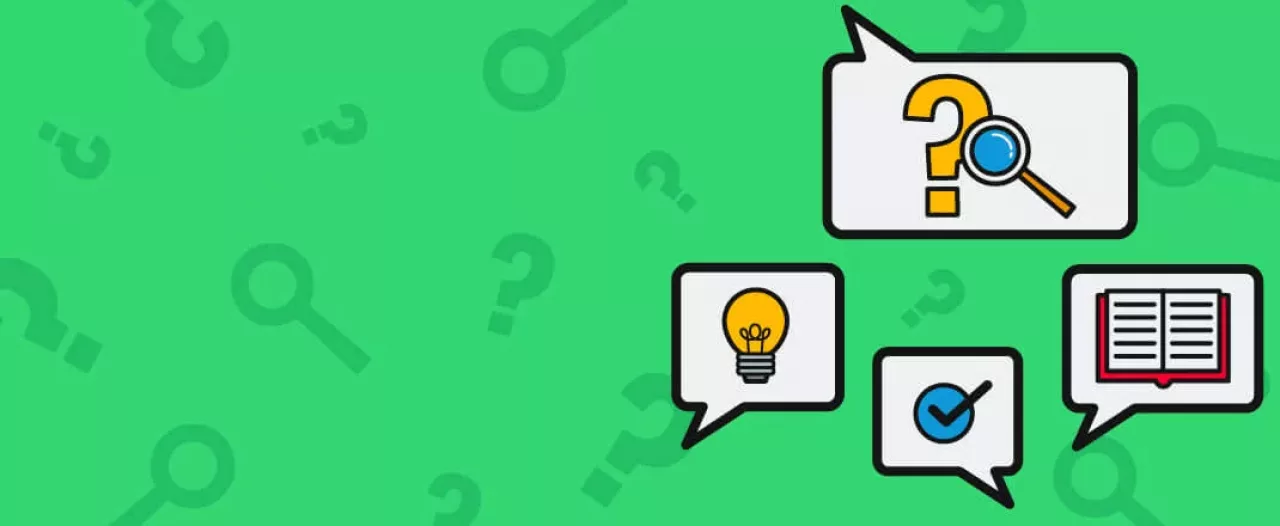 Do I need to set up a Paysafecard account before using a Paysafecard casino?
No, you don't necessarily need to set up a Paysafecard account before your deposit. You can simply enter your 16-digit PIN code you receive with your voucher. However, creating an account does make the process easier as then you'll only have to sign-in to your My Paysafecard account to deposit money into your casino account.
How do I know if I'm playing at a legit Paysafecard online casino?
At JohnSlots, we only ever will review reputable casino sites. If in doubt, the best way to check is to make sure the casino is registered under the UK Gambling Commission. You can find this information out by looking out for the logo at the bottom of the casino website. Another way to check is by visiting the UK Gambling Commission websites themselves and enter the licence number of your preferred casino.
Why can't I withdraw with Paysafecard?
Paysafecard cannot accept withdrawals because it's not an eWallet or bank account. Paysafecard acts as a prepaid card and doesn't store any bank details.
Are there any fees to pay for using a Paysafecard casino?
Sometimes, there are fees when using Paysafecard at an online casino which will come out from your deposit. Not every casino will charge a fee so it's very important you read the terms and conditions to ensure you're not caught out.
Do all casinos take Paysafecard?
Not all casinos accept Paysafecard as a deposit method. Each casino is different and will offer different payment options, so it's always best to check what options are available to you before you sign-up.
Check out more casino payments methods right here!